Priest Lake is known as being a great recreational area for outdoor enthusiasts of all sorts. From kayakers to fisherman, mountain bikers to hikers, from the Jet Skis on the lower lake to the canoes on the upper lake, there is a little of something for everyone. Yet some of the best adventures to be had are a little off the beaten path, on the road less travelled, or a stone's throw from the border. And they are every bit worth the drive.
Mount Roothaan
This trail has some steep sections but makes for a great hike or run. It is pretty well travelled because of the spectacular views from Roothaan, but the distance from civilization means you never have a crowd. Weekends offer more trail traffic. The trail crosses the ridge, offering incredible views, and finishes in the saddle between Roothaan and Chimney Rock. With views on both sides of the Selkirks, it's worth every step.
Best Feature: Epic views of the Selkirk and Cabinet ranges, a close up of Chimney Rock, and panoramics of Priest Lake.
Deterrents: It's an arduous drive to the trailhead. Still totally worth it.
Distance: 2.5 miles to the summit. 1,300 feet of elevation gain.
Caution: Take plenty of water – there are no flowing creeks along this trail.
Access: From Coolin, take Cavanaugh Road 3.3 miles to East Shore, follow for 9 miles to Road 27. Take road 27 approximately 3 miles until junction with Road 272. Take this 1.5 miles to the trailhead. (17ish miles from Coolin).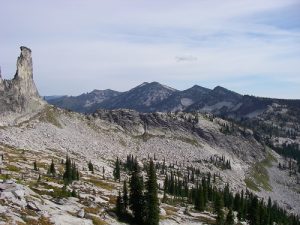 Lookout Mountain
Lookout Lake and Lookout Mountain are relatively prime destinations. This means the trail is well kept and even follows the access road on occasion. It begins with a mellow trek to the lake, and you climb most of the elevation in the section from lake to tower. The tower is still sometimes occupied by an actual human lookout during fire season.
Best Feature: The historic lookout tower and an alpine lake to jump in on your way down.
Deterrents: An even more arduous drive to the trailhead than Roothann. But it's gorgeous North Idaho forest that goes well with a cup of coffee and some tunes.
Caution: There is water available from the lake, but bring a water filter or build your immune system.
Distance: 3 miles one way. 1,000 feet of elevation gain.
Access: From Coolin, take Cavanaugh Bay Road to East Shore Road. Follow for about 23.5 miles, turn right on Road 44. Follow 2.5 miles to Road 43. You'll come to a fork 1.5 miles in. Stay right. You'll come to another fork about 1.7 miles in and stay right again. The trailhead is just a little farther.
American Falls
Now my personal favorite trail in Idaho. This mellow trail winds its way along the Priest River through ferns and old-growth cedar forests for ceaseless miles of pristine running (or wicked fast mountain biking). The possibility that a dinosaur could stomp by seems high, though bear tracks and one stubborn bull moose were our only wildlife sightings. With little warning, you'll round a corner to hear and see the powerful rush of American Falls. You can scramble up the hillside for better views, cool your feet in the water and daydream about sneaking into Canada for an afternoon.
Best Feature: Maybe the falls, but the eight miles of pristine trail may win this prize.
Deterrents: Time. It's a long drive and a long run. Plan for a day out.
Distance: 8 miles to the falls. 600 feet of elevation gain.
Caution: Devil's club lines parts of the trail and can be a prickly hazard if you're not paying attention. The wooden bridges can be dangerously slick.
Access: Follow Highway 57 to Nordman. Stay on road 302 approximately 14 miles. Turn onto road 1013, follow for 11.3 miles to the trailhead. //