Every January since 1985, when he was 19 years old, Jeff Barrington traveled from his home in north Spokane to Priest Lake where he straps on snowshoes, grabs a beer and softball bat, and gathers with his teammates for the annual Priest Lake Snowshoe Softball Tournament. What began nearly 50 years ago as a competition for softball buddies is now a generational tradition for 12 teams and their families and friends.
Now age 51 and living in Colbert, Barrington originally joined the tournament to play for the Maxwell House team. "My friend's dad (George Dupree) was one of the originators of it. We all played recreational softball together in the summertime, so we all played on his dad's snowshoe team," he says. Bud Adams was another tournament founder.
Barrington now plays for the South Hill Auto Licensing team and says each team is typically sponsored by a local small business who has a personal connection with the players. The sponsor pays the $150 registration fee, and each player contributes $20. Funds pay for umpires and specialized equipment and supplies, including men's modified softballs (colored pink and designed for playing in snow), metal bats, red Jello (to mark field lines), and specialized plastic molded snowshoes for each player. Everyone brings his or her own softball glove. Players typically stay overnight, mostly in the cabins at Hill's Resort, and typically arrive on Friday afternoon to play games on Saturday and Sunday.
"Probably the most enjoyable experience from snowshoe softball is getting out of town during the winter and spending time with good friends in an extremely relaxed and party atmosphere. It's a great winter getaway," says Barrington, whose brother John also plays. Last year, their cousin Jim Barrington was an umpire, and Jim's son and daughter-in-law, Dan and Bridget, who are recent transplants to Spokane from Seattle, are among the team's newest players for the TruShine Cleaning Services team.
"The tournament has grown over the years, with a cap of 12 teams. Unless a team drops out, there's no room for others," says Jeff Barrington. Six teams play each other the first weekend of the tournament, while the other six teams play the following weekend. The top three teams from each weekend play during the tournament's final weekend for the championship. Pitchers must use "a men's underhand modified pitch," he says. "The teams with the best pitching are usually the best teams."
As umpire commissioner in charge of scheduling and a tournament umpire himself, Jeff says, "Sometimes I think I enjoy the umpiring gig as much as playing." While certified American Softball Association umpires have been hired for past tournaments, it's not required. "I've tried to make it not so serious," he says. "All those guys who came for years, they had fun but games were taken a little too seriously. I've tried to make it a lighter atmosphere and to include more locals from the Priest Lake area to umpire."
Just as it sounds, playing softball in the snow is challenging—especially since only the infields are groomed. Weather conditions can make it even harder, but the tournament at Priest Lake has never been canceled due to weather or snow conditions. "Imagine running through three to four feet of snow with a cheap pair of snowshoes. The outfield doesn't get packed down, so you're high-kneeing through the snow," says Jeff. "It is comical. It's hard to retrieve a ball that gets stuck in the snow. People fall and can't get up, which is why it's fun."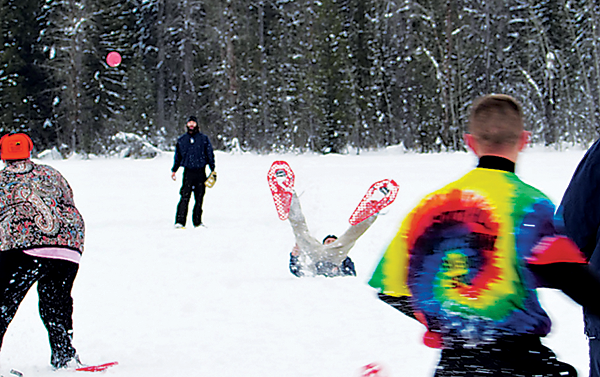 New player Dan Barrington says, "At first, it's nearly impossible to play modified fastpitch in snowshoes, but soon you get the hang of it. Constant bloopers and falls and wipeouts keep you laughing all weekend long…I will never miss this event."
Despite all the fun, game injuries sometimes occur. One year Jeff sustained a compound fracture in his right hand, due to a flying bat when a teammate lost his grip. "My fingers have never been the same. I now have to write differently," he says, though this outcome was better than letting the bat smash his face. Another time he needed stitches in his head, also because of a flying bat.
Players range in age from 18 to veteran players in their 60s. There are no rules about age or gender for team configurations. According to Jeff, two volunteers primarily plan and organize the tournament: Priest Lake Snowshoe Softball Association President Joe Chimienti and Tiffany Adams, who is the great granddaughter-in-law of tournament co-founder Bud Adams. Similar snowshoe softball tournaments take place every winter around the U.S., including Winthrop, Wash., and Anchorage, Alaska.
Though the comradery and competition keep softball players returning year after year, the setting is just as rewarding. "Seeing Priest Lake in the winter—the first time (for me) was 35 years ago—is really something. It's beautiful," says John Barrington, who plays on the Maxwell House team and enjoys the relaxing weekends at Hill's Resort with his wife. With snow-capped mountains, still water, snowy trees, and quiet trails, winter at Priest Lake drastically contrasts with its busy summer season. //
Amy S. McCaffree is the special section editor and Out There Kids columnist. She compiled the Local Holiday Gift Guide in the December issue. Follow her adventures on Facebook @AmyOutdoorsSpokane or Instagram @adventure_amy_spokane.
Snowshoe Hikes around Priest Lake
Priest Lake has plenty of snowshoeing options, some which follow the lake shore, while others traverse meadows or climb up into the surrounding hills and mountains.
Elkins Resort (Elkinsresort.com) and Hill's Resort (Hillsresort.com) on the west side of the lake have snowshoeing routes of varying difficulty that start right there at the resorts. Ask resort staff for specific snowshoe route recommendations. Both resorts also rent snowshoe equipment.
The Hanna Flats Nordic trail system 33 miles north of Priest River off of highway 57 has 2.2 miles of easy snowshoe trails with loop options and the chance to visit old growth cedar trees along the Hanna Grove Nature Trail. // (OTO)