I awoke to what many skiers and riders would classify as the perfect Saturday: nearly half a foot of fresh snow, clear skies, and single digit temps. The snow was so cold it made that distinctive squeaky sound as I took the dog for a short walk in early dawn light, reveling in the sight of tall pine trees drenched in white magic. These are the days we live for in winter. Except it was late October.
Yep, Old Man Winter decided to give us a swift kick in the backside this fall and provided what is hopefully a sneak peek to the upcoming ski season in terms of weather. I pray to Ullr this is just the beginning. Here is what the weather gurus have to say about what we can expect this year.
NOAA
The National Oceanic and Atmospheric Administration's (NOAA) summary for winter says all we need to know: La Niña conditions are present. "With La Niña well established and expected to persist through the upcoming 2020 winter season, we anticipate the typical, cooler, wetter weather in the North," said Mike Halpert, deputy director of NOAA's Climate Prediction Center.
Forecast models for the months of December 2020 through February 2021 point to below average temperatures with above average precipitation here in the PNW. We all know what this means. And the good news continues for January through March 2021, with more of the same cold temps and heavy snowfall to close out the season. If you don't own powder skis, methinks you should start looking for some.
Old Farmer's Almanac
The Old Farmers' Almanac spins a similar narrative for our area as well. Their forecast graphic for the PNW states "Snow pelting, then melting." Not sure about the melting part, but snow pelting sure sounds like a good time to me.

Conversely, the Farmers' Almanac's prediction is less than ideal. "The Pacific Northwest could see some of the most pleasant weather of the winter in the US, with mild and dry conditions expected there." Not sure what tea leaves these folks were looking at or smoking, but any discussion of winter weather should be void of the term "pleasant." Just saying….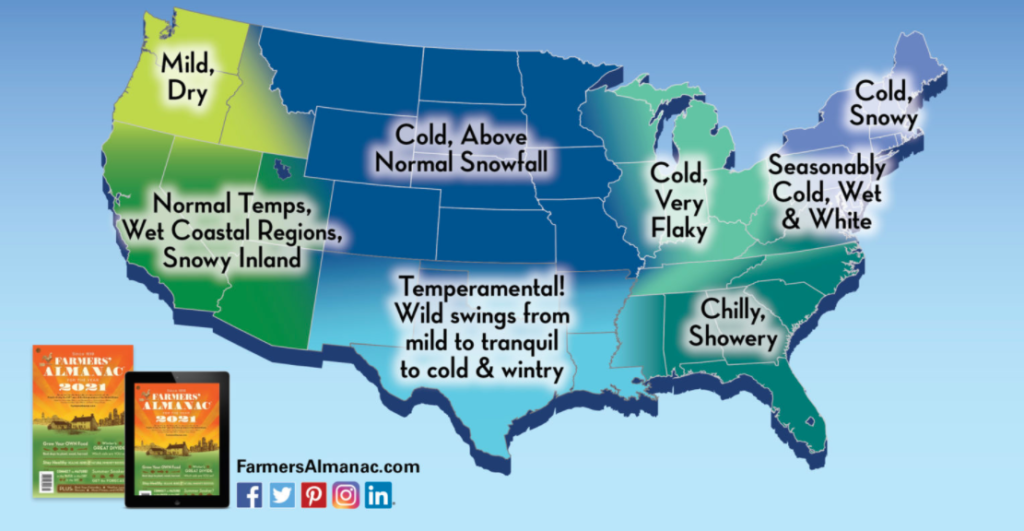 Originally published as "Powder Prognostications" in the November-December 2020 issue.

Brad Northrup spent over a decade as a ski industry professional. He has been a contributing writer for Out There Outdoors since 2011.