On a dreary February afternoon, my three-year-old son was in search of wildlife. It was nearing dusk, he was sick, and a nature walk wasn't possible. But what we could do was watch "Wild Kratts," an animated PBS Kids wildlife education show. We went to the show's webpage and learned about the North American forest habitat, and then watched an episode about rattlesnakes.
This got my son dreaming about spring and summer – warmer and dryer days spent outside playing and getting dirty, overturning rocks and sticks in search of insects and worms.
When children spend time playing and exploring outdoors, their immune system and nighttime sleep improves, in addition to other health benefits, according to Wildlife Nation (wildlifenation.org), a new online community recently launched by the National Wildlife Federation.
Encountering Inland Northwest wildlife is surprisingly easy, especially if you're willing to think beyond deer and eagles. Kids enjoy adventures and secret hideaways. Why not create your own northwest safari experience?
Together with your children (or grandchildren, nieces or nephews – the kids you spend time with) create a list of animals, however brief, that your family would like to see in the wild this spring and summer. (Include pictures to help children who don't yet read). Then make a corresponding "bucket list" of activities to accomplish your wildlife viewing goals. For example, want to see a moose? Head to north Idaho for a day hike or camping weekend.
What are the secrets to spying wildlife? Quiet kids with open eyes, listening ears and patience. Here are some ideas for the Spokane area: Hike down the High Drive "Bluff" trails to Latah Creek during the spring and search for marmots, geese or even a coyote. Visit Mount Spokane State Park in the summer and see woodpeckers, butterflies and crickets, if not a moose or white-tailed deer. Float the Spokane River or visit Riverside State Park and search for osprey. Visit Turnbull National Wildlife Refuge outside Cheney, where moose, elk, coyote, beaver and river otter reside year-round. Wildlife are best observed during early morning or evening hours, according to the Turnbull website that offers wildlife viewing tips (fws.gov/refuge/Turnbull/seasons_of_wildlife). Spring is prime viewing season for animals and their offspring.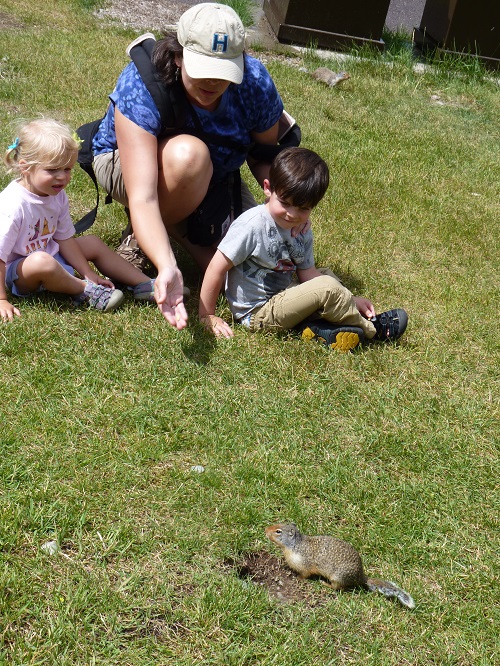 Introducing children to wildlife in natural surroundings, rather than a zoo, helps them learn the intrinsic value of a healthy habitat and sustainable ecosystem. It provides opportunities to discuss nature's interdependence and how people benefit when wild animals thrive.
With April's unpredictable weather, a great indoor learning opportunity is the fish festival-themed open house at the West Valley Outdoor Learning Center (8706 E. Upriver Drive) in Spokane on Saturday, April 19, from 10 a.m. to 2 p.m. Geared for children of all ages – even toddlers – activities include a craft project, trout viewing, 20-minute seminars and tours of the outdoor bird sanctuary. Children can also observe the indoor classroom's guinea pigs and birds, including a western screech owl. Admission is a $5 suggested donation per person. Check out the Center's website for more details (wvolc.org), or call 509-340-1028. Have fun exploring! //