For kids in the 2-4+ range under 50lbs, the Piggyback Rider can save the day for the rest of the family looking to complete a hike or by-foot outing when little legs get too tired to carry on. It fits the adult like a backpack, but instead of a pack on the back, there is a metal crossbar for little feet to stand up on and handles that help keep kids from grabbing at your head or face.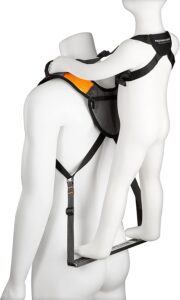 For safety, there's a harness for the child that connects to the Piggyback Rider that keeps them from falling off. Kids love the high up-above-the-shoulders view, and the system is most comfortable on shorter outings under a couple of miles, although some adults will be able to tolerate carrying little ones on much longer distances.
You can also accessorize your Piggyback with a mud flap, carry bag, selfie stick and water bottle holders, and side pocket.
MSRP: $124.99 and up. Piggybackrider.com