Summer craziness has come to an end. I've been enjoying local brews and fine weather on the decks of several local breweries. But now, it's time to settle onto a comfy bar stool and experience the seasonal sudsy goodness. For this brewery tour I headed off to two North Idaho brewery destinations: Wallace to the east (a day trip but also a great fall hiking and brewery weekend trip) and north to Sandpoint and Bonner's Ferry (definitely taking the weekend).
Idaho's Silver Valley
The scenic drive to Montana is lined with the remnants of old mining towns, unique historical landmarks and idyllic hiking, cycling and skiing spots. Wallace, one of the more significant towns in the Silver Valley, boasts its fair share of history: the Sierra Silver Mine (today complete with ziplines), railroad and mining museums, the Oasis Bordello Museum, and the Pulaski Tunnel Trail. It is also home to the only breweries in the Silver Valley: North Idaho Mountain Brew and Wallace Brewing.
Wallace Brewing's brewmaster, Jack Johnson, brews "by the numbers with a twist of innovation." The Wallace tasting room reflects elements of the rich heritage of the area and serves up such Wallace classics as the 1910 Black Lager and award-winning RedLight Irish Red Ale. I suggest warming up with one of their seasonal brews, such as the Winter Ale, which is "big, rich and malty" according to Johnson (8% ABV). wallacebrewing.com.
At the base of Nine Mile Road, just on the edge of town, City Limits Pub and Grill is home base to North Idaho Mountain Brew (northidahomountainbrew.com). A quality local watering hole and eatery, this hot spot affords locals and visitors alike singular pub fare paired with good beer. Must haves: Scotch Eggs and the Loft Honey Pale Ale (careful of the 8.5% ABV!). Don't miss City Limits' Oktoberfest celebration, Saturday, October 11, featuring Silver Valley Brew Club's Fig Octoberfest Ale on tap.
Sandpoint & Bonners Ferry
MickDuff's Brewing Company (mickduffs.com), the brainchild of brothers Mickey and Duffy Mahoney, is situated in two locations the heart of downtown Sandpoint. Their brewpub features taps and solid pub food, including their gorgonzola cheese fries, Kobe beef burgers and hand cut Idaho potato chips. Just around the 1st Street bend, their new 2,500-square-foot beer hall only serves beer on tap, complimented by darts, corn hole and the football game on the big screen. A floor to ceiling chalkboard displays what's on tap, including their standard Strom Hammer IPA and Knot Tree Porter. Look for these specialty brews coming on tap: Wet Hop IPA, Wet Hop Red Ale and Cellar-Aged Pumpkin Brown.
The next Sandpoint watering hole is Laughing Dog Brewing (laughingdogbrewing.com) in Ponderay. Laughing Dog is the most widely distributed brewery from North Idaho, and owner Fred Colby has been influential in Idaho brewery legislation as well as the establishment of other breweries (and brewers) in the area. Famous for their "laughing" Labrador labels, Huckleberry Cream Ale and AlphaDog Imperial IPA, this award-winning brewery offers a dog-friendly taproom, large sunny windows and over 15 distinctive beers. Must sip: the Citra Single Hop IPA, their draft-only Fresh Hop Pale and the Barrel Aged Dogfather Imperial Stout, releasing the first part of November.
Just a little farther up the road lies Kootenai River Brewing (kootenairiverbrewingcompany.webs.com), a treasure of brews and eats perched on the banks of the Kootenai River in Bonners Ferry. Although originally envisioned as a small brewery, owner Mike Naumann and brewer Joe DeVita have turned this large, open space into a family style restaurant with delicious beers and incredible views. You will be blown away by the size and flavor of their fish and chips, and their selection of gourmet burgers and salads is mouth-watering. Fill one of their unique growlers with their worthy American Pilsner or balanced Double IPA for enjoying at home or back at the B&B (see my lodging recommendations). Look for a brand new Fresh Hop Ale and seasonal Alt Beer in this fall.
As you head out into the warm weather to sample these libations, don't forget to drive safe and get out on the stunning trails that make North Idaho a world-class year-round outdoor destination. //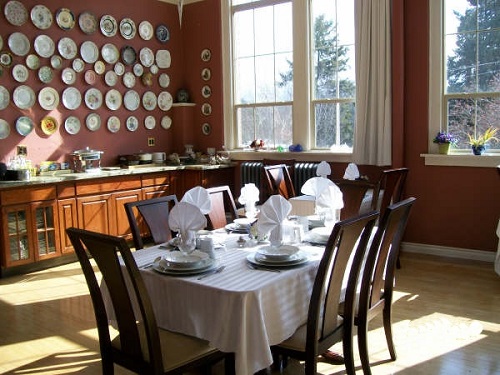 Where to Stay
Sandpoint Hotel
415 Cedar St, Sandpoint
(208) 263-9581
Why: Location, service, affordable
Northside School Bed & Breakfast
6497 Comanche St., Bonners Ferry
(208) 267-1826
Why: Magical, breakfast, value, run by former school student
Dodge Peak Lodge
5952 Main St, Bonners Ferry
(208) 267-7268
Why: Recent remodel, clean, service, accessible
Wallace Inn
100 Front St., Wallace
(208) 752-1252
Why: Location, clean, indoor pool, walking/biking distance to breweries