By Brad Naccarato and Derrick Knowles
There really is no way to sugar coat it – it hasn't exactly been a wonderful ski and snowboard season in the Inland Northwest. Flowers are starting to bloom, bees are buzzing, the sky is blue and the evening sunsets have been stunning. Temperatures have crept north of 50 degrees for the better part of February, and the local trails are brimming with bikers and hikers.
This certainly hasn't been a typical February for our region. In fact, the entire Northwest has had a very peculiar, record-breaking winter that has everyone scratching their heads, wondering if it's time to push their skis to the back of the gear closet. While the Northeast U.S. has been buried under endless snow storms, the opposite corner of the country has been hosting a spring-like version of winter.
As much as we all love the transition to spring, something about it just doesn't feel right when we haven't had our fill of winter fun. But what if there's a glass half full approach to the remainder of the season based on our historically snowy March weather patterns? And what if I told you that winter is still likely alive and well in concentrated pockets of the region?  It's not as preposterous as it sounds, so stay with me here.
I'm not going to tell you that the second half of this season is going to be a snowpocalypse, but coasting directly into spring in the mountains seems highly unlikely when you examine the March weather patterns of the past decade, with the most notable being the record breaking winter of 2009. March of that year featured an onslaught of small but consistent storms racking up 10 plus inches in Spokane and an additional 20 plus in the mountains by the end of the month.
In a recent conversation with Dig Chrismer, Schweitzer's Marketing Manager, she reminisced about the 2005/2006 season. "We had a tough season that winter that actually saw us close for a brief period," she said. "But then a huge round of storms came through in March giving us more snow that month than we had received the entire season." Chrismer agrees that March has often been a very snowy and very overlooked month by skiers and riders in our region who get easily distracted by other spring activities at lower elevations.
Check out Whitewater's blog post "Every Ski Day is a Good Day" (Skiwhitewater.com) for a breakdown of snowpack totals around Washington and Canada – and a great perspective on the season thus far. I know it's been a lean year, but don't give up just yet; winter's second act is likely preparing to unfold with a result that may surprise you. (BN)
Whitewater Ski Resort
So what's your best bet for a March powder fix this year? With a base elevation at 5,400 feet and a summit elevation at nearly 7,000, Whitewater Ski Resort near Nelson, B.C. has a distinct advantage over other regional resorts when higher than average temperatures plague the season. The cooler temperatures at those elevations mean that the mixed precip they receive is going to be mostly snow, and that snow tends to remain in place during high-pressure droughts. "We're a little down for powder days this season, but overall operations are in full swing on the whole mountain with really great snow quality in the upper elevations," said General Manager Kirk Jensen.
Whitewater has been enjoying sunny weather that they typically don't get a lot of, but without the penalty to their snowpack. "We are proud to be currently holding the title of the largest settled snow pack in Western North America according to SnowSeekers.com," he adds. It seems Whitewater's geographic location, farther north and deep in the Selkirks, has afforded it some protection from the warmer weather to the south. An easy three hour drive from Spokane, Whitewater is a winter oasis that's easily within reach as a long day trip or weekend for skiers and riders south of the border. Also if you're a Schweitzer pass holder, Whitewater is offering $20 off on lift tickets. (BN)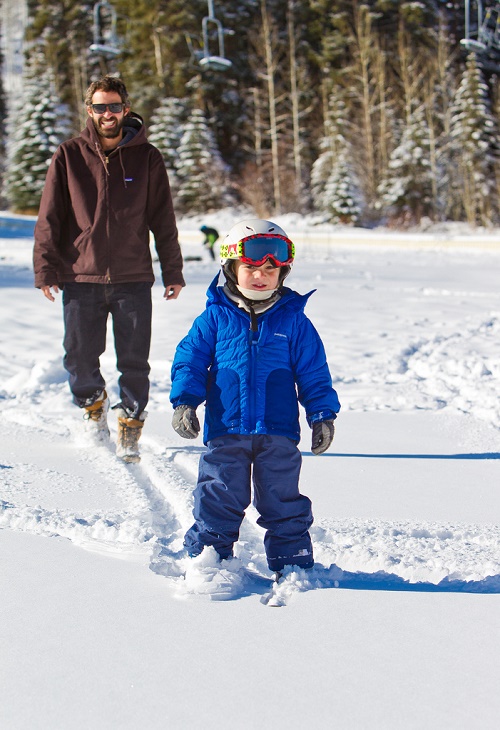 Schweitzer Mountain Resort
Despite its high elevation location in the Selkirk Mountains, Schweitzer Mountain Resort hasn't been immune to the region's weather conundrum, but they do have an ace in hole that gives them the upper hand: snowmaking machines. "We've got good coverage up high, and we've been able to supplement the lower mountain with our snow making capabilities," said Chrismer. "In spite of the warm weather, people are still having a blast enjoying the sun, our huge terrain park, and spring-like conditions all over the mountain," she adds. Constant storm cycles are a huge plus for seasoned powder hounds but not really essential for a fun ski day so long as the mountain has the base coverage it needs for proper grooming. "We're always fighting a public perception battle in lower than average snow years. People assume that we're closing early, but we have plenty of snow and plan to stay open until our projected closing date of April 5," Chrismer adds.
In light of Mt. Spokane and 49 Degrees North's late February suspension of operations, Schweitzer stepped up to offer one free lift ticket to any pass holder from either mountain until March 6 to help hold folks over until those resorts resume operations for the season. (BN)
Lookout Pass & Silver Mountain
The Bitterroot Mountains of North Idaho have also seen more snow and colder temps than a lot of flatlanders in and around Spokane might be aware of. By early January, Lookout was ranked in the Top 10 Deepest Snowpacks in the USA by the SnowBrains.com. By late February, after several rough weeks, Lookout was still reporting 27" at the base with 48" at the summit. "This season is not the best, but we still have the best," said Lookout Marketing Director and resident terrain park guru Chuck Schmidt. "Our coverage on the front side of the mountain is great. We do have some patches here and there, but overall we are doing pretty well. And heck, it's only February!"
Next door to Lookout, Silver Mountain Resort has had a similar season, with 41″ at Kellogg Peak and 32″ at mid-mountain as we approached March, and snowmaking underway. The snow and cold magnet of the Bitterroot Range typically delivers plenty of snow per season, and although the resorts have suffered their share of rain, warm temps and unusually dry conditions this year, heading into March with a solid base on both mountains means conditions could improve significantly as late season storms pile into the Panhandle.
By the end of March we will know for sure if February storms and colder temps were a tease or a taste of things to come, but there's no doubt that things looked to be improving. "2″ of fresh and still snowing! This year we're going to count this as a Powder Day!" exclaimed a February 20 Silver Mountain Facebook post. "It's amazing how good 3″ of snow is after a dry spell!" read a follow up post later that day. There will definitely be those kind of powder days to be had in the Silver Valley still this season, not to mention glorious spring conditions, but you won't know unless you get up in the morning, grab your stuff and go. Do it or you will regret it come July. (DK)
Whitefish Mountain Resort
Holed up deeper in the Northern Rocky Mountains above Whitefish, Mont., Whitefish Mountain Resort has not surprisingly maintained more consistently cold and snowy conditions this winter. Maybe something to do with the nearly 7,000 foot peaks and location near the Canadian border in one of the most rugged mountainous regions in the West. A week out from March and WMR was reporting 74" at the summit and 31" in the village. Make sure you add them to your powder alerts or like them on Facebook if you're thinking about a March ski roadtrip. (DK)
Jonesing for Deep Powder? Head North
Kootenay cat skiing operations have continued to deliver powder turns during the darkest days of the season. The white stuff definitely hasn't been as plentiful and guides have had to do more hunting for quality snow, but with several operations spread out in the vast mountains north of Nelson, B.C., from the Selkirks to the Valhallas and Purcells, there will likely be fresh snowflakes filling in snowcat and ski and snowboard tracks somewhere every week in March. And at the drop of a passport, things could get epic real quick. Check out an excellent summary of your options with operator descriptions and links at Nelsonkootenaylake.com/see-and-do/recreation/snow-sports/cat-and-heli-skiing. // (DK)