It's SNOWING! Has the extended dry summer and autumn weather left you longing to hear those words ring out early one morning so you can finally don your skis and favorite parka? Not sure what to do when it finally happens? Try an adventure to North Idaho's Fourth of July Pass and enjoy the Nordic Ski and Snowshoe Trail System.
Whether classic or skate cross-country skiing, snowshoeing, or other winter sports, spending time with friends and family outside in the wintry-fresh air provides great exercise as well as comradery. At an elevation of 3,081 feet, Fourth of July Pass along Interstate 90 east of Coeur d'Alene has 30 kilometers of groomed Nordic ski trails and nearly 18 miles of snowshoeing trails, with several new areas opened up for skate/cross-country skiers and snowshoeing and specific trails devoted for recreationists with dogs or bikes. The system also has three warming hut shelters (one constructed by Eagle Scouts), a picnic shelter, and covered benches and outhouses. Trails range from easy to difficult and offer something for all levels.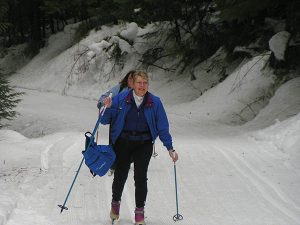 An Idaho Park 'N Ski pass is required November 15 through April 30, 2016. Passes are available at sporting goods and recreation stores throughout North Idaho. Take advantage of Free Ski Day on the first Saturday of January when park entrance fees are waived and no ski pass is required.
Getting There:
The pass trailhead is 11 miles east of Coeur d'Alene off of Exit 28. A few hundred yards south of the highway, bear right at the junction and continue a few hundred yards to the parking lot. For maps and more information, visit the maps link at Panhandlenordicclub.com. 
Panhandle Nordic Ski & Snowshoe Club
From November through April on the first Tuesday of every month (7-8:30 p.m. at Avondale Golf Course on Hayden Lake), the Panhandle Nordic Ski and Snowshoe Club gathers to discuss various topics such as Nordic skiing, snowshoeing, sled dog racing, skijoring (cross-country with canines), fitness, the environment and outdoor activities, safety and ski maintenance. Noteworthy travel presentations by members and a cookie exchange may also round out the schedule. Activities continue into summer as well, with hikes, overnight trips, and biking and canoeing outings.
All ages and levels of expertise are welcome and encouraged to take advantage of the opportunities the club offers, including free ski lessons (classic or skate) and support for buying or renting skis and snowshoes. This year the club will also offer beginning ski lessons for kids. The group also serves to maintain the Fourth of July Pass Ski and Snowshoe Area trail system in conjunction with the Forest Service – grooming the area and aiding in facility maintenance.
Panhandle Nordic Ski and Snowshoe Club membership is $15 per individual. For more information or to contact the club, visit Panhandlenordicclub.com or find them on Facebook. // (Terrie Jelsma)