A century of commercial trapping, habitat loss, and unregulated hunting eradicated grizzlies from 98% of their original range in the contiguous U.S. Here in the Northwest, records from the Hudson Bay Company show that nearly 4,000 grizzly bear hides were shipped from trading posts in the North Cascades in a 35-year span. Despite these grim statistics and the fact that grizzlies have been largely eradicated from Washington State, there have been four confirmed detections of grizzlies in the Greater North Cascades Ecosystem in the last 10 years, all in British Columbia. The bears have proven difficult to find, but all sources agree the total population is less than 10.
Biological consensus is that grizzlies in the North Cascades Ecosystem are unlikely to recover on their own and need some form of human intervention to avoid local extinction. Joe Scott of the wildlife conservation organization Conservation Northwest notes the adjacent population in British Columbia is small, and in order to move south of the border on their own, bears would need to cross the Trans-Canada highway, the Fraser River, and numerous human settlements. Is it impossible? Not really, but the chances are exceedingly slim they would ever do so in enough numbers to make a difference in the U.S. In response, wildlife managers are now working on a plan that could include moving select grizzly bears into the North Cascades to help revitalize the struggling population.
While a majority of people support reintroduction, there is some resistance. Scott says much of this comes from fear and uncertainty. "Attacks are extremely rare, even in places where grizzlies are common. That's not to say that they aren't dangerous. All wild animals are. But it's a danger and a risk that we can manage and still enjoy the backcountry. One is certainly more likely to be killed or injured driving to the trailhead unfortunately."
Grizzly bears made news in outdoor recreation circles last summer when mountain biker Brad Treat was killed in Montana. Treat came around a bend and surprised a grizzly, impacting the bear at high speed. A study conducted in Banff National Park concluded that while hikers greatly outnumber mountain bikers on trails, the number of bear encounters for bikers is disproportionately high. As a result of Treat's death, new recommendations have been released by the U.S. Fish and Wildlife Service for mountain bikers in bear country (see sidebar).
Public Process Looks at Grizzly Recovery Options
In January 2017, the National Park Service (NPS) and the U.S. Fish and Wildlife Service (USFWS) released a draft environmental impact statement (EIS) that proposes releasing grizzly bears into the North Cascades Ecosystem (NCE). Of the six grizzly bear recovery zones in the continental U.S., the NCE is among the largest. It encompasses approximately 9,565 square miles, 97% of which is public land, and it's the only recovery area outside the Rocky Mountains.
The draft EIS presents four alternatives. Alternative A calls for no action, and maintains the NCE as a grizzly bear recovery area managed for natural repopulation. Alternative B would release 10 grizzlies over two years, monitor them until year 4, and then managing agencies would decide whether to release 10 more grizzlies over two years, or switch to Alternative C. The preferred alternative, Alternative C, calls for the release of 5 to 7 grizzlies each year over 5 to 10 years with the goal of establishing an initial population of 25 bears. Alternative D is an expedited option that would release enough grizzlies to have 200 bears (including reproduction) over 25 years.
For all options, recovery is set at 200 bears within the next 60-100 years. The plan also includes guidelines for human-bear conflict, translocation and monitoring protocol, access and habitat management plans, and public education. The initial deadline was March 15; however, the comments have been so numerous the deadline was extended to April 28.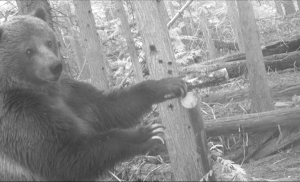 Reducing Potential Bear and Human Conflicts is a Priority
The NPS and USFWS held eight town hall meetings, four on each side of the Cascades, and USFWS and Washington Department of Fish and Wildlife officials say they received a broad range of responses with the highest concentration focused primarily on human safety, trail access, and livestock predation.
The EIS is clear that only bears with no history of human conflict will be relocated. USFWS bear biologist Wayne Kasworm says biologists will primarily move mostly sub-adult bears, or those who haven't reproduced, because younger animals aren't as invested in a specific home range. Conservation Northwest's Joe Scott adds that because bears have such a varied diet, scientists are careful to move bears from ecosystems with similar food sources. If the plan moves forward, wildlife officials have indicated that the most likely source population for North Cascades grizzly bear augmentation would primarily be the Northern Continental Divide Ecosystem around Glacier National Park and the Bob Marshall Wilderness where there is a healthy abundance of bears and highly comparable habitat and food sources.
Kasworm notes that with animal transplants there are no guarantees. "They don't all stay where you put them, and they don't all live. But there is risk in any project. We believe that [natural] recolonization is unlikely to occur. We, as humans, largely eliminated that population; if we want it back we need to take some sort of action." //
When biking in bear country, especially in grizzly bear habitat, remember the bears live there and you are just a visitor. Take precautions and keep yourself and the bears safe in areas where we choose to recreate.
Be Vigilant: Do not ride in areas where you see fresh bear sign (scat and tracks). Avoid areas that are rich in bear foods, like huckleberries, in late summer when bears are feeding.
Slow Down: Encounters with bears are more likely when riding at high speed and in areas where you can surprise a bear at close range. Curves in the trail or thick vegetation require slower speeds and making noise as you ride.
Carry Bear Spray: Keep it on your person, not in your pack, and in a place you can reach in a few seconds. Also, riding partners can aid an injured rider by deterring bears with spray.
Make Noise: Surprised bears are more likely to be agitated and aggressive. Make noise by riding with bells, noisemakers, and/or shouting when approaching areas of thick cover or at blind corners.
Don't Ride Alone: Single riders are much more likely to surprise a bear; riding in groups of three or more can reduce the chance of a bear attack. If there is an incident with a surprised bear, other riders can help by deterring the bear, offering first aid, and going for help.
Never Ride at Night, Dusk, or Dawn: Low light hampers visibility and bears tend to be more active at these times, greatly increasing your risk of encountering and surprising a bear.
Don't Think, "It won't happen to me": This attitude can get you into serious trouble in any activity that involves a certain amount of risk. Be prepared and be safe. //