For three months of the year, the lakes of North Idaho are teeming with swimmers, paddleboards, and a wide range of motorized and nonmotorized boats. Once considered a pastime for the wealthy, boating is now more accessible than ever to all water recreation enthusiasts. However, purchasing and owning a boat is still a hefty investment, especially if your budget is replete with health care costs, kids' college funds, a new smart phone for your spouse, and your Ironman entry fee. Renting a boat can allow you to experience the boating life without the time, effort, cost, and maintenance involved in owning a boat.
What Does Renting Involve?
Unlike Washington, Idaho does not require a safety course or certification to operate a motorized boat. However, all boat rental companies have minimum age requirements (18 to 25, depending on the location) and require a valid driver's license and credit card upon signing the lease agreement.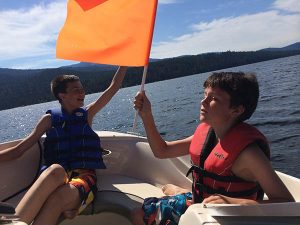 Whether you're a first timer or you've captained many a vessel, every rental company is ready, willing, and more than able to walk you through the safety and operational features of the boat. Duane Kennedy, owner of Crown Jewel Water Sports in Coolin, Idaho, adds a personal touch to his training. "A lot of new boaters rent from us," says Kennedy, "people who might be interested in buying a boat. I'll go out with them for half an hour and make sure they are comfortable and safe with their family in the boat." Nels Erickson, Harbor Master at Hayden Lake Marina, considers the boater's safety course to be one of the best things about his marina. "You'd be surprised how many people take advantage of it, even people who have owned a boat for years. They aren't used to driving it in and out of marinas, and it takes a bit of practice."
Rental costs typically range from $250 for a half day to $700 for a full day and do not include fuel. Most locations have a two- or four-hour minimum rental time but offer hourly rate discounts for half-day, full-day, and 24-hour rentals. A deposit is usually required, but not always. Each business is different, so make sure to ask before booking.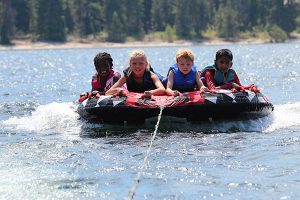 An Abundance of Options
We have four primary easy-access lakes in North Idaho: Lake Coeur d'Alene, Hayden Lake, Lake Pend Oreille, and Priest Lake. All have an abundance of boat rental options.
Boat type: What type of boat do you want: pontoon (great for groups), ski boat, or runabout? Spokane resident Harry Neff found himself in need of a boat a couple of years ago. "We spend a couple weeks at Priest Lake each year," recalls Neff. "Several of us adults were interested in water skiing, and we wanted to introduce some of the kids to water skiing and wakeboarding and tubing. None of us had a suitable lake place, so we decided to rent a boat for a couple days." To accommodate the size of their group, they rented a larger boat from Kennedy at Crown Jewel Water Sports, who delivered the boat right to their dock. Resorts like Blue Diamond Marina and Resort at Cavanaugh Bay on Priest Lake that offer lodging and dining services and rent several types of boats (Blue Diamond rents ski, cruising and pontoon boats, as well as a variety of skis, wakeboards and water toys) are a great option for families and groups looking to try out different types of boats from one resort location.
Water toys: Many boat rentals come with the option to also use or rent skis, jet skis, paddleboards, tubes, and more.
Delivery method: There are great boat delivery companies in North Idaho, but renting is easiest when the boat is already on the water at a full-service marina or with a group that keeps its boats at a local marina. On Lake Pend Oreille, both Sandpoint Marine and Motorsports and Action Water Sports enjoy the amenity of mooring their rental boats at the downtown Sandpoint Marina. "It is the most convenient and superior location," says Geoff Smith, owner of Sandpoint Marine.
P2P: Peer-to-peer (or "pier-to-pier") rental is a service that allows boat owners to rent their vessels to individuals seeking water adventure. Boatbound is one such company that has listings in the Inland Northwest (boatbound.com).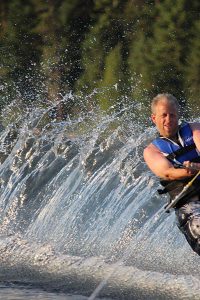 Additional Thoughts
Not very confident captaining a boat on your own? Think about splitting a rental with someone who has more experience, or take advantage of one of the relaxing cruises available through the Coeur d'Alene Resort or Hayden Lake Marina.
Whether you're looking for a few hours of refreshing lake recreation or hosting a party on the water, there is a boat rental for everyone. And, if you choose to rent a few boats this summer and expand your water exploration, you might end up with your own favorite lake. For Pat Holland of Action Water Sports, Lake Pend Oreille is his sweet spot. "You can find your hidden cove and get away from people without a bunch of boat traffic driving around you," says Holland. "It makes it a lot safer than other lakes. It's a nice little place to hide out." Make this summer the time that you discover your perfect lake hideaway. //
S. Michal Bennett lives in Coeur d'Alene. She wrote about camp coffee in June.
North Idaho Boat Rental Locations
Lake Coeur d'Alene
Boardwalk Marina (runabout, pontoon) www.hagadonemarine.com/marinas/boardwalk
Harrison Idaho Water Adventures (wakeboard, ski, pontoon boats delivered to your dock) http://harrisonboatrentals.com
Hayden Lake
Hayden Lake Marina (ski, open-bow runabout, pontoon) haydenlakemarina.com
Lake Pend Oreille
Sandpoint Marine & Motorsports (wakeboard, ski, deck, fishing, pontoon) www.sandpointmarineandmotorsports.com
Action Water Sports (wakeboard, pontoon) actionwatersportslessons.com
A Day on the Lake (wakeboard, ski, deck, fishing, pontoon) www.adayonthelake.com
Hope Marina (runabout, pontoon) hopemarina.com
Priest Lake
Blue Diamond Marina & Resort (ski, pontoon, runabout, personal watercraft) www.bluediamondmarina.com
Elkins Resort & Marina (pontoon, fishing) www.elkinsresort.com
Priest Lake Marina & Resort (ski, fishing, pontoon) www.priestlakemarina.com
Hills Resort (fishing) www.hillsresort.com
Crown Jewel Water Sports (open-bow runabout, tower, non-tower, ski, wakeboard) priestlakeboatrental.com