Spokane, Wash. 
When Mountain Gear closed its doors this past January after 37 years of selling technical outdoor gear, Spokane-area climbers and backcountry skiers were suddenly left without a local source for select gear and expertise. Conversations around the local outdoors community quickly turned to speculation about who would step up to fill the obvious hole left by Mountain Gear's closing. Seven months later, local outdoor industry veteran Mark Beattie is months away from opening the doors of his new shop, Adventure 509, at a yet-to-be-determined location in Spokane Valley.  
There probably isn't another person more qualified to open the kind of shop Beattie envisions. He first started working for a store called Mountain Outfitters in Coeur d'Alene in the late 80s and eventually went on to open his own shop, Vertical Earth, that catered to steep mountain sports like climbing, mountain biking, and backcountry skiing. After selling Vertical Earth to current owner Mike Gaertner, Beattie went to work at Mountain Gear in Spokane for the next 12 years, where he sold gear, answered technical questions, and provided some of the most qualified boot and gear fitting services in the Northwest. About a week after the announcement came out that Mountain Gear was closing, Beattie says that watching the reaction to the news and the flood of long-time customers coming in convinced him he had to step up. "Spokane is a very active outdoors community and suddenly they became underserved. I didn't want to let that happen."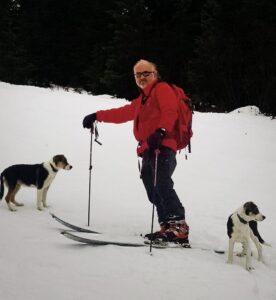 I spoke with Beattie in the middle of August while he was waxing a pair of skis in his basement. In between bursts of loud scraping sounds over our speaker phone conversation, he shed some light on what all he had planned. For starters, Adventure 509 will focus on climbing, mountaineering, backcountry ski and avalanche gear, he says, with limited technical apparel and accessories. Beattie intends to add backpacking gear at some point too, and he plans to run demos and classes and host events to help get more people involved in backcountry sports. The shop will also provide professional technical services that are currently difficult to find or unavailable locally like backcountry boot fitting, ski tuning, touring binding installation, repair, and more. Look for store opening details on Out There's social media pages.