Tucked behind Community 1st Bank, just off the corner of Sherman Ave. and Fifth Street, Evans Brothers Coffee Roasters opened their second café this past November. With a focus on quality and a desire to engage the community, this sleek café is already turning heads in downtown Coeur d'Alene.
Brothers Rick and Randy Evans moved to Sandpoint, Idaho, while looking for a place to raise their families near plentiful outdoor recreation opportunities. Randy had been in coffee for about 10 years and had a deep passion and knowledge of it. Rick was more entrepreneurial and had experience in sales and marketing. He also wanted to support Randy and create an income that would keep them both in North Idaho. Thus, Evans Brothers Coffee was born.
After a few years as solely a wholesale roaster, they opened a Sandpoint café to showcase their coffees. "It's been a great way to connect with more people and has helped us on the wholesale side," says Rick. It also taught them a lot about what it takes to operate a successful coffeehouse.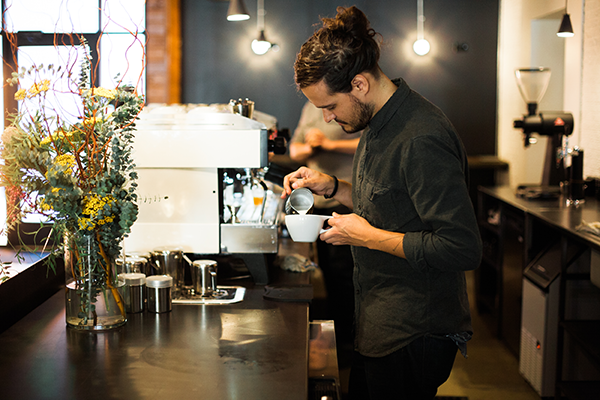 The thought to open a Coeur d'Alene café came from a pensive place. "We wanted something that was about slowing down, savoring the experience, and creating something special around coffee," says Rick. Connection to community through coffee is at the core of Evans Brothers, and everything in the CDA café speaks to that.
From their Sandpoint designer, Katie Cox, to the Coeur d'Alene table craftsman, Daniel Howard, to the pastries, vendors, and even baristas, there is a melding of Sandpoint and Coeur d'Alene influences. The coffee is highlighted in big and little ways. When you order a pour over coffee from the precise Marco SP9 brewing system, it is presented in a locally-made mug on a block of wood with a card detailing the origin, process, roasting profile, and tasting notes.
The pastries in the case are from a variety of North Idaho vendors, including Jupiter Jane's Traveling Café and Mudge Chocolates. The food is simple and delicious, and the seasonal drinks and shrub sodas offer something for every palate.
"I love bringing a little of our Sandpoint style to Coeur d'Alene, and it seems like it has been well received," says Rick. "We're excited to be a part of a really exciting time in coffee and food in Coeur d'Alene." Visit Evans Brothers Café at 504 E Sherman Ave. in Coeur d'Alene from 7 a.m.-6 p.m. 7 days a week. //