For over 20 years, this mountain town nestled in the lush and rugged Selkirk Mountains has been holding a festival in honor of an avid cyclist who helped shape the mountain bike community it thrives on. Cameron Alexander was a pioneer of epic, gnarly mountain biking, and his love of the sport helped inspire what are some of the best known trails in Western Canada, right north of the border in Nelson, British Columbia. To commemorate the loss of Cam in a tragic mountain biking accident, his friends created a festival to celebrate his love of biking, which continues on over 20 years later. Featuring both family-friendly events like the bike parade and kids races, as well as events like the BlackJack Shuttle and Enduro Race for the more hardcore rider, there is something for everyone! The low Canadian dollar makes Nelson the best place for a mountain bike getaway – the Fat Tire Festival gives you the reason to come! It's a chance to see for yourself…Nelson bike trails rock!
Nelson has some of the best mountain biking in the world.  From steep, gnarly downhills, to flowing and fast cross-country trails to epic rides with 360 degree views. And the trails are all accessible within a short 10 minute drive – some even start from right in town!
Get a peek of what Nelson has to offer with the Fat Tire Festival Casino Royale events on Saturday, August 26. The day features these recreational rides: a longer cross-country group ride at the Smallwood Trail system; shuttles to some of the best downhill trails around; and the fun Poker Ride, featuring the Mountain Station trails located right in Nelson. And all events feature a "casino" theme that wraps up with prizes at the Roots, Rocks, and Rhythm party on historic downtown Baker Street. Event costs vary from $5 to $15, and there are discounts if you sign up for the whole day. Visit www.nelsonfattire.com for more information.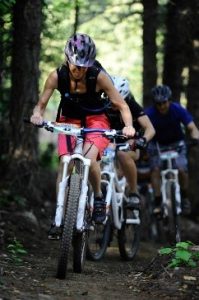 Sunday, August 27, the race is on! Join festival riders at Morning Mountain, the newly developed mountain bike destination in the West Kootenays. Formerly a ski hill located a short 10 minute drive outside of Nelson, Sunday features the very popular kids' cross-country races and the new Up, Down, All Around Enduro race that highlights the best in climbing and descending. These events are unique as they tailor to both the recreational rider and the speed-loving racer!  Expect music, food, fat tires and good times all day long.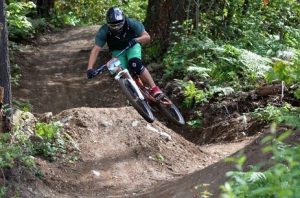 Come Celebrate Your Love of All Things Bicycle! So join the community of Nelson, B.C., August 25-28, for the 21st Annual Fat Tire Festival. Organizers have a weekend filled with something for everyone – and great prizes to be won! All the details you need are at www.nelsonfattire.com. //