Beaver fever, iodine tablets, "Cathole" digging, bear-proof containers—these are just a few aspects of backcountry adventuring, where you can enjoy exceptional landscape beauty and natural serenity with your children. To better understand how to start planning, here are some ideas and recommendations.
Begin with a "backcountry lite" experience, or seeking out enough primitive wilderness without totally roughing it. This includes staying at remote and rustic National Forest Service campgrounds accessible by car. You have no cell service and are many miles from the closest small town, yet you have potable water and vault toilets.
Another way to teach children about the rigors and requirements of backcountry travel is with day hikes. Kids can carry their own small pack with supplies, learn map and compass-reading skills, and practice Leave No Trace principles, including sanitation guidelines. Hiking round-trip in a day and returning to a campground, hotel, or returning home, is a significant accomplishment.
For any hike, always carry the "Ten Essentials," which includes 10 gear categories: navigation, sun protection, insulation, illumination, first-aid supplies, fire, repair kit and tools, nutrition, hydration, and emergency shelter.
Accidents happen and the power of nature can foil plans.
When your family seems ready for an overnight backpacking trip, begin with a one or two-night itinerary to a kid-friendly destination, such as a lake. Experts say that a child's pack should weigh no more than 10-15% of his or her bodyweight. Find packing list ideas in guidebooks and from Washington Trails Association's website (wta.org).
My friend and fellow Spokane mother Rebecca White recommends bringing special treats. For her kids, she packs M&Ms, freeze-dried astronaut ice cream, and tinfoil S'mores. Also, she packs extra clothes that remain behind in the car at the trailhead—"so you know everyone has a clean set when you're done," White says. She and her husband, Chris, first took their two children backpacking when the kids were about 10 years old. She recommends destinations like Plowboy Campground at Upper Priest Lake, which provides vault toilets. The 3-mile Navigation Trail is flat and easy, or you can boat in.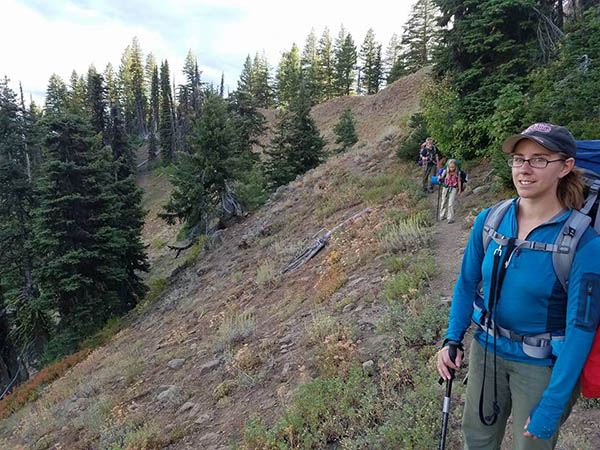 Parents Joal and Elizabeth Lee, from Pullman, chose Upper Priest as their family's first backcountry destination. "Our daughters were 5-years-old, 2-year-old, and 6-weeks-old [at the time]," says Joal. "Elizabeth was able to carry a fully-loaded backpack while pushing our baby in a jogging stroller." Accompanied by another family, Joal and the other dad canoed to the campsite with most of the gear. "It went really well, though, thinking back on it, I wouldn't recommend taking a child that young. Even if a person is well-prepared, there is a lot that can quickly go wrong with infants," he says.
The Lee family has since experienced three more backpacking trips, including to the Seven Devils in Idaho and the Eagle Cap Wilderness in northeast Oregon, where they summited the 9,572-foot Eagle Cap peak. "The farthest we've backpacked in a single day is 8 miles," says Lee.
In the backcountry, be sure you're prepared to respond to serious injuries. Consider registering for Wilderness First Aid or a Wilderness First Responder course, both offered locally by Peak 7 Adventures. There's also the more comprehensive Outdoor Emergency Care (OEC) course designed by National Ski Patrol. For families living in Washington, Idaho, and Oregon, an annual Life Flight network membership is a wise financial and peace-of-mind investment should emergency air transport ever be needed.
To reduce heavy gear requirements, families can hike to a backcountry cabin or yurt. To reduce hiking mileage, consider traveling by boat to a backcountry destination, such as a cruise across Lake Chelan to Stehikin Village, a gateway to North Cascades National Park. There are four primitive wilderness campgrounds (permit required) located 0.5-5 miles from the boat landing. In Glacier National Park, Glacier Park Boat Company provides trips across lakes where you can then hike to backcountry campsites. Local guidebook writers Harvey and Abby McAllister have published family guides to Glacier, Yellowstone, and Utah's Big Five National Parks—all part of the Adventuring with Kids series from Mountaineers Books. Another good resource is "Babes in the Woods: Hiking, Camping & Boating with Babies & Young Children" by Jennifer Aist.
As Amelia Earhart famously said, "Adventure is worthwhile in itself"—especially when that adventure is in a thick forest, along a quiet trail, or near an alpine lake with spectacular star-gazing views. //
Amy McCaffree is Out There's special section editor. Her all-time favorite backpacking trip was in Glacier National Park's Belly River area.
[Feature photo: White family backpacking in Hoodoo Canyon. // Courtesy of Rebecca White.]