More than ever, women are helping grow the Northwest mountain biking community.
"In mountain biking you can really set your own level of fun. It's a way to get out in nature and play as an adult," says Penny Schwyn co-founder of the Biking Betties women's riding group, based out of The Bike Hub in Spokane. Women age 15 to 65, and older, enjoy group rides on local trail networks, such as Beacon Hill and Saltese Flats.  
Schwyn, 59, started mountain biking in her 30s—her husband did it and it looked fun. After a few years, she took a riding class. "It was life changing because I understood the 'hows' and 'whys' to riding a mountain bike," she says. "It taught me skills so I could be confident, and then I started having more fun."
Now Schwyn is on the coaching team for Evergreen East, the Spokane chapter of Evergreen Mountain Bike Alliance.  
Biking Betties' member Jane Patten, 37, started mountain biking 6 years ago. She appreciates how the sport provides challenges suitable for all riding styles and intensity levels, from leisure double-track rides to "lung-burning cardio on massive climbs," she says—with technical descents and jumps optional. She tries to get more women to participate in local MTB races.
"I think as a beginner the thought of doing a race can be pretty intimidating," she says. It was the encouragement of local pro-racer Jaime Reese—co-founder of Biking Betties—who inspired Patten to try racing.
"After my first enduro race I was immediately hooked. The experience was so much more than just the race—it was seeing how much you can push yourself, building a camaraderie with old and new friends as you learn the course, and just having fun and living in the moment," says Patten.
"Now so many us of inspire each other and are constantly encouraging each of us to try new events. The Wednesday Night cross-country races out at Riverside State Park is a great weekly series during May and June that's not as technical as races out at Beacon if you're looking to build confidence and ease yourself into the racing scene. These races will definitely help your endurance and cardio" 
Leigh Bowe, 38, a professional enduro mountain bike racer since 2015, joined Biking Betties after moving to Spokane from Colorado about two years ago. She started mountain biking in 2006 while still in the military.
"I had just returned from a year-long deployment to Baghdad, Iraq, and I was looking for a way to experience some adrenaline and be healthy outside," says Bowe.
Last fall, she competed in Smoke 'n' Fire 400, in Boise, which inspired her to do Cross Washington (XWA) this May—a 700-mile self-supported, mostly off-road bikepacking ride from the Pacific coast to the Washington-Idaho border.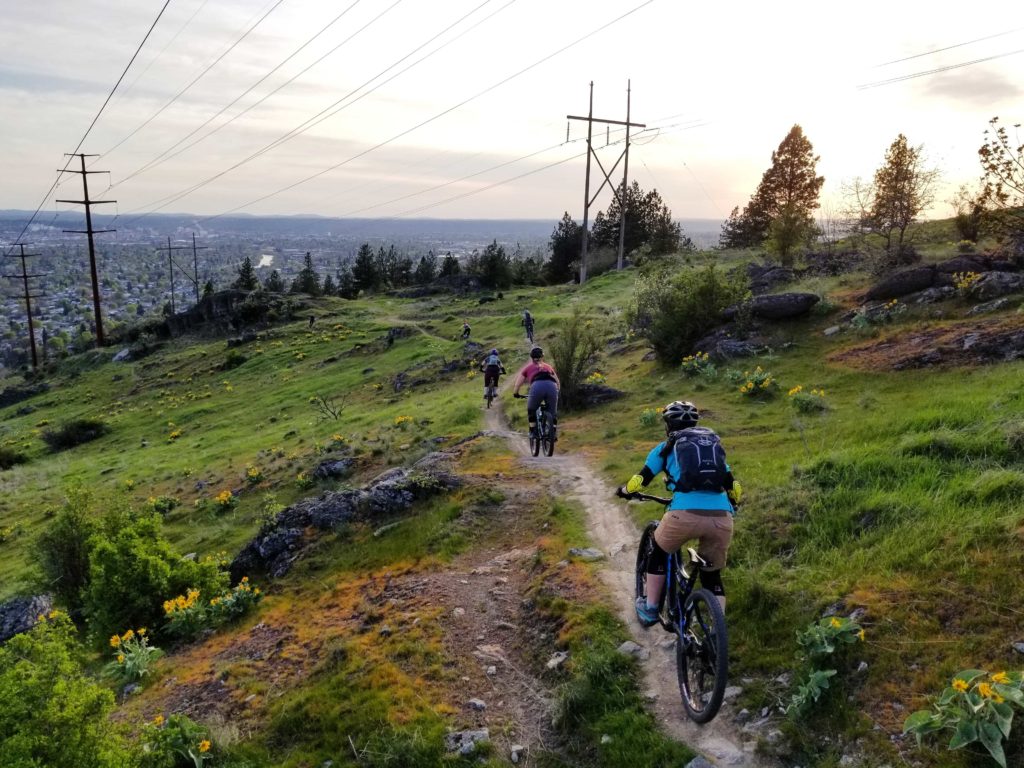 All women are welcome to join the Biking Betties—check out its Facebook page for group ride events.
Originally published in the March 2020 print issue.