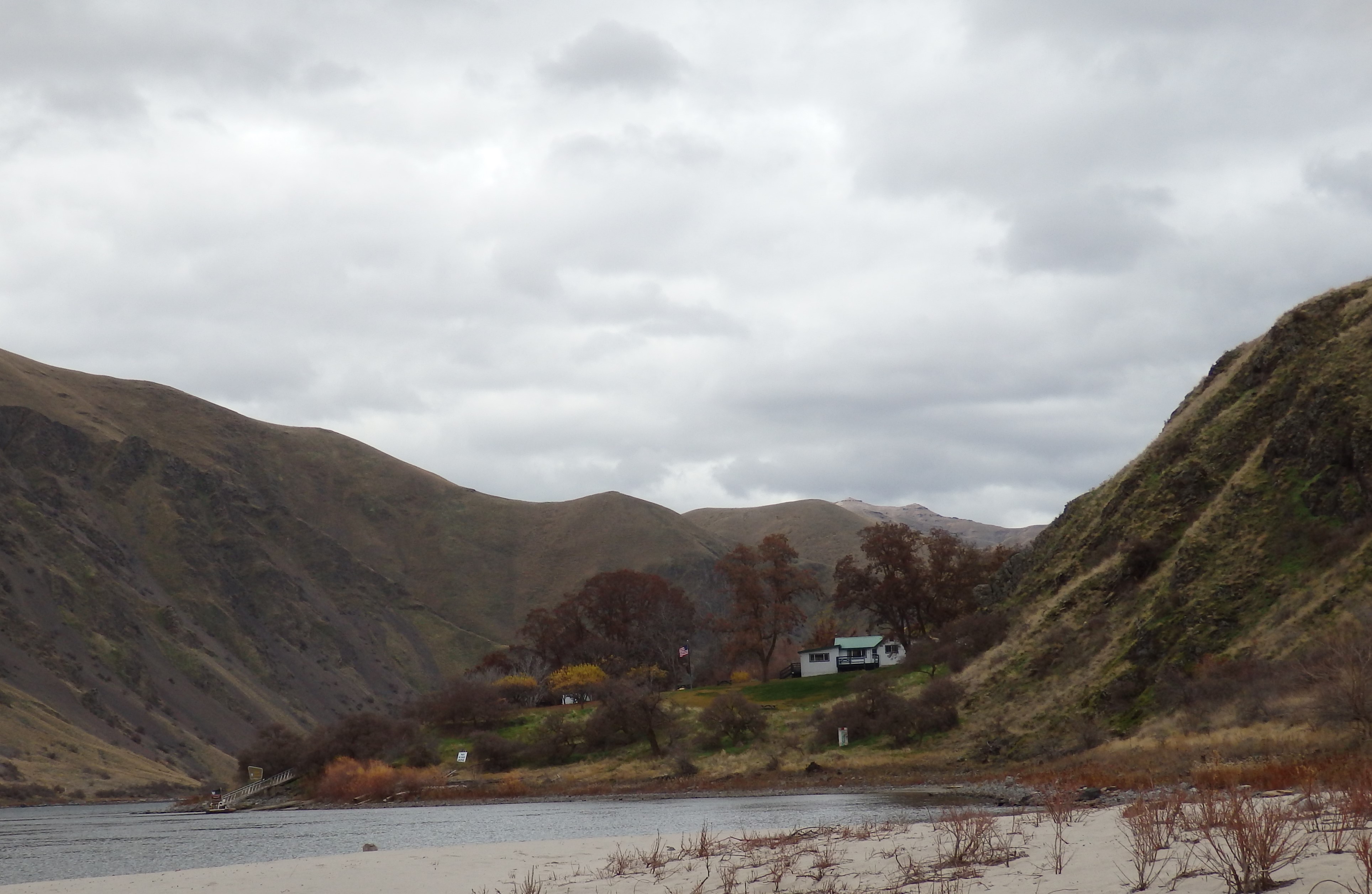 The Forest Service lady's eyes shone like moss agates. "You'd be PERFECT," she announced, "to be our permit host at Cache Creek—on the Snake River—for the month of December. How about it?" Thus began my adventure: finding paradise in Hells Canyon in the winter!
Six weeks later, safely deposited just within the northern boundary of Hells Canyon National Recreation Area, with Petunia the Corgi, gear, and (hopefully) ample food for a month, I waved 'Goodbye' as the Forest Service jet boat wheeled away from the dock and headed downstream.
I immediately started taking in the grandeur and solitude. We lived in a refurbished sheep ranch-house, warmed by a cheery woodstove, cozy as old bedroom slippers. A small museum was attached to the house, and a large picture window looked downstream over a wide sweep of the eternal, shining, and sibilant Snake River.
From the kitchen window I watched troops of turkeys, bevies of quail, and families of dark-eyed mule deer, all partaking of some feast or another that lurked below the blackberry thicket grown up over Cache Creek. Every day began by solemnly raising the flag, hopefully before the first boat of the day, and a round of "America the Beautiful" for the flickers. Visitors to the permit center were mostly expeditions fishing for steelhead, then chukar and elk hunters, and the occasional boatload of fishery biologists.
I greeted all the boats I could, though I was only asked to stock the self-permit forms for entering the HCNRA, and collect and tally daily permits. I swept the spiders and other detritus from the lightly used vault toilets and snow from the dock and ramp. There was no radio, cell phone, or Internet connection. I used just enough solar light to read from the rich trove of the Cache Creek library. I cooked, puttered, knitted, and played accordion by the picture window.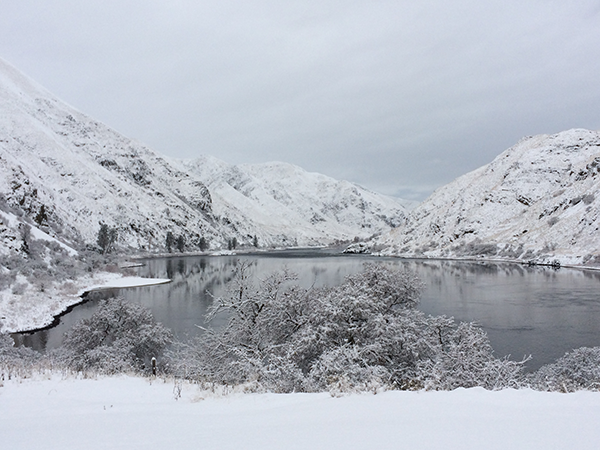 Each week revolved around the brief but exciting visit from the mail boat. Nearing Christmas, I was blessed with a weekly bounty of cards, letters, and goodies. I sent as many letters and sketches as I could—doing my best to share Cache Creek with family and friends.
The hiking adventures were exhilarating. Daily I hiked the wide bench upriver along an old farm track through the hackberry trees, scattering chickadees, gold finch, and hundreds of robins and watching the marsh hawks on their incessant gliding hunts. Sometimes I clambered downstream along a shoreline game trail, scattering chukars and "Huns" into the rocky outcrops of the side hill.
The road up Cache Creek was most challenging. If there were cougars nearby, they'd be up there! The creek and side draws were bastioned with poison ivy. Leaving the ranch house in a gentle skiff of snow, I could soon be floundering knee-deep, a thousand feet higher, breaking trail for my staunch little companion. The elk herd high above us realized how harmless we were and soon just lingered quietly browsing and resting on their sunlit slope as we approached.
The snow, the quiet solitude, and this "sensory deprivation" served to enhance every experience. A wisp of pink cloud, the silhouette of bulbous turkeys flapping high in the trees to find balance for a night's sleep, applesauce with rosehips. I experienced all of this as blessed events, surely as Paradise. Maybe I was a little crazy up there, but I'll take it!
I tried, but couldn't stop talking to the patient ranger as we boated out. Pestered, he finally conceded that much of the comments the Forest Service gets from the "public" are complaining, and many abusive. (This was less than a year from the militant take-over of the Malheur Wildlife Refuge not too far away.) The Forest Service, in managing the HCNRA, works to protect boater safety and quality river experiences, keeps clean latrines and campgrounds along the way, and maintains roads and trails. Staff do the best they can, often relying upon volunteers to get their jobs done under ever-reduced funding and, sometimes, little public support.
"Hooray!" I say for those who serve our great American legacy as stewards of our public lands, and for the opportunity to volunteer with them—a rich and rewarding adventure. Learn more about volunteering yourself at Fws.gov/volunteers. //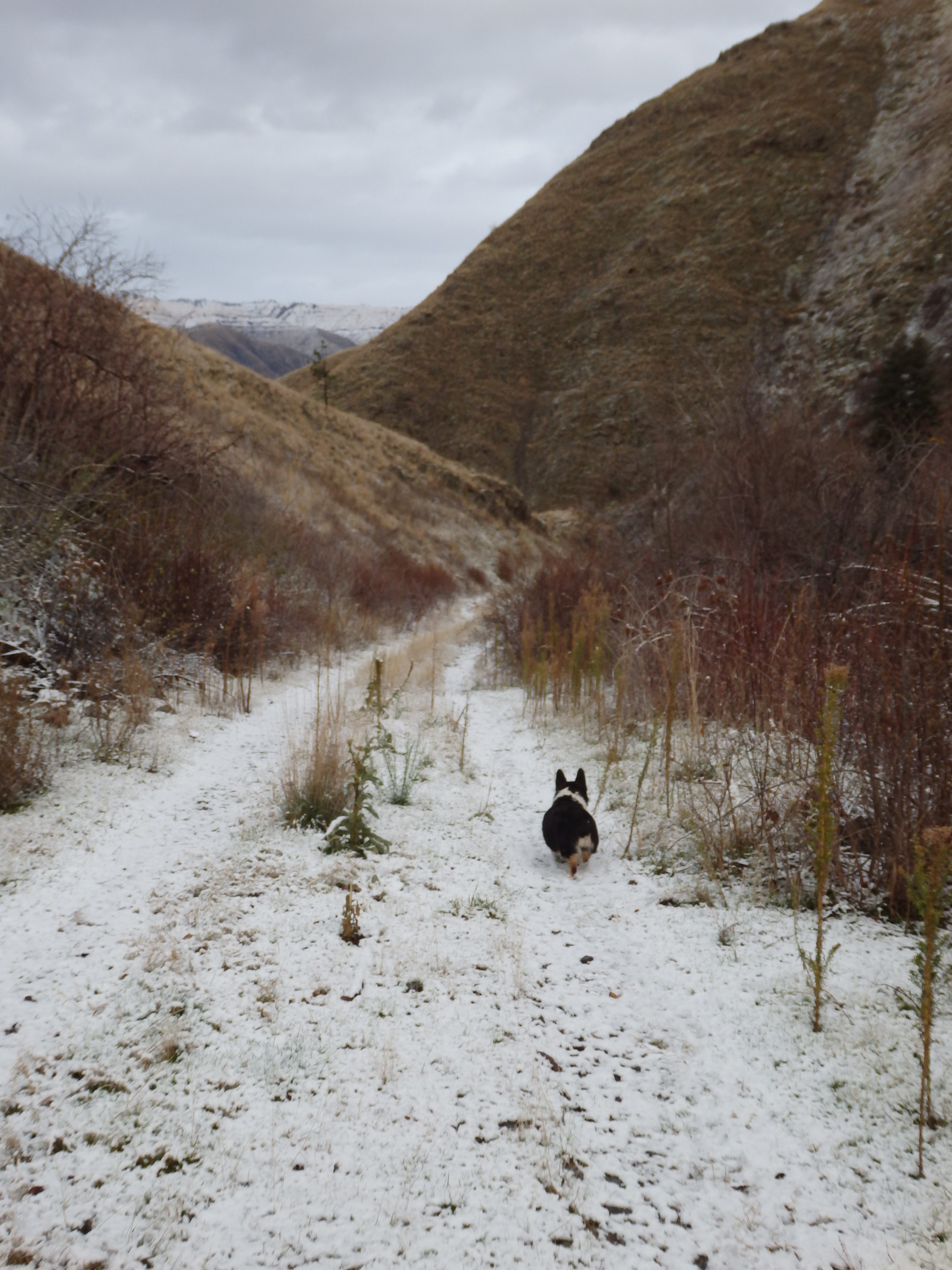 Bea is a retired cartographer. She currently presides over her "overgrown empire" of a garden in Spokane's West Central Neighborhood and squeezes in as many camping/hiking/road trips as she can. She wrote about backyard birding in October.