When I think of race directing, I imagine someone hanging onto a cliff by their fingertips. If all goes well, they scramble up, carry on, and no one notices. But one rock tumbles, a handhold slips, and they plummet to jeers of disgruntled participants who believe idiots seal their own fate.
Eighteen years ago, I was invited to cover and run the Himalayan 100-mile stage race in West Bengal, in the northeast tip of India. For five days, at elevations from 6,000 to 12,000 feet, partly on a road that forms the border with Nepal, I joined 40 runners (including a handful of fellow journalists) from 12 countries to race a loop through terrain tourists never see.
The director and founder of the Himalayan 100-mile stage race, now in its 33rd year, was known to us only as Mr. Pandey. He bossed us like schoolchildren, so we kid-bonded, playfully uniting against a common foe. His Indian-accent English speech tended to be a list of imperatives and so we rebelled by teasing him (behind his back).
"You will be waking at 5:47 a.m. and you will be enjoying your breakfast and you will not be late," announced a cheeky South African journalist in a perfect imitation of Mr. Pandey. Naturally, Mr. Pandey walked in during our hysterics. We were, he said, very naughty boys and girls.
The first day of the race, we slogged up 24 miles on cobblestones as big as babies to unheated, rustic huts at the peak in Sandakphu National Park, the only place where four of the five tallest mountains in the world are visible. Nearby was Kangchenjunga, number three (in height) after K2 and Mount E.
The rest of the race, slightly less grueling, was the hardest physical thing I've done. I tried to enjoy the scenery, but I was then still a competitive little beast. I cared most about winning the stand-alone Mt. Everest Challenge Marathon on the third day.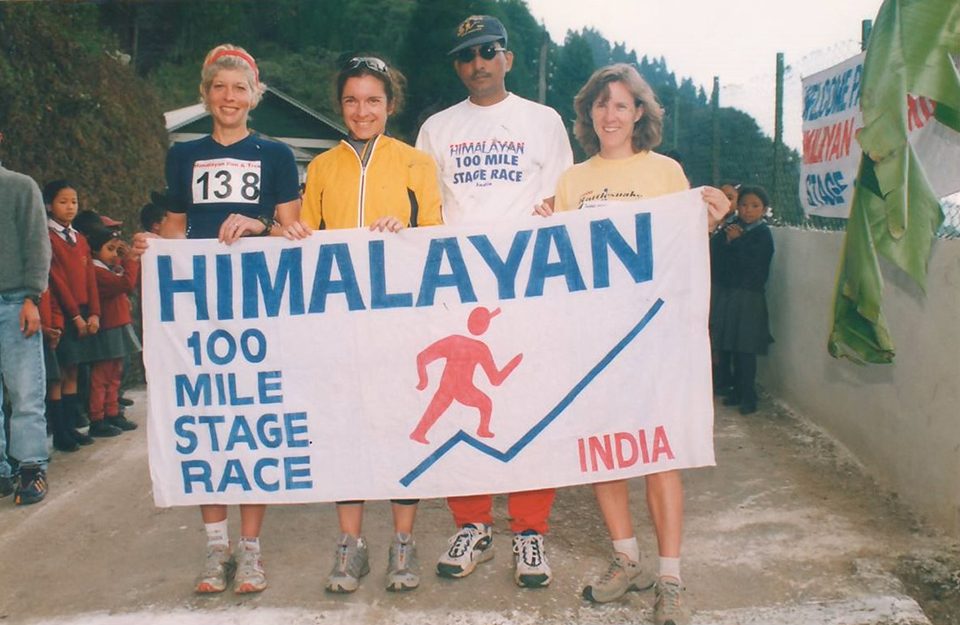 I came home with the trophy, thankful I did the event, and relieved it was over. I hadn't considered returning to India. Then, last summer, my brother Mark and his wife Debra bagged U.S. government jobs and moved from West Virginia to New Delhi. They sent photos from weekend jaunts to fabulous places. They mentioned a spare bedroom.
Before I left for India this spring, I reached out to Mr. Pandey to ask for places to run in Delhi. He offered to host me on a trek through his homeland in the Himalayas, but there wasn't time. So, I invited him to my brother's apartment for dinner.
Mr. Pandey brought his 13-year-old son, Om, and many gifts. The stern dictator I'd known as a race director was now all warmth, enthusiasm, and insistent on documenting our joyous reunion with photos. Before, during, and after dinner Mr. Pandey talked nonstop, offering a Hindu nationalist's insights. I was eager to get his take on local issues and he was happy to offer opinions.
What do people get wrong about India?
So much, he said. "They think it's all monkeys and snakes."
Prime Minister Modi, he said, paved roads and brought infrastructural and technological improvements (while also, I didn't point out, jailing political opponents and eroding democracy). Mr. Pandey said I would not recognize the Himalayan 100 today. There is now a real hotel at Sandakphu. Heat! Hot water! Toilets!
Pfft, I said. Who wants an easier race?
Then I thought, Me!
When we returned to New Delhi after a weekend trip, Mr. Pandey invited my husband Toby and me to his home for lunch. His wife prepared fried bananas, taro root, dal, chapatis made with millet, and a zillion other things I can't name but devoured with relish.
Over lunch, under photos of our host taken with various Indian luminaries, Mr. Pandey talked about his early days mountaineering—the many ascents, the difficult treks, the dangerous rescue missions to aid the Indian military. He is a badass from way back, something I didn't bother to consider all those years ago when I was a narcissistic competitor running a 100 mountainous miles.
I thought about what it takes to put on any race, then added in the complexity of a loop through rural areas (especially before cell coverage). Wrangling a group of international runners with different cultural expectations: more challenging than running 100 miles.
Americans, he said, were easiest. They just need to know the plan. They like information, and once they have it, they relax.
What a treat, I commented, to hang out, to chat freely, to experience warmth and generosity I hadn't been able to see 18 years ago.
"Rachel," Mr. Pandey said, leaning across the table and taking my hand, "you are my friend of the heart. The racers, they are all my friends, but during the event they must be so only in my heart."
Mr. Pandey's job as race director—to keep us safe and on schedule—meant hanging on by his mountaineering fingertips. No room for playfulness, for fun.
At home in Delhi, I got to see a man in full: father, son, husband, friend. The spirit in me greeted the spirit in him. Namaste, Mr. Pandey.
Rachel Toor, professor of creative writing at Eastern Washington University and author of six books, now works hard at staying upright on the trails, especially when running with a bouncy 60-pound mutt.