In 1968 the Spokane Mountaineers hosted then-Congressman Tom Foley at the club chalet on Mount Spokane to discuss conservation issues and other hot topics. Another piece of big news during this period included the opening of the North Cascade Highway to the public. On the skiing front, club members skied at Jackass Ski Bowl (aka Silver Mountain) for the first time and at Montana's Big Mountain, where members rode the train for a long weekend of skiing, a trip that became popular and was repeated many times in the years to follow. A sign of more mountaineering accomplishments to come, climber John Roskelley announced an attempt of Dhaulagiri for the 1973 climbing season. Also during this period the public and the Spokane Mountaineers saw a need for the Salmo-Priest Wilderness in extreme northeast Washington and worked tirelessly to that end, while the U.S. Forest Service opposed the idea completely.
The club's 1970 summer outing was held at Glacier National Park in Montana. One new member this year is David Coombs, who will go on to climb Mount Everest. Other climbs this year were varied and far afield. Local climbers John Roskelley and Bob Christianson did a first ascent of the North Face of Lions Head Peak in the American Selkirks. Roskelley and fellow climber Chris Kopczynski headed to the Bugaboos in British Columbia before Roskelley and club member Jim Sates, who taught the medical section of the Spokane Mountaineers Mountain School for many seasons, set out to climb Nanda Devi. In 1970 the club had 284 members.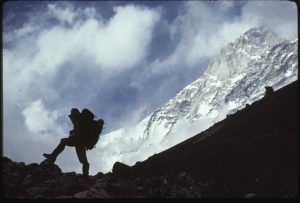 In 1971 new member Doug Rider was named the National Ski Patrol's "Most Outstanding Ski Patroller" for the 1970-71 season. In 1972, new members included Joyce and John Roskelley, Betty First and Tom Kimbrell. Mount Rainier had 84.3 feet of snow at the Paradise Lodge that year. Club membership jumped to 412 by 1971.
In 1973, John Roskelley attempted a climb of the southwest ridge of Dhaulagiri in the Himalayas. Major climbs by club members in 1974 included Mount Sir Donald by Jim Spearman and Gary Cassel and a summit campout on Mount Rainier by Jim Hickey and Randy Jamison. In the now proposed Scotchman Peaks Wilderness, member Jim Collier led a climb of Billiard Table Mountain.
In 1975 new members included Ida Rowe Dolphin, who went on to co-write "100 Hikes in the Inland Northwest" with Rich Landers. New members in 1976 included the famous Sherpa Tenzing Norgay who summited Mount Everest with Sir Edmond Hillary. The U.S. Forest Service "Leave No Trace" program was announced this year, and the Alpine Lakes Management Area Act passed. Significant outings this year included a 100-mile bike ride from Priest Lake to Spokane.
This is #5 in a series of Spokane Mountaineers historical highlights. Learn more about the club and its events and outings as members celebrate 100 years at www.spokanemountaineers.org.
Written by Chic Burge.