Spokane, Wash.
Mountaineering doesn't have the same metrics as basketball or football, but if it did, Spokane mountain climber Chris Kopczynski would definitely belong in the Hall of Fame. When he started climbing in the 1960s, many of the world's tallest peaks had hardly been touched. However, throughout the 70s, 80s and 90s, Kopczynski traveled the globe and climbed several Himalayan peaks, as well as the highest point on every continent, also known as the Seven Summits.
Kopczynski recently published a memoir recounting many of his wildest adventures. The book is entirely original; although, his title, "Into Thin Hair," clearly jests at one of the greatest Everest books of all time by Jon Krakauer. Let the record show that Kopczynski's book is riveting; however, nothing testifies to the gravity of the adventures you'll experience while turning the pages of his book quite like first-hand tales from a few of his local climbing partners and friends.
Frequent climbing companion John Roskelley recounts one particular climb in their earlier years. "We couldn't have picked a dumber alpine route. Neither of us had waterproof pants or decent jackets for the deep snow, cold, and wind we encountered. We made it to the ridge crest just before dark without being swept by an avalanche, which to this day I don't know how, and then bivouacked in a howling storm that night. In the morning, we were both like popsicles. It was so cold and windy, Chris decided to abandon his homemade two-man tent. That's right—leave it on the ridge. Well, I needed a tent, but couldn't afford one, so I said, 'Chris, if you leave it and go down, I'm going to take it down myself and keep it.'" Ultimately, both climbers evolved into high-altitude climbing legends, but that doesn't mean every climb was smooth.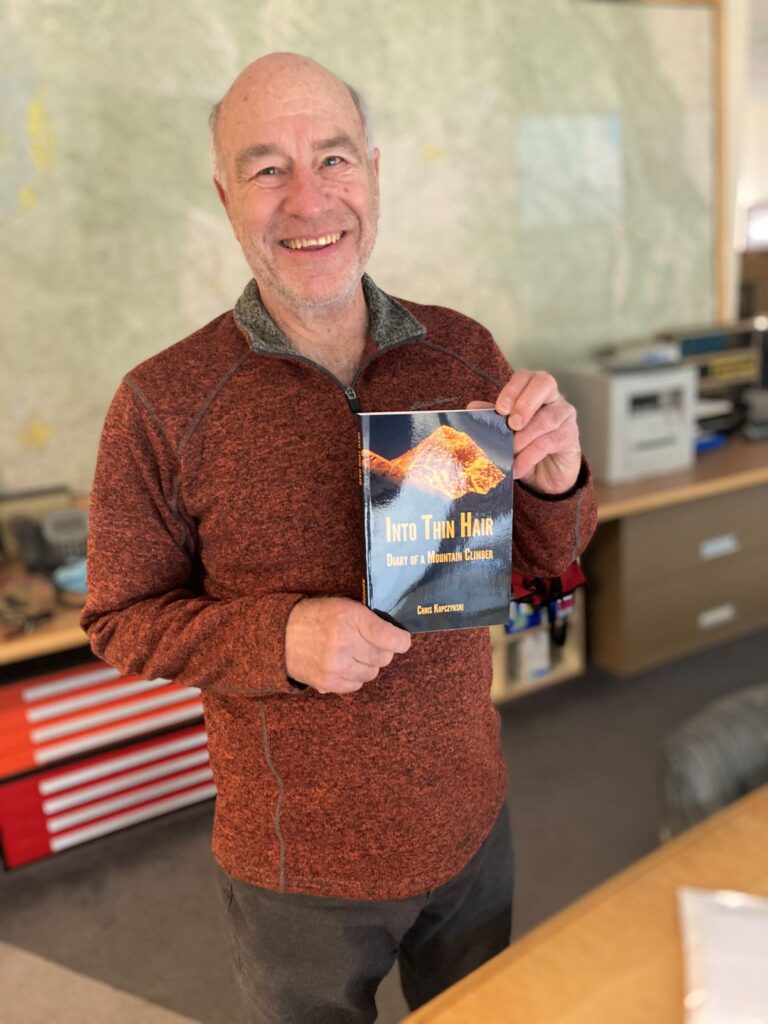 Another friend, climbing partner, and longtime Spokesman Review outdoors editor Rich Landers offers another fond Kopczynski memory. "Sealed in our sleeping bags while wearing down parkas, Gore-Tex overalls, climbing boots, and gaiters to endure a storm, I learned that despite climbing on Everest and other frigid ascents, Kop had suffered frostbite only once—on a cold December morning in a goose-hunting blind. He boomed out, from memory, a fine performance of Hamlet's soliloquy: "To be or not to be…" And he seized the ordeal to offer me words of mountaineering wisdom. 'You don't want to think about being scared in a situation like this. Get scared and it's all over.'"
Mountain Gear founder Paul Fish also recalled Kopczynski's wit and wisdom during a mountaineering storm. "On our Mount Fairweather attempt, Chris's skills as a climber were appreciated, but not nearly as much as his storytelling. On storm days, he would cut the tension or boredom with a well-chosen tale from his past life and climbing experiences. Frequently humorous, but never cruel to anyone, and with the occasional learned word, his stories stay with me just like the memories of the climbing." Fortunately you don't need to freeze in a tent with him to hear Kopczynski's stories. Pick up a copy of his new book, "Into Thin Hair," at Auntie's Bookstore in Spokane or at another local book shop.