Get Out & Ride a Fatty
Although I am an avid commuter and recreational cyclist, I have only ridden a fat bike once—and it wasn't in the snow. So, my biggest question is: with all the winter sports available to us here in the Inland Northwest, why ride a fat bike when the snow flies?
"It's just plain fun," says Dave Nelson, one of the three founders of the Northwest Fatbike community on Facebook. "I have never seen someone get on a fat bike and not smile ear-to-ear."
Mike Gaertner, owner of Vertical Earth bike shop in Coeur d'Alene and the first to sell fat bikes in this area, has seen his fat bike sales double since 2014. "It's a fun winter activity," says Gaertner. "You can be an avid skier or snowmobiler on the weekends, but fat biking doesn't have to be a weekend thing. It can just be a couple hours on a weekday evening, which makes it versatile."
Jay Davis, a long time Coeur d'Alene resident, rides different bikes during the warmer months, but almost solely pedals his fat bike in the winter. After snow biking for almost three years, he prefers it to snowboarding and skiing. "I'm not an adrenaline junkie," he says. "The bike is more stable and less nerve-racking than throwing myself down a hill." He also makes the point that, for some people, making a one-time fat bike purchase is probably more affordable than getting the gear, clothing, lift tickets, passes, and everything else needed to ski or board every season.
How to Get Started
Pretty much every bike shop in the Spokane area and North Idaho now carries or is beginning to demo fat bikes. "There's a lot more availability," says Gaertner. The perks of browsing at your local shop are that you can ride before you buy, find the perfect fit and color, and take advantage of the service and community each shop has to offer.
When picking a place to snow bike, start with spots specifically groomed for fatties. If there's nothing close by, choose an area with snowmobile trails. "Avoid super soft snow," says Gaertner, "and deep powder that hasn't been packed." Instead, look for "packed trails with a corduroy finish, about 84 to 168 inches wide," says Ryan Griffith, Assistant Parks and Recreation Director in Spokane.
Finally, make sure your tires are 3½ inches or larger, reduce your psi to 10 or lower, and don't forget to pick up a helmet and a good headlamp. Oh, and pray for snow.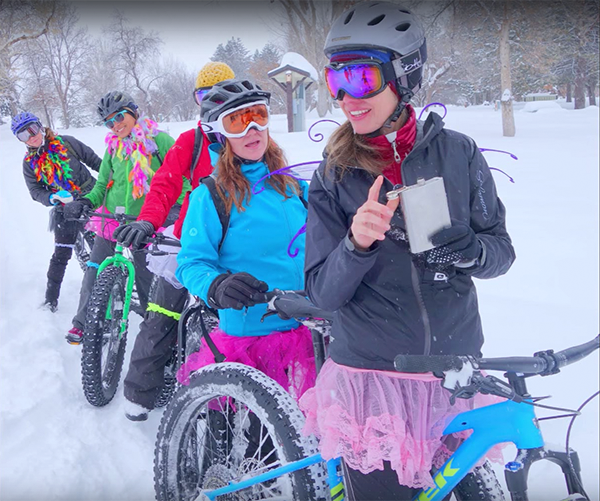 Where to Ride
State Parks and County Trails
Last winter, Farragut State Park began grooming their ski and snowshoe trails to accommodate fat bikes, and there are miles of groomed, multi-use trails around Sandpoint, Lake Pend O'reille, Priest Lake, Round Lake, and other snowmobile, cross-country, and snowshoe areas in North Idaho and Eastern Washington.
Around Spokane, Ryan Griffith plans to coordinate with both Trail Maniacs and Wheelsport, who have both purchased fat-bike specific groomers, to provide more multi-use access to trails around Spokane, including Antoine Peak, Riverside State Park, and the Dwight Merkle Sports Complex. Using their new groomer, the Trail Maniacs plan "on grooming some of the Canfield trails and possibly some of the Empire trails out of Spirit Lake," says Dave Dutro.
Fat Bike Community Beta
Join a fat bike group and learn the local trails that open up when the snow flies. Or, take a trip to Winthrop, Wash.; Rossland, B.C.; or the Whitefish Bike Retreat in Whitefish, Mont. and meet other riders and explore new trails. Northwest Fatbikes and Idaho Panhandle Fat Bikers have public community pages on Facebook where they post about events and trip ideas too. The Trail Maniacs group frequently updates its website with snow and trail conditions as well as info on riding opportunities.
Bike Shops
Connect with your local bike shops to join weekly rides and get information about events, destinations, and groups. Once the snow falls, Vertical Earth's Thursday mountain bike rides turn into fat bike rides. Trek Bicycle Store, also in Coeur d'Alene, hosts monthly Full Moon Fat Rides. Ask your bike tech or check each shop's calendar of events for a group ride happening near you.
Ski Resorts
The five ski resorts in this area are quickly become more fat bike friendly. Although Mt. Spokane only allows fat bikes on snowmobile trails, Lookout, Silver, Schweitzer, and 49 Degrees North have opened up groomed trails and other routes to fat bikes. These four will also be hosting events for fat bike enthusiasts this season. //
Michal Bennett enjoys exploring the food, drink, waterways, mountains, and culture that makes the Inland Northwest unique. Her recent published adventures include a story about her favorite winter hat and a rundown of snow happenings at local ski resorts.
Inland NW Fat Bike Events
Winter Fat Bike Clinic with Jay & Tracey Petervary (Feb. 9-11, Whitefish, MT)
Learn from and ride with winter fat bike riding experts. The Whitefish Bike Retreat near Whitefish, Mont., is hosting Jay and Tracey Petervary, two winter fat biking legends, to share tips, tricks, and knowledge for riding in the snow. There are only 15 spots available for this clinic at the Whitefish Bike Retreat, a beautiful, bike-centric lodging facility with 17-miles of maintained fat biking trails at its door. The clinic is geared for both newcomers wanting to learn more about fat biking as well as long-time riders looking to pick up more advance techniques to ride farther through more difficult terrain. Topics covered will include how to dress, moisture management, tire pressure, how to read the snow, how to handle the bike on the snow, gear suggestions, bike setup, safety and many more topics. The cost for the weekend, including lodging, most meals, and guided rides and instruction, is $550 per person. Learn more or sign up at Whitefishbikeretreat.com.
4th Annual Fatty Flurry Fest (Jan. 27, Sagle, ID)
Load up your fat bikes and head to Round Lake State Park near Sandpoint for this 4th annual celebration of winter riding sponsored by Greasy Fingers Bikes N Repair. Free fat bike demos will be offered from 10 a.m.-12:30 p.m., with group rides kicking off at 1 p.m. Greasy Fingers fat bike rentals are available for the group rides (reservations required, call 208.255.4496). Riders must be at least 18 years of age for demos and group rides. Warm up around the bonfire and enjoy refreshments with your fatty-riding pals after the group rides. An Idaho state parking pass is required. Sponsored by Greasy Fingers Bikes N Repair.
Trail Maniacs Snowshoe & Fat Bike Race (Feb. 11, Silver Mountain Resort)
All ability levels are welcome to participate in this fun and challenging race on snowshoes or a fat bike. The 2.2 mile loop course starts at the bottom of Silver's tubing hill and follows the snowshoe trail with moderate climbing. Choose from two laps (4.4 miles) or four laps (8.8 miles). Helmets and fat bike with a minimum of 4″ wide tires are required. Info: Silvermt.com
Up, Down, Round & Round (Feb. 25, Lookout Pass)
Choose from two laps on a fat bike, two laps on skis or a splitboard, or one lap on skis or splitboard followed by one lap on a fat bike. The fat bike course starts at Lookout's base area and heads up Grub Stake and then up Huckleberry Ridge. The decision of how far up and where the turn off is will be decided the morning of the race based on weather and snow conditions. The $15 entry fee includes a lunch voucher. More info: Skilookout.com. // (OTM)