This student essay was included in the feature story "Spokane Students Write From the Wilds of Yellowstone" by Derrick Knowles in the September-October 2021 issue.
Artists in Yellowstone—Thomas Moran
By Nyomi Meinhart
Thomas Moran was born February 12, 1837, in Bolton, England, but he lived to play an important role in American conservation of wild places. At age seven, his family moved to Baltimore, Maryland, and later to Philadelphia, Pennsylvania.
When Thomas was 16 he began his artistic training in a wood engravers shop. At 18, he left woodworking and began painting. Thomas made illustrations for Scribner's Magazine, and in fact he found out about the Hayden Expedition through Scribner's. The Hayden Expedition went to Yellowstone as the first scientific exploration of the area in 1871. Thomas went with another artist, Willaim Henry Jackson, a photographer.
Once in Yellowstone he made sketches of the Gardiner River, Mammoth Hot Springs, Liberty Cap, Tower Fall and The Grand Canyon of the Yellowstone. Once he had a portfolio of sketches and watercolors he went home to fix up his finished paintings. Jackson later wrote, "The wonderful coloring of Moran's paintings made all the difference." His art convinced Congress to preserve Yellowstone as our first national park in 1872!
Moran's 7×12 foot painting of the Grand Canyon of the Yellowstone was purchased by Congress for $10,000. It hung in the White House for many years. Together they helped give America its first national park, and as they did so they became known across the country for their journey and their artwork. We will always remember Thomas Moran as the first person to paint Yellowstone.
Editor's Note: These student essays were printed as they were provided by Pioneer School and were unedited by Out There. To learn more about the school, visit Pioneerschool.com.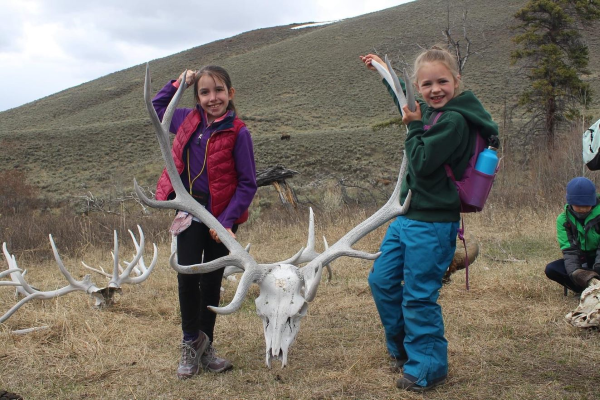 Every other year, 4th and 5th grade students from Pioneer School participate in Expedition Yellowstone, a National Park Service program where school groups get to choose a theme, such as history, ecology, and wildlife for a hands-on learning expedition. Pioneer School is a K-5 accredited, non-profit school for gifted and highly-capable learners in Spokane Valley.