It's that time of year when I get phone calls from friends I haven't talked to in a few months, checking in to share ski plans. Any new gear? What pass did you get? Any chance there are trips planned for (insert friend's location) Tahoe, Bozeman, Colorado, Maine, Canada?
With so many winter prediction options to consider—looking at Pacific Ocean temps, jet stream locations, trade winds, meteorologists talking about teleconnections, bands on a wooly caterpillar, reading tea leaves—planning out your winter fun is always a gamble. But we are more than willing to roll the dice to spend time slashing turns down a mountain with good friends.
So here is what the experts are saying.
For the second year in a row, the buzzword we like to hear is "La Niña," a cooling of the Pacific equatorial waters. This pushes the jet stream north over the Pacific Ocean before it dives south over the North American landmass, bringing cold temps to us folks in PNW.
This year's La Niña is predicted to be a bit weaker than last year, leaving most meteorologist less confident in their forecast, which means their predictions are somewhat unpredictable.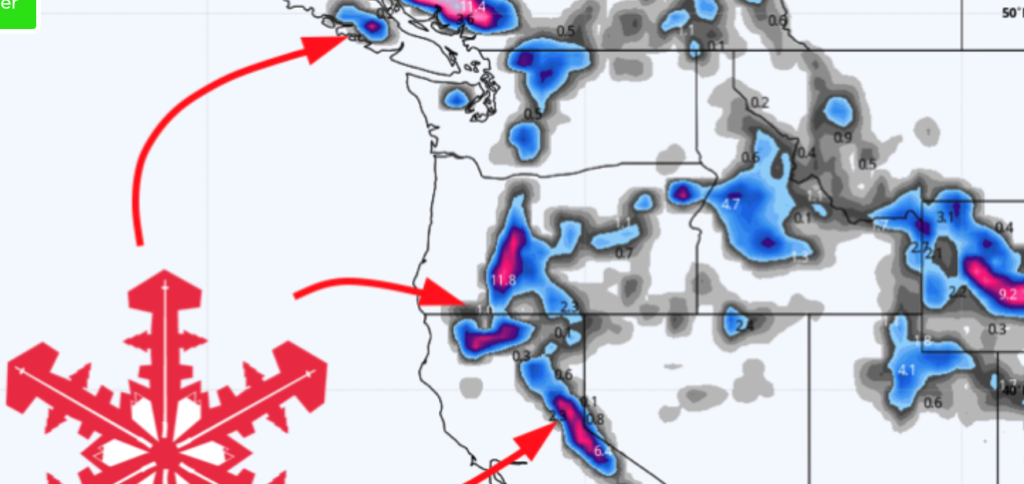 The stalwart Old Farmer's Almanac predicts, "most western areas will remain relatively dry, with all but the Pacific Coast itself and portions of the Southwest experiencing the frigid cold predicted for much of the rest of the country."
NOAA, on the other hand, forecasts below-average temps in our corner of the country from December through February, with Idaho and Montana having an equal chance of below or above average temps, while Utah, Colorado, and New England having a good chance to be warmer than normal. NOAA also predicts a 50 to 60 percent chance of above average precipitation for the Pacific Northwest.
Onthesnow.com talked with a meteorologist with ski trail maps on his wall who analyzes equatorial water temperature. Here's what they had to say: "La Niña tends to organize the wintertime jet stream in a way that favors the Pacific Northwest and Northern Tier of states with the most consistent winter snowfall."
Unofficial Networks taped a meteorologist with Accuweather who concludes that, over all, this winter will be the coldest in the last seven years, with the PNW and Colorado seeing an early start to the season.
Snow Brain features Direct Weather with a wild ride of map animation. They call for above average snowfall for the PNW and typical snow through most of the Rockies. Take note, though, that as of the time of this writing, Direct Weather stated a confidence of moderate to low in their forecast probability at the end of their forecast. At least they are honest.
Our local folks at KREM 2 are calling for a cold, wet winter with a 70 to 80 percent chance of a weak La Niña through January. And, worth checking out, they have one of the better descriptions of how ocean temps may affect our winter outlook.
On average, these predictions are looking stellar for a cold and snowy winter here on our home turf.
Booking a trip to California might not be the best plan, with warmer temps and lower precipitation down south.
And the Rockies should have an average season, which means your best bet is to convince your friends to come ski right here in the PNW.
To make up for last season, Adam has already planned a few ski trips this season, including some time in a yurt.
Find stories about skiing and snowboarding in the OTO archives.