When a friend asked me to take a few days off to race the Kootenay Sufferfest mountain bike race, I laughed at him. Suffering should be something you get paid to do, not something you pay for, I thought. It turns out I was dead wrong.
After some convincing on his part, I found myself heading north into the wilds of British Columbia. If you still have yet to take the short drive from Spokane up into the Kootenays, you're missing out. Scenic mountain landscapes, quiet towns and friendly faces are just a few of the highlights.
Four hours after leaving Spokane, we arrived in New Denver, B.C. This small village is nestled on the shores of Slocan Lake, one of the many pristine finger lakes that collect the abundance of fresh powder melt the Kootenays are known for. Show up a day before the races, and set up camp along its banks, or just take a dip afterwards. Either way, the views of Valhalla Provincial Park across the lake will have your iPhone camera crying for more gigs.
In this relaxing, family-friendly atmosphere, there's a race for everyone. Everything from a 6K trail run, duathlons and cyclocross races, all the way up to the only point-to-point long distance XC mountain bike race in B.C., the 100k. I decided to tone down the suffering for my first attempt and signed up for the 40K mountain bike race.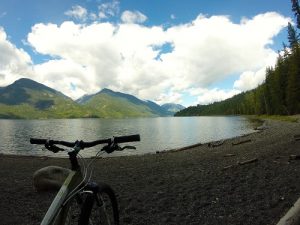 Nearly 50 racers, all but one of which were Canadian, lined up for the start. After realizing I was the lone racer branded with the stars and stripes, I knew that I was going to have to ride strong.
The first few miles followed a fertile singletrack trail out of town along Carpenter Creek. My fellow racers and I grunted along at an unsustainable pace, eager to pull ahead while burning off excess race jitters. A quick hike-a-bike up to a rail grade had my heart beating out of my chest and was the first taste of the suffering that lied ahead. Once looping back through the start, we headed east on the opposite side of the creek toward Three Forks and into the heart of the Idaho Peak wilderness. From here began a 4,000 foot climb though a well-marked network of tightly-woven singletrack. Buffed, fast sections gave way to clusters of tight rock gardens eager to dump you into the creek below. The heavy breathing of the racer close behind kept my wheels spinning at a good clip. I couldn't let Old Glory down.
As we rounded the final aid station before the summit, my decision making skills faltered and, not wanting to stop, I decided not to refill my water supply. The remaining climb up several switchbacks through mossy, cedar-rich forest, lead us to a clearing that had recently been logged. Exposed to the hot August sun, my body temperature shot up as sweat dripped from my helmet pads. I needed water. My pace slowed as visions of the Lorax frolicked through the stump-filled mountain side around me. I reached into my jersey pocket for an aid station Shot Blok, squeezed its sticky mass into my mouth and forced it down my dry throat. The margarita flavor, rich in sodium, only made me thirstier and teasingly reminded me it wasn't Cinco de Mayo and I wasn't on a beach. Okay, so this is suffering, I thought.
After getting passed by several racers, I made it to the summit of the climb where I was greeted by the kind folks at the next aid station. My speech sounded like English was my second language as I tried to remain calm and thankful, all while dumping copious amounts of water and fruit into my stomach. My body was so incredibly ready for nourishment that it had a nearly immediate effect on my energy. Optimism returned, suffering subsided, and it was time to rally an eight mile, 4,000 foot descent.
Typical to American culture, I high-fived the aid-station volunteers, then pointed my front tire downhill. The elation of moving without pedaling, combined with my newfound energy, had me all smiles and determined to make up some lost time. For the next 30 minutes, I rode that fine line between holding it all together and careening off the mountain. It was a thrill like no other. Wrapping around the mountain through the lush green wilds, down steep drops and laddered berms, I gave my XC suspension all it could handle.
Spotting a racer ahead, I released the brakes a little and dropped my weight back, determined to close the gap. We reached a more relaxed grade, and I hammered on the pedals, trying to absorb with my body whatever upheaval my suspension couldn't take. Finally passing him, I set my sights on the finish line and held my pace. Both of us gasping for air, we laughed together and exchanged words of mutual respect. Only in the Kootenays, I thought.
The announcer at the finish seemed to also relish in the fact that I was from the States, making it be known to all. The race coordinator found me shortly after and was quick to hear what my thoughts were, asking how she could get more American riders to come up. Well, let this be an invitation to you all. Whether you choose to suffer or not, consider packing up the bikes, running shoes, and family and heading up to the Kootenays this summer.
More info: Kootenay SufferFest 2015 is set for September 5-7. Learn more and register at KootenaySufferFest.com. // (Erik K.)