Although the winter days may often be short, dark, and dismal, humans were never meant to hibernate! In fact, staying active throughout winter can boost your immune system, stave off weight gain, and mitigate SAD (seasonal affective disorder).
It's a new year of fresh snow, recent resolutions, and unfettered possibilities. If you're just getting out and discovering winter sports, you're in luck: January is National Learn to Ski & Snowboard Month. The four Ski the Northwest Rockies association resorts are making it easy for novices and experts to pick up a pair of skis or a board and experience the allure of the slopes (full details at Skinwrockies.com).
This national initiative is dedicated to bringing the enjoyment of skiing, snowboarding, and all winter sports to everyone. Resorts across the region—and the country—are offering some outstanding packages, deals, and discounts to get people of all ages out of the house and onto the slopes, whether it's for the first time or it's been a long time.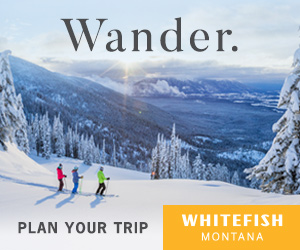 49 Degrees North Mountain Resort
Learn to Ski/Ride Deals: Learn to Ski/Snowboard Package, $89—includes a lift ticket, a rental, and a lesson.
"You don't have to be a first-timer or complete beginner to take advantage of our lessons or Learn to Ski Package," says Emily McDaniel, Marketing Director at 49 Degrees North. "If you've skied somewhere else and want some guidance around the mountain, you aren't feeling super sure, or you haven't skied in a long time and want to get back into it, we have a lesson for you."
On Jan. 22, 49 Degrees North will also welcome new skiers, or at least those new to 49, to the mountain with their Season Passholder Bring a Friend for Free Day. "We want to connect with people and bring skiing to everyone," McDaniel says. "We have a lot of stuff for both kids and adults. It's just such an accessible mountain."
Mt. Spokane Ski & Snowboard Park
Learn to Ski/Ride Deals: EZ Ski or Ride 3-Day Package: $139, includes three lessons, three rentals, and three lift tickets. When the lessons are finished, purchase an '18-19 season pass for just $99.
There's a new chairlift on Mt. Spokane this season too. "It's been four decades since the last chair was built," says Guest Services Director, Brenda McQuarrie. "The roomier lift is good news for nervous newbies and families ascending the mountain together." Mt. Spokane has also installed a 110-foot surface lift to transport students up the flats at Chair 5 beginner area while standing, improving their learning curve and making them more comfortable with the motions of skiing, boarding, and getting on and off a chair lift.
The mountain is also introducing their new Mountain Sports School Learning Center, housing 100+ instructors and providing a warming area for students before and after lessons. Mt. Spokane boasts a Mountain Sports School that is well known for its supportive atmosphere and quality training.
Lookout Pass Ski & Recreation Area
Learn to Ski/Ride Deals: January 11 is Learn to Ski Day: $25 includes Success Trail lift ticket, 1.5-hour group lesson, and rental equipment. Come back and keep learning with the 3-day Learn to Ski and Snowboard package for $99. Graduate and purchase a 2018-19 season pass for $99-$149. skilookout.com
Silver Mountain Resort
Learn to Ski/Ride Deals: Pay $59 (adult) or $44 (youth) for a lift ticket, lesson, and rental. Reserve online with Silver's new ski school reservations system. silvermt.com //
[SPONSORED BY SKI THE NW ROCKIES]