Local Resorts Make It Easy to Learn to Ski or Snowboard
January is Learn to Ski and Snowboard Month, and local resorts are offering great resources to get started. From 3-step instructed programs to "graduation" deals like discounted season passes, this month is the time to play in the mountains.
"We want people to have a great experience, and having that formal instruction at the beginning is key," says Tom Stebbins of Vision Marketing, who along with his wife and business partner Karen also run the non-profit Ski the Northwest Rockies group that helps promote skiing and snowboarding at local resorts. Stebbins was there with a few other passionate ski industry people at the brainstorm session that led to the launch of the Learn to Ski & Snowboard Month movement. Since that initial meeting, the program has taken off across the country, including here in the Inland Northwest.
"We wanted to grow the sport," says Stebbins, and with the Learn to Ski & Snowboard program, that's happening here locally. "It's the industry standard to ski or snowboard three times before you can proficiently move around on green or blue runs. We've been able to bring in a new group of people," he explains.
The early goal of the Learn to Ski program was to create a framework that would allow resorts to expand with their own programs to suit their regional needs. The national Learn to Ski website (learntoskiandsnowboard.org) is now a resource to locate ski areas and find tips on approaching the sport around the U.S.
"We want to get newcomers outside in winter being physically active," says Mary Jo Tarallo, Executive Director of Learn to Ski and Snowboard. "We also want to convey that there are many affordable opportunities for newcomers to get involved and stay involved, but you have to know where to look." Tarallo estimates that Learn to Ski resort partners have introduced more than 870,000 people to skiing or snowboarding through professional instruction since the start of the Learn to Ski movement in 2009. The program began as a proactive grassroots movement, focused on introducing new people to the sport rather than catering to established ski customers.
"The Inland Northwest was involved from the beginning, and was instrumental in getting the initiative off the ground," says Tarallo. The four Ski the Northwest Rockies affiliated resorts, Mt. Spokane, 49 Degrees North, Silver Mountain, and Lookout Pass, are all celebrating Learn to Ski & Snowboard Month with some incredible deals and programs that we cover below. For more info on Learn to Ski deals Schweitzer Mountain Resort is offering in January, check out Schweitzer.com.
49 Degrees North
Location: Chewelah, WA
January Deals: Learn to Ski and Learn to Ski "Plus" package; EZ 1-2-3 Package
"We've got a very family-friendly resort that is really welcoming to people of all abilities," says 49 Degrees North Ski and Snowboard School Director Rick Brown. "Skiing is a sport that sometimes can seem a bit daunting. To have a quality coach, good terrain, and a friendly atmosphere greatly increases the success rate."
At 49 Degrees North, folks learning to ski or snowboard will have access to low-stress trails away from the stream of higher-level ski traffic. "We have some pretty unique terrain that is very functional for people to learn on," says Brown. "Skiing is not like Disneyland where you can go and stand in line and take a ride. Our programs are a great way to get people started off on the right foot." The best thing about these programs at 49 Degrees North? You don't have to use them in January—you can purchase this month and use the package at any time during the season.
The resort's Learn to Ski or Snowboard package includes a one-day lesson, rental equipment, and Chair 3 lift ticket to access beginner terrain. Group lessons are offered on weekends and holidays. If you upgrade your package to the "Plus," you'll receive all the Learn to Ski benefits with the addition of a morning and afternoon group lesson and All Mountain Lift Ticket granting unlimited mountain access.
If you want to build a good skiing or snowboarding foundation, 49 Degrees North's EZ 1-2-3 program includes three lessons, three rentals, and three lift tickets. You'll need to schedule lessons ahead of time. Check out the resort website for more info: Ski49n.com.
Silver Mountain
Location: Kellogg, ID
January Deals: Learn to Ski Package; Easy Ski or Ride 1-2-3; Flex 5 Program
Silver Mountain Ski Resort boasts easy access for newcomers. "There's no crazy mountain driving or throwing on ski boots in the parking lot," says Willie Bartlett, Director of Marketing at Silver Mountain. "People can walk in with their street shoes, hop in the gondola, and have a relaxing ride up." When you do get to the mountain, you'll benefit from lots of acreage and short lift lines. Silver Mountain also boasts the longest surface lift in the region, located right at the lodge, so you can try some quick laps without tackling chairlifts when you're first getting started.
With the purchase of a lift ticket, you'll receive a beginner group lesson and free rental with Silver Mountain's Learn to Ski package in January. Silver's Easy Ski or Ride 1-2-3 program is available at any time this season and includes three lessons with rental gear and lift ticket.
If you want to commit to a fun season, purchase Silver Mountain's Flex 5 deal by January 15: you'll get five lessons, five rentals, and five lift tickets. Upon completion, you'll receive a free season pass, and get half price off your pass for the next season. More info: Silvermt.com.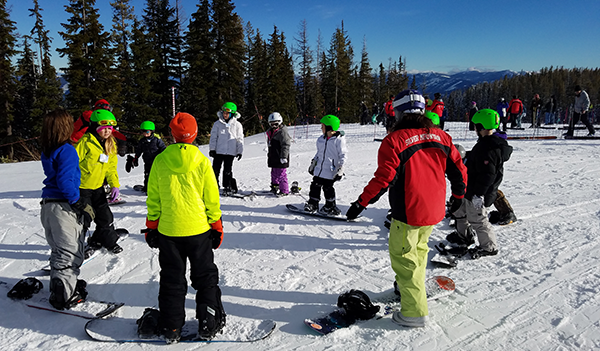 Lookout Pass
Location: Mullan, ID
January Deals: Learn to Ski or Ride in Three Days Package
Despite the name, this ski area straddling the Idaho/Montana state line also helps skiers and riders avoid some of the worst winter driving. Lookout is located 200 yards off Interstate 90 at Exit 0, a 90-minute drive from Spokane. It's a relatively small ski area, so newcomers can bank on plenty easy terrain and little cross traffic.
"We're a family-oriented mountain," says Marketing Director Matthew Sawyer. "You're a name here, not a number." Sawyer cites the quality of instructors and training experience as a big reason to choose Lookout for your learning experience. For true first-time skiers or snowboarders, Lookout awards a "graduation" present in the form of a free season pass good for the remainder of the season.
Lookout's Learn to Ski package includes three rentals, three 75-minute group lessons, and three lift tickets, two of which provide mountain-wide access. Find prices and more package information online, including info about a one-day package with lift ticket to a beginner slope, rental gear, and hour-plus lesson: Skilookout.com.
Mt. Spokane
Location:  Spokane, WA
January Deals: EZ Ski or Ride 1-2-3 Package
Mt. Spokane Ski & Snowboard Park is as close as it gets if you live in Spokane and want to try to ski or snowboard this year. The mountain offers multi-week lessons and has an extensive ski school. "We really want to get people excited, and not just have their friend or spouse teach them, but learn those tips that can help them succeed," says Mt. Spokane's Brenda McQuarrie.
Mt. Spokane offers a discount on the price of the EZ Ski or Ride 1-2-3 package for the month of January. The package includes three lessons, three lift tickets, and three rentals. On your first lesson you'll learn the basics with a Chair 5 lift ticket with access to the beginner hill, progressing to an all-mountain lift ticket with the second two lessons. Upon finishing the third lesson of the program, you'll be eligible to buy a season pass at a discounted price. Check out Mt. Spokane's website for more info: Mtspokane.com. //
Lisa Laughlin is Out There's digital editor. She wrote about the Nordic ski and snowshoe rental program that Fitness Fanatics runs at Mount Spokane in the December issue.