It is tempting to spend your stay at Island Lake Lodge in Fernie, B.C. staring up at the dramatic mountains that tower above the lodge from the comfort of the sunny patio. But there's so much to do in this backcountry paradise that it would be a shame not to see those peaks up close. To make the most of your stay, be sure you add the following excursions and indulgences to your itinerary.
HIKE THE SPINEBACK TRAIL
This spectacular day hike starts from Island Lake and ascends a ridge, depositing hikers high in the alpine over a distance of just 3.5 kilometers. The moderately strenuous hike is worth the effort—you'll walk beneath towering Spruce trees and negotiate a boulder field before emerging into the wildflower-studded high country, where a bench is conveniently placed for a well-deserved rest. The valley views are breathtaking, with Island Lake visible down below. Hike Fernie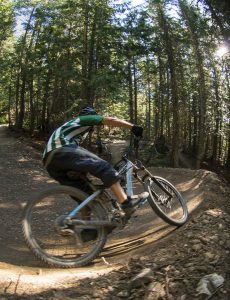 INDULGE IN A RELAXATION AROMATHERAPY MASSAGE
It's hard to beat a hot tub with a view after a long hike, but the spa at Island Lake takes relaxation to the next level with its aromatherapy massages. Sink into the cushy massage table while the therapist rubs a local, handcrafted essential oil blend into those fatigued glutes, quads and calves. Spa in Fernie
SIP A SUNNY SIDE ON THE PATIO AT BEAR LODGE
Your reward for a day of outdoor exertion should be a cold drink at the best happy hour venue in the Fernie area. Not only is the Bear Lodge patio sunny, it boasts the best view in town—a look at the Three Bears, view of iconic peaks across the valley that loom above the lodge. Order a Sunny Side cocktail, which is a refreshing, lavender infused lemonade that's spiked with Spirit Bear gin and garnished with a nasturtium.
INGEST A TO-DIE-FOR DINNER IN THE TAMARACK DINING ROOM
End the day on a delicious note inside the casual yet elegant Tamarack Dining Room. Savor the hand-rolled kabocha squash ravioli, or feed your protein-starved muscles with slow-braised bison short ribs decadently served with truffled cheddar polenta fries and veggies roasted in red wine sauce. After all that, you will collapse under your down duvet while the summer sky fades to indigo. Dine in Fernie
Open for Summer from June 9th – Oct 9th, 2017 
Have a look at their new summer guide https://issuu.com/islandlakelodge/docs/island_lake_lodge_summer_guide_2017 or visit their website at www.islandlakelodge.com. //