On June 24 – 25 Inland Northwest enduro mountain bikers went head-to-head with competitors from all across the globe at one of the most competitive enduro races the region has ever held. Silver Mountain, in Kellogg, Idaho, hosted the North American Enduro Cup, organized by the Cascadia Dirt Cup, Montana Enduro Series and Idaho Enduro Series.
Enduro mountain bike racing consists of untimed climbs and timed descents, with riders scored based on the combined times of all the downhill stages.
In its second year, the race is part of the National Enduro Series and is an Enduro World Series qualifier. I met riders from California, Georgia, North Carolina, Canada and Ireland, who, like me, hoped that Silver Mountain might give them the national and international points they need to qualify.
Saturday morning, about 250 racers lined up for the race's long, exposed climbs and rowdy descents. We climbed up a steep access road before dropping into the first race stage with aptly-named trails like Spooky Woods and Wide Open.
Next, we raced on the mountain's downhill race course. This was the shortest race stage, but it included roots, steep corners and critical line choices. One optional route, called Baby Swiss, was much faster than the alternative, but it involved an intimidating ten-foot drop before a few fast turns to the finish line.
Stage Three was a top-to-bottom run on both flow and technical trails with lots of pedaling. With about 3,400 feet of descending and a winning time of just under 17 minutes, this stage demanded endurance. When we reached the bottom, it was time to rehydrate and recover as much as possible before Sunday.
Sunday's course included the pro-only stage and a top-to-bottom descent accessed by a long, exposed climb. The sun was already high in the sky by the time our tires touched dirt, and temperatures had reached 90 degrees. At the top of the climb, we crammed ourselves into a few small shadows as we waited in line to start the descent. The course announcement described the stage as "surfy," but "surfy" doesn't quite capture the steep ruts, loose dirt and mandatory drops that made it one of the most fun stages I've ever raced.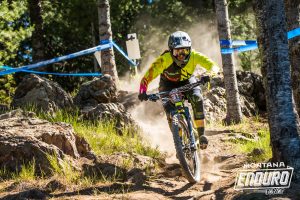 After pedaling back to the top, we dropped into the final segment, similar to Saturday's top-to-bottom stage but with more technical trails.
My throat burned from inhaling dust, and I could barely hold onto my handlebars by the time I reached the bottom. In two days, Silver Mountain had built me up and worn me down; it had frustrated, exhausted and inspired me, and, after a bit of rest, it made me want to go ride my bike some more.
Alex McGuinness took the pro men's win, followed by fast locals Kent Billingsley and Matt Chynoweth. On the pro women's side, Kim Hardin defended her title from last year with Porsha Murdock and Janea Perry in second and third. I was proud to round out the podium in fifth place.
As the dust settled and I watched the crowded parking lot empty, I looked forward to doing it again.
For the full race results visit https://www.redtenttiming.com/results. //