Ready to run, bike, paddle, swim, and have some new adventures in the upcoming race season? After a couple of lower-profile years, the spring and summer calendar is packed with chances to test your mettle individually or as a team in a host of outdoor races, runs, and rides. Some dates are still TBA, and a few races have shuttered. Check race websites to confirm details and sign up. We'll see you out there!
ROAD RUNNING
Shamrock Shuffle (March 12): An early spring half marathon, 10k, and 5k, put on by Negative Split. All distances start at Riverfront Park's North Bank Shelter; virtual options also available.
St. Paddy's Five Miler (March 12): This is the 40th year of this family-friendly event hosted by Bloomsday Road Runners Club (back to the Spokane Community College location for 2023). Official Bloomsday second-seed qualifier race; "Lucky Leprechaun Jig" hosted for kids 6 and under.
Rapid Rabbit Run (March 19): 3-mile & 5-mile runs. Proceeds benefit East Valley High School's senior class (Spokane Valley). Bloomsday Second Seed qualifier race.
Only Fools Run at Midnight 5k (April 1): Run the streets of downtown Medical Lake starting at 11:30 p.m. Organized by Medical Lake Lions Club.
Yakima River Canyon Marathon & Half Marathon (April 1): Point-to-point USATF-certified marathon course with views of the Yakima River Canyon.
Hauser Lake 10k/5k Icebreaker Run (April 2): Bloomsday second-seed qualifier with USATF-certified 10k course around the lake in Hauser, Idaho. Fundraiser for the special-needs rescue dogs at Double J Dog Ranch.
Spokane Superhero Fun Run (April 8): Family-friendly, chip-timed 5k and 10k races along the Centennial Trail through Riverfront Park (start/finish at U-District PT). Proceeds benefit CASA Partners, helping children in the foster care system.
Wenatchee Marathon, Half Marathon, & 10k (April 15): USATF-certified, Boston-qualifier course includes the Apple Capital Loop Trail through Wenatchee Confluence State Park.
The Split Half Marathon, 10k, & 5k (April 16): Flat, scenic course through Kendall Yards, Riverfront Park, and along the Spokane River. Kids' Challenge also offered. Negative Split event.
Jr. Bloomsday (April 16): Race for children in grades 3-7 at Spokane Falls Community College campus. Finishers get a ticket to Silverwood, among other swag.
Spring Dash & Tot Trot (April 29): 5k, 10k, and half marathon distances; the 10k is a Bloomsday second-seed qualifier. All distances start at Coeur d'Alene's McEuen Park. Untimed Tot Trot offered for kids 10 and younger. Fundraiser for United Way of North Idaho.
Lilac Bloomsday Run (May 7): Spokane's hallmark road race! Challenging, fun 12k for runners, walkers, and wheelchair participants. A virtual option is available.
One Heart 5k and Fun Run (May 20): Held at Spokane's Manito Park; this race is organized by One Heart, a nonprofit that works to meet the needs of kids in lower income and at-risk neighborhoods.
T9 Mermaid Run 10k, 5k, & and 10 mile run (May 20): Hosted by Title 9, the Mermaid Series is a celebration of women's movement. There's also a 1.5-mile Mermaid Dash for kids ages 6-12. Start/finish at Riverfront Park.
Sunflower 5k (May 20): A run/walk to celebrate spring, put on by the Deer Park Chamber of Commerce.
Windermere Marathon, Half Marathon, 10k, & 5k (May 21): Flat, point-to-point course along Spokane County's Centennial Trail. Boston marathon qualifier, hosted by Negative Split. Race benefits Ronald McDonald House Charities of the Inland Northwest.
Race to Remember 5k (May 27): This race to fight senior hunger is held at Fairmount Memorial Park in Spokane; proceeds benefit Second Harvest Food Bank.
Coeur d'Alene Marathon, Half Marathon, 10k, & 5k (May 28): Scenic race with a start/finish at McEuen Park in downtown Coeur d'Alene, Idaho. Hosted by Negative Split.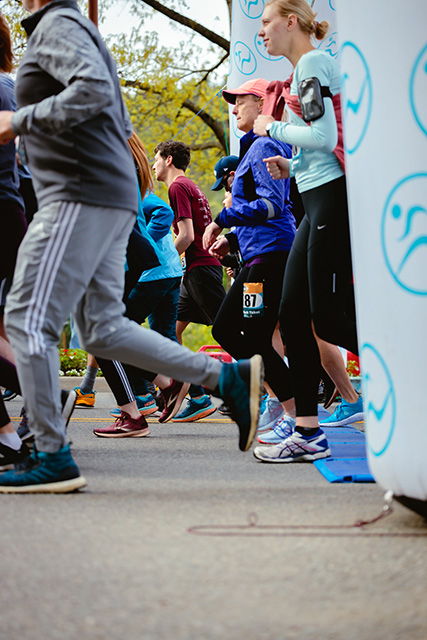 Priest Lake Spring Fun Run, 10k, & 5k (May 28): Run along the lakeshore at beautiful Priest Lake.
Stache Dash Half Marathon, 10k, 5k, and Kids Race (June 10): For runners, walkers, and wheelchair participants, based at Plantes Ferry Park in Spokane Valley, Wash. Kids' race is for kids 11 and under. Fundraiser for Elevations, a children therapy service-provider for children with special needs.
Dad's Day Dash (June 18): Family-friendly 5k run/1 mile walk on Father's Day. Fundraiser for SNAP, a Spokane-based community action agency.
Metaline Falls Bigfoot 5K (June 27): Takes place in the historic town of Metaline Falls in Pend Oreille County, located along the International Selkirk Loop scenic highway.
Missoula Marathon, Half Marathon, 5k, and Kids' "Marathon" (June 23-25): USATF-certified Boston Qualifier marathon course, with wheelchair and handcycle divisions and events happening throughout the weekend. Includes a kids' 1-mile untimed fun run.
Cherry Picker's Trot and Pit Spit (July 20): This annual event, held at Green Bluff, welcomes walkers and runners for a 4-mile course.
Spokane to Sandpoint Relay (July 21-22): A 200-mile, overnight, 12-person relay team race starting from Mt. Spokane's summit and running down to the Spokane river, along the Centennial Trail to Coeur d'Alene, and then north to the finish line at Sandpoint's City Beach.
Wallace Huckleberry Festival 5k Walk/Run (August 20): Family-friendly run in Wallace, Idaho, with optional huckleberry pancake breakfast before or after.
Tase T. Lentil 5k Fun Run (August 19): This 5k race is part of the National Lentil Festival in Pullman, Wash.
Newport Autumn Bloom 5k/10k Fun Run (Sept. 16): Takes place at TJ Kelly Park in Newport, Wash.; proceeds benefit Newport Hospital's Healthy Kids Snack Bag Program.
Run the Dam Half Marathon, 10k, & 5k (Sept. 16): Run across Grand Coulee Dam and along Banks Lake as part of the Run the Dam Festival in Grant Coulee, Wash.
Deutschesfest 10k/5k Fun Run (TBA): German community festival in Odessa, Wash., includes parade, fun run, brats, brews, and more.
Inland Relay (Sept. 30): A 10-leg, 46-mile relay by NXNW Relays. Grab some friends and create a team for this fun event.
Leavenworth Marathon & Half Marathon (Sept. 30): Course starts near the Alpine Lakes Wilderness Area and goes along dirt roads and trails, including Icicle Canyon Loop and riverfront trails in Leavenworth, Wash. Boston qualifier.
Jackass Half Marathon, 5K, and Kids Run (Oct. 7): Point-to-point, mostly downhill course along the paved Trail of the Coeur d'Alenes from Wallace to Kellogg, Idaho. The kid's "half marathon" is a non-timed, non-competitive race that is a combination of logging miles on your own before race day and finishing the last 1.1 mile on the day of the race.
Spokane Marathon, Half Marathon, & 10k (Oct. 8): Proceeds from this Boston Marathon qualifier race benefit local high school cross-country programs. The 10k is a Bloomsday second-seed qualifier.
Hayden Lake Half Marathon, Quarter Marathon, & 5k (Oct. 14): All distances start from the Honeysuckle Beach boat launch and offer gorgeous lake views. New 5k course for 2023.
Monster Dash 5k & Kids' Fun Run (Oct. 29): Organized by Active4Youth in collaboration with the Spokane Swifts Running Team, this event at Manito Park includes a 5k adult race and kids' race (ages 12 and younger); jogging strollers and dogs allowed.
Halloween Hustle Half Marathon, 10k, & 5k (Oct. 29): Spooky event in Coeur d'Alene, Idaho, organized by Negative Split includes out-and-back creepy courses.
TRAIL RUNNING
Caveman Roar & Pour 5k Trail Fun Run (April 22): Run through the Cave B Winery in Quincy, Wash., overlooking the Columbia River Gorge. Wine tasting event afterwards.
Yakima Skyline Rim 50K (April 15) & 25K (April 16): Challenging out-and-back course in the high desert of the Yakima River Canyon outside Ellensburg, Wash.
Spokane River Run (April 23): 5k, 10k, 25k, 50k, and 50k team relay race at Riverside State Park; fundraiser for Garfield Elementary A.P.P.L.E. program.
Wenatchee Valley Trail Run Series (TBA): Organized by RunWenatchee, this three-race series includes Horse Lake Trail runs in the Wenatchee Foothills, April 28 (half-marathon, 7-mile, 5-mile); Red Devil Trail runs near Cashmere, June 2 (50k, 25k, 10k); and Oktoberfest trail runs at Leavenworth Ski Hill, Oct. 20 (10-mile, 5-mile, & kids' race).
Sunflower Trail Marathon, Half Marathon, & Relay (April 29): Run on single-track trails and gravel roads in Washington's Methow Valley on a point-to-point course from Mazama to Twisp.
Run Like the Wind Running Festival (April 30): 5k, 10k, or 10-miler along the trails, paths, and roads at the Wild Horse Wind and Solar Facility in Ellensburg, Wash.; benefits Kittitas County Search and Rescue.
Priest Lake Spring Festival 10k, 5k, & Kids' Dash (May 28): Start/finish at Coolin Community Park at Priest Lake, Idaho; free 1k Kids' Dash (ages 9 and younger).
Palouse Road Runners Summer Series (TBA): Run club in Moscow, Idaho, hosts a series of races; runners score points based on finishing place. Prizes for top male and female, highest series point totals.
Kaniksu Trail Runs (June 9-11): SERE Beer Mile on Friday; 50 mile, 50k, 18 mile, half marathon, and Emory Corwine Memorial Ruck Race held Saturday. Events take place in the Lower Selkirk Mountain Range of Colville National Forest.
Hiawatha Trail Run (June 11): Organized by Negative Split; includes 10k, 15k, 25k, and 50k timed runs along North Idaho's Scenic Hiawatha Trail.
Trail Rail Run 50 mile, 50 mile relay, 50k, 30k, 12k, and 5k (June 17): A run from Mullan, ID, to St. Regis, MT, along the old Milwaukee and Northern Pacific Railroad grades.
Mountain Magic Trail Run 5k, 10k, 25k, and Marathon (June 17-18): Winding trail run begins from Selkirk Lodge at Mt. Spokane. Marathon held Sunday; other run distances held Saturday.
Mud Factor 5k and 3k (June 24): Get down and dirty at this Spokane muddy 5k obstacle course; family 3k option to run with kids ages 4-13.
Race the Wolf Ultramarathon & Trail Race (June 24-25): Takes place at Schweitzer in Sandpoint, Idaho. 5-mile trail race and 1-mile "sky climb" (a run straight uphill) June 24; trail marathon and half marathon June 25. Part of The GRIT North Idaho trail run series.
Spokatopia Trail Run & Trail Running Clinic (July 8): A 5k run on the singletrack trails at Camp Sekani Park at the annual Spokatopia Outdoor Adventure Festival.
Muddy Dash 2-mile Mud Run (July 22): A chance to get down in the dirt with friends and family in this muddy obstacle course in Airway Heights.
Dig Your Grave (July 29): A rugged, raw and remote 42k single-track run in the Cabinet Mountains. The course is an out and back with significant climbing, minimal aid, and amazing views. Field is limited to 45 runners. Part of The GRIT North Idaho trail run series organized by Priest Lake Multisports.
The "Original" Bare Buns Fun Run (July 30): Clothing-optional 5k trail run/walk at the Kaniksu Ranch Family Nudist Park near Loon Lake, Wash.
Rams Twilight Trail Run 5k (August 4): A 5k run along the trails near Riverside High School in Chattaroy that starts at 7 p.m. (headlamps highly encouraged). Organized by Riverside's Cross Country Team.
Tartarus Backyard Ultra (August 19): Hosted by Kaniksu Ultras at Riverside State Park Camp 7; described as a "Last Person Standing" race for runners and "ruckers."
Smokechaser Race (Sept. 9): 30k course start from Priest Lake State Park, Lionhead; part of The GRIT North Idaho trail run series organized by Priest Lake Multisports.
Moscow Mountain Madness Half Marathon & 5-Mile (Oct. 8): Challenging course along technical single-track and logging roads. Hosted by Palouse Road Runners in Moscow, Idaho.
Mt. Spokane Trail Run (Sept. 10): This Negative Split trail run has three scenic course options, including a 25k, that start and finish at Mt. Spokane Ski & Snowboard Park's main lodge.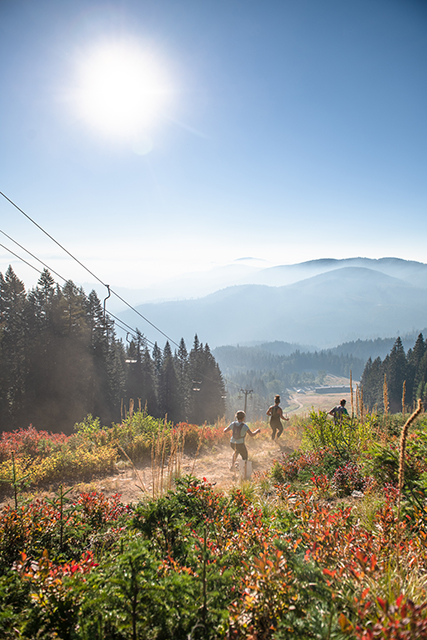 Priest Lake Marathon, Half Marathon, & 50k Ultra Marathon (Sept. 30): Wilderness trail run in the Panhandle National Forest. Walkers welcome, excluding ultra. Part of The GRIT North Idaho trail run series organized by Priest Lake Multisports.
Wild Moose Chase Trail Run (Oct. 15): 25k, 10k, and 5k trail runs at Riverside State Park hosted by Eastern Washington University's Class of 2025 Doctor of Physical Therapy program students.
Sekani Trail Run 10k, 5k, and 1k Kids' Run (Oct. 1): Adventure run/hike/walk on trails at Camp Sekani in Spokane; fundraiser for Franklin Elementary School's A.P.P.L.E. program.
Fall Flash 10k Race, 5k Fun Run, 1k Kids' Run (Nov. 4): Course is a combination of paved and gravel roads and rolling hills of the Palouse countryside. Hosted by Palouse Road Runners, based in Moscow, Idaho.
ROAD CYCLING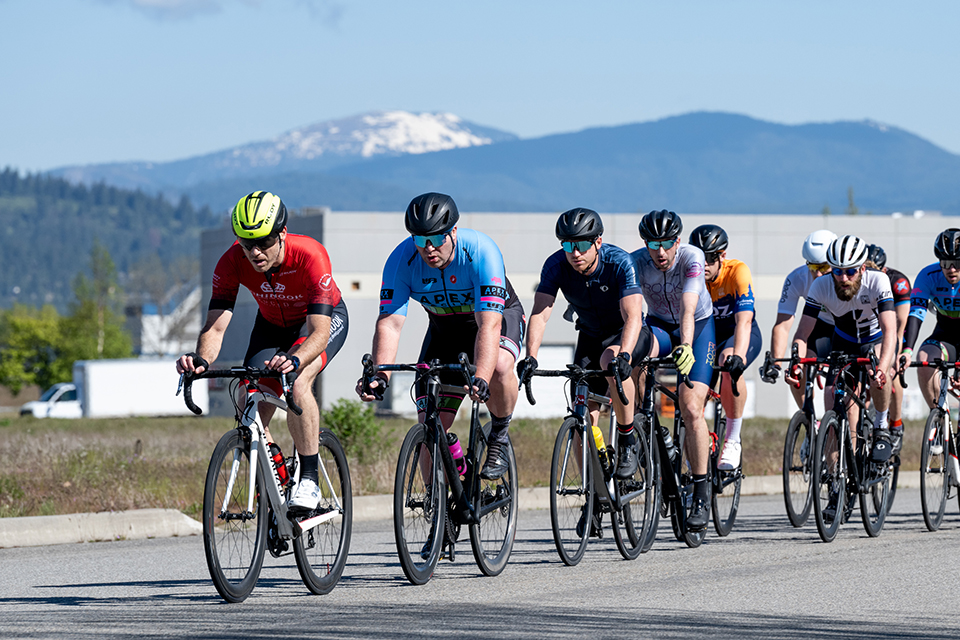 Bike Everywhere Challenge (May 5-31): Events and activities include a Bloomsday bike corral, a pancake breakfast in Riverfront Park, energizer stations for morning commuters, and a "Ride of Silence." Organized by the Spokane Bicycle Club. Spokanebicycleclub.org.
Lilac Century & Family Fun Ride (May 21): Ride distance options include Century (100 miles), Metric Century (66 miles), 50 miles, 35 miles, and 25 miles. Organized bySpokane Aurora Northwest Rotary Club. Races start at Big Barn Brewing in Green Bluff.
CHAFE 150 (June 17): Gran Fondo scenic ride—not a race—starting from City Beach in Sandpoint, Idaho, and riding along Lake Pend Oreille into Montana. Route options include 150, 80, 40, or 25 miles, and a family fun ride. New for 2023 is the addition of a 54-mile gravel route (see sidebar), the second event in the Idaho Panhandle Gravel Series. Organized by Sandpoint Rotary; proceeds support a literacy program benefitting Pend Oreille School District students.
Spokane Summer Parkways (June 21): A four-mile route for bikes, pedestrians, skaters, and other human-powered transportation in the South Hill Manito/Comstock neighborhoods. Family-friendly event with fun, snacks, and entertainment along the way.
Cycle Chelan (June 24): Route for every rider with four options of varying difficulty, including the new Metric Century Challenge (100 km, with 4,000 feet of elevation gain), Lake Loop (45 miles), Cycle di Vino (30 miles), or the Butte Blast (38 miles of gravel/pavement). Presented by Lake Chelan Rotary Club.
8 Lakes Leg Aches (July 15): Choose between 15-, 30-, 45-, and 75-mile routes that enjoy the scenery of west Spokane, Cheney, and Medical Lake, with the longest route touring around all eight lakes. Proceeds benefit Spokane-based Lutheran Community Services Northwest.
Tour de Whatcom (July 22): Ride distance options include Century (100 miles), Metric Century (62 miles), 48 miles, or 22 miles. Start/finish in downtown Bellingham, Wash., at Boundary Bay Brewery.
Spokane Valley Cycle Celebration (July 30): Organized by Valleyfest, route options include a 10-mile "Family-Friendly" ride, 25-mile "Adventure Ride," and 50-mile "Hills Around the Valley."
Mt. Baker Hill Climb (Sept. 17): 22 miles, with 4,462 feet of elevation climb, along Mt. Baker Highway, one of the most scenic paved roads in the country. There are three divisions—social, recreational, and competitive.
WaCanId Selkirk Loop Ride (Sept. 11-16): A six-day ride over 395 miles on one of the most scenic routes in the Northern Rockies. Because route includes two international border crossings (between U.S. and Canada), check WaCanId.org for event updates.
CDA Fondo (Sept. 16): This race along Lake Coeur d'Alene offers multiple distance options including Gran Fondo (116 miles), Medio Fondo (86 miles), Centro Fondo (47 miles), Piccolo Fondo (36 miles), and Family Fondo (14 miles), as well as e-bike options.


RIM Ride (Sept. 9-10): "Rotary in Motion" 5-mile family bike ride on Saturday, followed by 15-, 25-, 50-, and 100-mile rides on Sunday; hosted by the Rotary Club of Liberty Lake, Wash.
Kootenai River Ride (TBA) Pedal along the Kootenai River and through the Kootenai National Wildlife Refuge and experience some of North Idaho's most scenic countryside on a 16k, 60k, or 100k ride.
MOUNTAIN BIKING/GRAVEL RIDES
Gran Fondo Races—Central Washington (May-Sept.): Leavenworth (May TBA), Ellensburg (June TBA), and Winthrop (Sept. TBA); organized by Rideviciouscycle.com.
Echo Red to Red XC MTB Race (March 25): Course begins in the historic town of Echo, Oregon, with most of it on trails at Echo West Ranch & Vineyard.
Washington Student Cycling League—Spring League: Co-ed mountain biking development program and spring race series for riders in grades 6-12, beginners through advanced, organized by the nonprofit Washington Student Cycling League. School-based and composite teams, with high school and middle divisions. Individuals can also participate and compete as an independent rider. Volunteer coaches are encouraged to start new teams.
Hub-a-Palooza (March 31-April 2): A three-day mountain bike festival with downhill and enduro races at Beacon Hill/Camp Sekani in Spokane, hosted by Velo Northwest.
Evergreen East—Classes & Clinics (April-Oct.): Mountain Bike Foundations classes start in April, with sessions offered both weekends and weeknights. Options include beginner, intermediate, freeride, technical descending, jumps classes, women-only classes, and private lessons. Classes are located at Camp Sekani unless otherwise noted. Scholarships available.
Wednesday MTB Race Series at Riverside State Park (May 3-June 28): For eight consecutive Wednesday evenings this popular annual event features a different weekly race course. Free entry for age 18 and younger.
3/4 Minus Cykeltur (May 6): This timed gravel grinder in Sandpoint, Idaho, hosted by Syringa Cyclery offers two course options, 52 and 76 miles. This is the first race of the Idaho Panhandle Gravel Series.
Idaho Interscholastic Cycling League (May-October): Race series for youth in grades 6-12.
24 Hours of Riverside (May 27-28): Popular Memorial Day weekend 24-hour MTB team relay at Riverside State Park. Can also compete as a solo rider. Race is Saturday to Sunday, with a kids' bike parade Saturday evening.
Mt. Spokane Youth Camps & Programs (summer): Mt. Spokane Ski & Snowboard Park will again host summer mountain biking day camps. These four-day camps run Monday-Thursday. July 10-13 (beginner and advanced), July 24-27 (all levels), and August 7-10 (all levels).
Evergreen East—Youth Camps (June-July): Evergreen East hosts five-day Dirt Camps for Youth (ages 8-13) at Beacon Hill in Spokane, Wash. Options include co-ed beginner camps, intermediate camps, an all-girls camp, and an advanced skills camp. Scholarships available, as well as bikes and helmets for kids who do not have them.
North American Enduro Cup (June 17-18): Silver Mountain Bike Park in Kellogg, Idaho, hosts one of the North American races that qualifies for the Enduro World Series. Many race categories and levels of difficulty; no beginner category.
Silver Kings Hard Enduro (June 23-24): Hosted at Silver Mountain, this race is divided into three tracks—gold, silver, and bronze—with varying terrain and challenge levels.
Northwest Cup (August 4-6) Silver Mountain Bike Park hosts one of the stops for this six-race series across the Northwest.
Smoke 'n' Fire 400 (September 6): Self-supported approx. 400-mile loop bikepacking ride, with almost 41,000 feet of climbing. Ride begins and ends in Boise, Idaho, at Hyde Park. No registration fee.
Monarch Grind (September 16): This new gravel route starts and ends just outside of Clark Fork, Idaho, and loops behind the green Monarch Mountains, iconic peaks overlooking Lake Pend Oreille. This 70-mile ride has a lot of climbing and elevation changes on forest service roads. This is the third ride in the Idaho Panhandle Gravel Series.
Silverroxx Mountain Bike Festival (September 22-24): Hosted by Silver Mountain Resort, this festival includes group downhill and super-d races, plus kids' events.
The Gravel Flamdangle (Oct. 1): Formerly known as the Dirty Spokanza,Spokane's premier weird-fest gravel race offers three routes out of Big Barn Brewing: the 93-mile Major Devastation Route, the 62-mile Minor Devastation Route, and the not-to-be-scoffed-at 32-mile Group W Route.
Inland Northwest Cyclocross Series (Oct.-Nov.): USA Cycling series organized by Emde Sports includes divisions for women, men, pros, masters, and junior boys and girls at various race venues in eastern Washington.
TRIATHLON/SWIMMING/PADDLING/WATERSPORTS
Leadman Triathlon (April 22): Organized by Kellogg Rotary Club and based at Silver Mountain Resort, this adventure course event for solo or team competitors begins on Kellogg Peak and includes skiing/snowboarding, mountain biking, and running.
Ski to Sea (May 28): A multi-sport relay adventure race with teams of 3-8 people. Starts at Mt. Baker Ski Area and finishes in Bellingham Bay. Includes cross-country and downhill skiing/snowboarding, road and cyclocross biking, canoeing, downhill running, and sea kayaking.
FlowTour Surfing Competition at Silver Rapids Water Park (TBA): Silver Mountain Resort hosts a stop on the FLOW Tour, organized by FlowRider.
Medical Lake Trailblazer Tri/Du/5k (June 17): Sprint distance triathlon with 350-meter swim, 12.2-mile bike, and 2.9-mile run; Duathlon with 1 mile run, 12.2mile bike, and 2.9-mile run; and 5k Fun Run. Teams welcome. Starts from Coney Island Park in Medical Lake, Wash.
Ironman 70.3 Coeur d'Alene (Date TBD): "Half" Ironman race based at City Park in downtown Coeur d'Alene includes 1.2-mile swim, 56-mile bike ride, and 13.1-mile run.
Ironman Coeur d'Alene (June 25): This is the 20th year of the CDA ironman, with a 2.4-mile swim in Lake Coeur d'Alene, a 112-mile bike ride, and 26.2-mile run.
Spokatopia Watersports Demos (July 8): Try out various paddling watercraft, including kayaks and stand-up paddleboards, or take a kayaking or canoe clinic or group paddle on the Spokane River as part of the Spokatopia Outdoor Adventure Festival at Boulder Beach, off Upriver Drive (northeast Spokane).
Hayden Sprint Triathlon (July 15): Swim, run, and bike solo in this sprint triathlon, or register with a team of two or three to compete in the relay.
Tiger-Tri & Tiger-Du (July 15): Hosted by City of Colville Parks & Recreation and Negative Split—Tri (1k swim, 40k bike, 10k run) and Du (40k bike & 10k run). Starts at Beaver Lodge at Lake Gillette; finish line at Dean Vaagen Memorial Park.
Long Bridge Swim (August 5): A 1.76-mile swim race across Lake Pend Oreille, aside Sandpoint, Idaho's iconic Long Bridge.
Post Falls Sprint Triathlon/Duathlon (August 6): 0.5k swim, 19k bike, and 5k run in Post Falls, ID.
Coeur d'Alene Triathlon (August 12): Three registration options for this Coeur d'Alene event: Olympic triathlon (swim 1.5k, bike 40k, run 10k), scenic sprint triathlon (swim 0.5k, bike 20k, run 5k), or duathlon (run 5k, bike 40k, run 10k).
Tri-Town Float Down Poker Paddle (August TBA): Paddle the Pend Oreille River from the town of Ione to Metaline Falls, Wash. Win prizes along the way. Organized by North Pend Oreille County Chamber of Commerce to help local veterans and cancer patients.
Swim the Snake (August 12): An open water swim, kayak, or stand-up paddle across the Snake River channel between Lyons Ferry State Park and Lyons Ferry Marina near the town of Starbuck, Wash. Fundraiser for Blue Mountain Resource Conservation and Development Council and local youth summer swim teams.
Coeur d'Alene Triathlon & Duathlon (August 12): Choose betweenScenic Sprint Tri (0.5k swim, 20k bike, 5k run), Olympic Tri (1.5k swim, 40k bike, 10k run), or duathlon (5k run, 40k bike, 10k run). Event based at CDA City Park and Beach.
Priest Lake Triathlon (August 26): Choose between a Sprint Off-Road Triathlon or the Sprint Road Bike Course. Compete individually or as a team relay; start/finish near Hill's Resort.
Jen McKenna Paddle and Run (Sept. 9): Kayak 1.6 miles (start at Higgens Point), then run 4 miles along the Centennial Trail in this Coeur d'Alene Event that honors Jen McKenna, who died of complications from cystic fibrosis. Proceeds from the event will be donated to All Heart Infusion of Spokane and Coeur d'Alene and to the Children's Organ Transplant Association to provide for families with children who have CF and are awaiting a lung transplant.
Diamond Tri Your Best Triathlon (Sept. 9): Event aims to inspire young people to be more physically active. Takes place at the Cowles Scout Reservation in Diamond Lake, Wash. SuperSprint is for ages 12-15 and includes a 200-yard swim, 6-mile bike, and 1.5-mile trail run. Sprint Tri, ages 16+, is a 400-yard swim, 12-mile bike, and 3-mile trail run. Proceeds benefit Inland Northwest Council, Boy Scouts of America.
Valleyfest 5k/10k Run, Duathlon & Triathlon (Sept. 24): All races start and finish at Plantes Ferry Sports Complex in Spokane Valley, Wash. Duathlon includes 5k run, 11-mile bike, 5k run; Triathlon is boat/bike/run—paddle 1.5 miles (canoe or kayak) on Spokane River, bike 11 miles, run 3 miles. Individual and 2-3 person teams allowed for du and tri events. The 10k run is a Bloomsday second seed qualifier.
OUTDOORSY EVENTS
Big Horn Outdoor Adventure Show (March 16-19): Gear and resources for fishing and boating, hunting, backpacking, and shooting sports. Hosted by Inland Northwest Wildlife Council at the Spokane Fair and Expo Center.
Tundra Swan Festival (March 25): This festival is a one-day event focused on the migration of Tundra Swans, with learning sessions, photography instruction, and a swan-viewing bus ride. Held at the Kalispel Tribe's Camas Center for Community Wellness in Cusick, Wash.
Spokane Bike Swap (April 22): The biggest bike sale event of the year. Buy or sell used bikes and check out biking and outdoor recreation booths at the Spokane Fairgrounds. All proceeds benefit local cycling-related non-profit projects.
National Geographic Live!—"Cosmic Adventures with Tracy Drain" (April 22): Learn about the robotic spacecraft sent out to explore the universe from aerospace engineer Tracy Drain of NASA's Jet Propulsion Laboratory. The Fox Theater.
Spokatopia Outdoor Adventure Festival (July 8): Learn about Inland NW outdoor recreation groups, parks, businesses, and bike and gear shops and participate in fun outdoor activities at Spokane's Camp Sekani Park. Event includes live music, bike jump show, bike shuttles, kayak and paddleboard demos, adult beverage garden, and children's activities.
Lookout Pass Ski & Recreation Area—Mountain Archery Festival (TBA): Ride a chairlift to the summit and walk downhill to access multiple archery courses. Prize drawings and special evening activities. Limited number of RV/tent camping spots available.
Top Pin Archery (TBA): Family-friendly archery competition on the backside of Silver Mountain in Kellogg, Idaho, that includes navigating through a course of prop target-animals.
Editor's Note: Did we miss your favorite race, ride, or outdoors event? Email derrick@outtheremonthly.com, and we will do our best to include it next year.