Whether you are a road or trail warrior or an occasional outdoor recreationist, there's something for everyone in this comprehensive guide to races, rides, and outdoor events around the Inland Northwest. See you at the starting line!
BIKING
Bike Everywhere Challenge (May 1-31): May is officially Bike Everywhere Month and the Spokane Bicycle Club (spokanebikes.org) hopes to encourage more people to choose cycling as a mode of transportation and recreation. The club is planning short rides to highlight local bike infrastructure. Sign up at LovetoRide.org to log biking miles during May.
Kidical Mass (May 12): Kids of all ages and their parents can enjoy this fun, safe ride of about 3 miles through the Chief Garry neighborhood in Spokane. All types of bikes, trailers, tandems, trikes, and anything else that rolls are welcome. Ride begins at Chief Garry Park, 1-3 p.m. Decorated bikes are encouraged. https://summerparkways.com/
Spokane Bike to Work Week (May 14-18): Spokane Bicycle Club kicks off this annual event with a pancake breakfast and morning energizer stations at various locations around the city to supply bike commuters with coffee, juice, and pastries. Join the May 16 Ride of Silence to remember cyclists who've died from collisions with motorists. The week-ending Celebration of Bike to Work Day will be at a local brewery with free pizza, beer, live music, and door prizes. spokanebikes.org
Lilac Century (May 20): With a later date and new partnership between the Spokane Aurora Northwest Rotary Club and the Lilac Festival, this event is sure to grow. Offering five different scenic and challenging tours, one route supports all levels of riders, and everyone enjoys a baked-potato feed at the finish. Event proceeds benefit local charitable projects supported by Rotary. https://www.lilaccentury.com/
Apple Century Bike Ride (June 2): Enjoy scenic landscapes of the "Apple Capital of the World" on this incredible ride around the Wenatchee area that benefits local Sunrise Rotary Club projects as well as those around the world, such as hunger and disaster relief and student scholarships. http://www.wenatcheesunriserotary.org/
Oregon Gran Fondo (June 2): Choose from four distances: 40, 71, 117, or 137 miles. Event is based out of Cottage Grove, Oregon. http://www.oregontriplecrown.com/
CHAFE 150 (June 16): With a start and finish at City Beach Park in Sandpoint, Idaho, the route for this Gran Fondo scenic ride, not a race, travels along Lake Pend Oreille and into Montana and the Cabinet Mountain river valleys. Choose from three different routes – 30, 80, or 150 miles. Participants enjoy 7 fully-stocked break stops, professional support, after-ride party, and more. Organized by Sandpoint Rotary, 100% of all money collected from entry fees goes directly to the Pend Oreille School District's program serving children of all ages with Autistic Spectrum Disorder. http://chafe150.org/
Summer Parkways (June 21): Enjoy this 8th annual community event for all ages. From 6-9 p.m., streets are closed to motorized vehicles and bikers, pedestrians, joggers, roller-bladers, skateboarders, and scooters are free to enjoy a 4-mile care-free route through the tree-lined streets of Manito and Comstock neighborhoods that link these two popular South Hill city parks. Enjoy activities, a kid scavenger hunt, and goodies and games from booths and local businesses along the way. https://summerparkways.com/
Silver Valley Ride to Defeat ALS (June 23): Ride solo or as part of a team through the historic Silver Valley on the world-class Trail of the Coeur d'Alenes and raise funds to fight Lou Gehrig's disease. This is a fully-supported ride with several lengths to choose from and a catered lunch at the end. http://web.alsa.org/
RedSpoke (July 18-22): Now in its 31st year, the Redmond Rotary Club sponsors this fundraising ride across Washington – a 5-day, 300-mile recreational, fully-supported, at-your-own-pace ride from Redmond to Spokane. Limited to the first 125 riders, RedSpoke participants are required to contribute or collect a minimum of $775 in addition to their registration fee. http://www.redspoke.org/
Spokane Valley Cycle Celebration (July 29): ValleyFest's 6th annual event includes three distances: 10-mile Family-Friendly Ride, 25-mile Adventure Ride, or 50-mile Hills Around the Valley ride. All rides begin at the Mirabeau North trailhead for the Centennial Trail, located across from Mirabeau Point Park. http://cyclecelebration.com/
Blazing Saddles Bike Ride (August 4): Northeast Washington's premiere cycling experience travels through the Colville Valley's beautiful countryside. This year's event features the Tour d'Colville Valley route, with three options: 40 (the "Colville Loop"), 62, or 100 miles. Each ride begins and ends at Colville City Park. The 62-mile and century rides travel along Lake Roosevelt for part of the routes. http://www.blazing100.org/
8 Lakes Leg Aches (August 18): Now in its 20th year, this popular event offers 30, 45, and 75-mile routes – with the 75-mile ride providing the full 8 Lakes experience, passing by Willow, Granite, Silver, Medical, Clear, Chapman, Kepple, and Fish lakes. Considered one of the best organized bike rides in the Northwest, it's a fundraiser for the Sexual Assault and Family Trauma Response Center of Lutheran Community Services Northwest, based in Spokane. http://lcsnw.org/8-lakes-bike-ride/
Tour de Lentil Bike Ride (August 18): Held in conjunction with Pullman's National Lentil Festival, this fundraiser for the WSU Cycling Club features 50, 100, and 150k bike rides, taking riders through the scenic Palouse area. The event begins on the WSU campus and heads out on the Wawawai-Pullman Road, through Colfax to Palouse, past Kamiak Butte, and back to Pullman. Enjoy three rest stops along the way and the Food & Brew Fest afterwards. http://www.lentilfest.com/
SpokeFest (September 9): Over 15,000 riders of all types, abilities, and ages have ridden the first nine years of SpokeFest, a non-profit event that promotes bicycling for health and transportation. Celebrate a great community event with the signature 21-mile ride or 9 mile and 50 mile options. http://www.spokefest.org/
WaCanId Selkirk Loop Ride (September 10-15): Explore the paved roads encircling the Selkirk Mountains of Washington, Canada, and Idaho, on this 6-day annual bicycle tour – riding 370 miles/595 kilometers. Be awed by the scenic International Selkirk Loop's mountains, lakes and rivers, and enjoy North America's longest free ferry ride. Plus, this ride claims the best SAG support of any ride – so if you need a lift along the way, no problem. http://www.wacanid.org/
Global Kidical Massive (September 15): Spokane children will join thousands of kids all over the planet for a worldwide "Kidical Mass" bike ride. This fun, family-friendly afternoon bike ride of about 3 miles heads out through Kendall Yards and back on the Centennial Trail. Bike decorating is encouraged. https://summerparkways.com/
Bike MS: Cycle Silver Valley (September 15-16): As a fundraiser for the National MS Society, choose either a 1 or 2-day journey with looping routes along the Trail of the Coeur d'Alenes, with a start and finish at Silver Mountain Resort. Enjoy full meals, generous amenities, fully-stocked rest stops, and more. http://main.nationalmssociety.org/
RIM Ride (September 15-16): The Rotary Club in Liberty Lake, Wash., hosts a 5-mile family bike ride on Sept. 15, followed by longer routes on Sept. 16: 15, 25, 50, and 100-mile rides. Routes are for all ages and abilities, and are well marked with food stops and medical and mechanical support. Proceeds benefit various Rotary Club community projects. The longer rides explore Liberty Lake, Post Falls, Hauser and Newman lakes, Greenbluff, Saltese Flats, and Spokane Valley. http://www.rotaryinmotion.com/
Coeur D'Fondo (September 22): Coeur d'Fondo provides a beautiful course featuring Lake Coeur d'Alene and forested hillsides along Idaho's Scenic Byway (Hwy 97). Pass through lakeside communities before finishing back at the downtown Coeur d'Alene's Oktoberfest. Choose between five courses ranging from the 116-mile Gran Fondo to a 15-mile Family Fun Ride. http://cdagranfondo.com/
MOUNTAIN BIKING
Hilly Nilly Gravel Series (March-June): Four events make up this new ride series in Coeur d'Alene. Organized by Trek Coeur d'Alene Bike Shop, event dates are March 25, April 29, May 20, and June 10. The course starts and ends on gravel and includes lots of hills. Rides begin at 10 a.m. from Michael D's Eatery, off Coeur d'Alene Lake Drive, near the east end of Sherman Ave. https://www.trekcda.com/
Two Wheel Transit 10 Hour MTB Race (April 28): Returning for a second year at Camp Sekani Park in Spokane, this race includes lots of climbing on early-season dirt conditions along an approximately 9.5-mile course on Beacon Hill trails. On-site camping available.
Kootenay Sufferfest Race Series (April-September): Choose from multiple events, including a Wildside Enduro (April, date TBA) at Box Lake in Nakusp, B.C.; Nakusp Half Marathon, 10k, & 5k Fun Run/Walk (May 26); The Burton Amazing Race & Relay featuring paddling, mountain biking, and trail running, Burton, B.C. (June 23); Idaho Peak Ultra Trail Marathon & 10k Trail Run (July 28); Nakusp Suffercross CX Bike Race and Duathlon/Corporate Challenge (Sept. 16). http://kootenaysufferfest.com/
Sasquatch Duro (May 19): A tough ride along paved and gravel logging roads in Oakridge, Oregon, with two distances to choose from: a 30-mile "hard loop" or 43-mile "harder loop." http://www.oregontriplecrown.com/
Gran Fondo Leavenworth (May 20): A challenging, rugged 87-mile course for experienced riders only, it's a mix of Forest Service roads, mountain passes, and pavement that includes 9,400' of elevation gain and gravel for 45 of the total mileage. Begins in Peshastin, Wash., just east of Leavenworth. http://rideviciouscycle.com/
24 Hour MTB Race (May 26-27): Now in its 19th year, riders converge during Memorial Weekend at Riverside State Park (from noon Saturday to noon on Sunday) to race around the clock in teams of 2-10 people or as individuals. Each team decides how many laps each rider does on the 14-mile course – double and singletrack with 700' elevation gain. The course is set for all ages and ability levels and includes camping, a pancake breakfast, post-race pasta party, and more.
Wednesday Night MTB Race Series at Riverside (May & June): Described loosely as  "race," this series, which features a new 7-11 mile course every week, is an opportunity for riders of all levels and abilities to race one or two laps as seriously, or as casually, as desired. Meets every Wednesday evening at Riverside State Park's 7 Mile Area ("old airstrip). Weekly registration starts at 5 p.m., and racing starts at 6:30. (No fee for racers age 17 and younger.) http://nomadzracing.com/races.html
Bavarian Bike and Brews (June 2): Beer and bikes – that's a fun combination! Enjoy a rigorous 8-mile loop, with 1,780' elevation gain per lap – each includes a creek crossing, single track climbing, and a "flow" trail with wall rides and berms. Takes place at Gibbs Organic Farm in Leavenworth, Wash., with on-site camping available. http://rideviciouscycle.com/
Woodrat 25 Mile (June 3): This endurance ride rolls along Panhandle National Forest trails along Priest Lake, Idaho. Choose either the 25-mile or 12-mile race division. Double-track and singletrack includes sections of low chain ring climbs, fast downhill, groves of huge cedar trees, and lots of turns. This ride is for intermediate skills or better, no crazy rock jumps or boulder fields, but quick turning sections of singletrack for confident riders. http://priestlakerace.com/
Spokatopia Outdoor Adventure Festival MTB Demo Day (July 7): Don't miss one of the biggest bike demo events in the Northwest with shops and reps offering the latest and greatest mountain bikes for demo all day long at Camp Sekani Park in Spokane. http://spokatopia.com/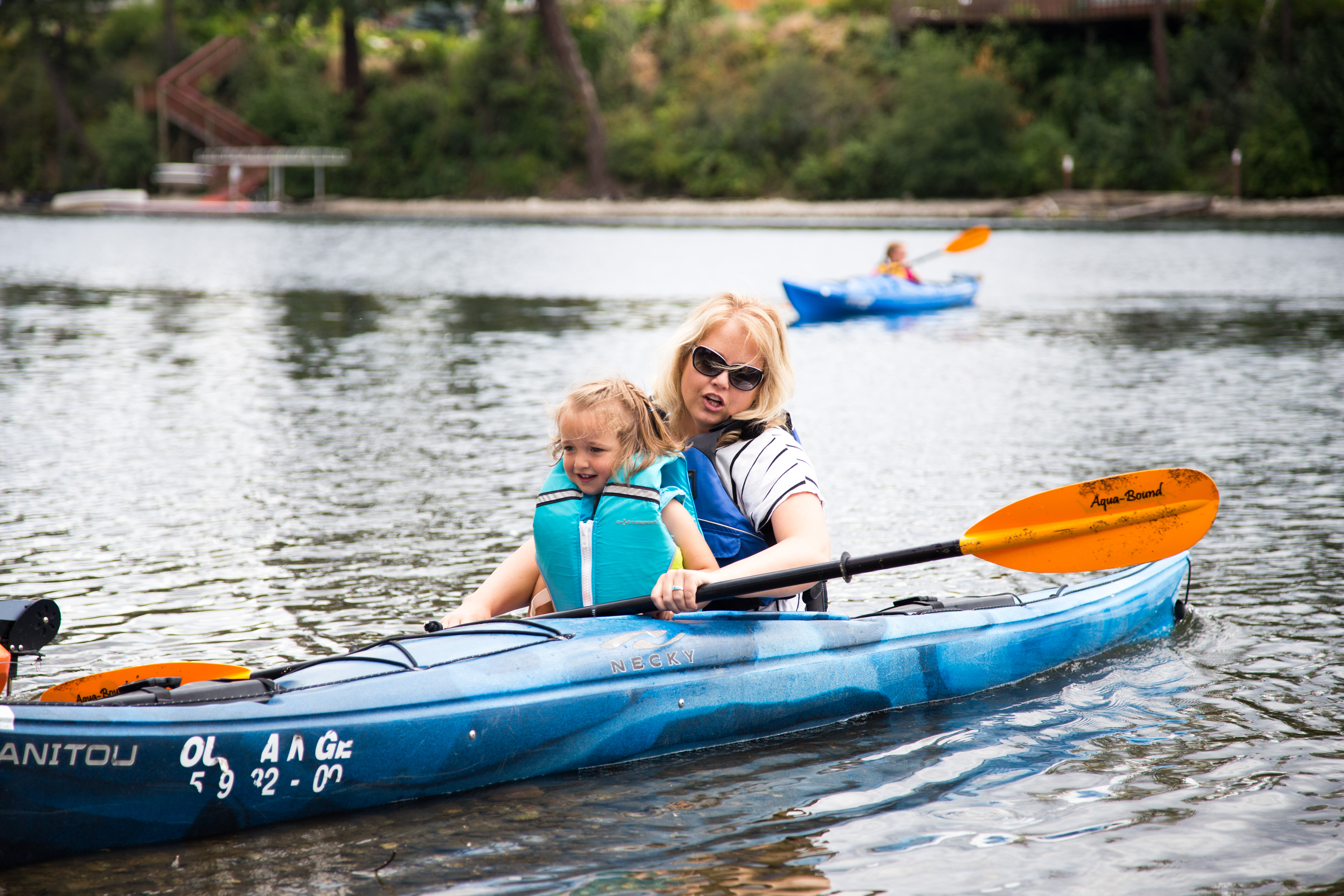 Wednesday Night MTB Race Series at Farragut (July 11, 18, 25): Choose from 1 or 2-lap courses at North Idaho's Farragut State Park. Last summer it was called the "5 in July" but with July 4th on a Wednesday this year, the series will only be three nights of racing. Organized by Trek Coeur d'Alene Bike Store, racing begins at 6:30 p.m. and includes a post-ride BBQ.
Blue Goose Chase (July 21): A free 11-mile family bicycle ride, beginning at 8:30 a.m., in the Little Pend Oreille National Wildlife Refuge, along the gravel auto tour route. Event includes prizes, snacks, and music, and supports the Friends of the LPO, a non-profit organization that promotes the conservation of native fish, wildlife, plants, and their habitats in the refuge.
7 Summits MTB vs. Trail Runners (August 4): Organized by Trail Maniacs, this 53-mile self-sufficient ride – with simultaneous trail run – begins at 5 a.m. at Nettleton Gulch in Coeur d'Alene and finishes at Farragut State. The course covers over 13,900' elevation gain/loss. Run or ride singletrack and dirt roads over and down the Canfield Buttes, Huckleberry Mountain, Spades, South and North Chilco Peaks, and Bernard Peak. https://ultrasignup.com/
Ride the Pass (August 12): Commemorate the 20th anniversary of the Hiawatha Trail with this new event – a self-supported 58+ mile mountain bike ride that starts and finishes in Wallace, Idaho. Ride up and over Lookout Pass, down and over the Hiawatha tunnels and trestles, and then return to Wallace via Moon Pass. Organized by Trek Coeur d'Alene Bike Store.
Nelson Fat Tire Festival (August 23-26): This 4-day festival showcases some of the town's best downhill and cross-country trails along with the unique, creative and passionate people that make the local biking community so special. Rides, races, shuttles, parties, music and family-friendly events fill out the weekend. https://www.facebook.com/nelsonfattire/
Gran Fondo Winthrop (September 15): A challenging, mountainous 90-mile ride along mostly Forest Service roads that includes more than 10,000' of elevation gain and loss, and is intended for experienced cyclists only. http://rideviciouscycle.com/
Silveroxx Mountain Bike Festival (September 21-23): Silver Mountain Bike Park hosts this 3-day mountain bike festival, which includes a night ride, ladies day, kids race, super-downhill and super-d (top to bottom) races, and much more. https://www.facebook.com/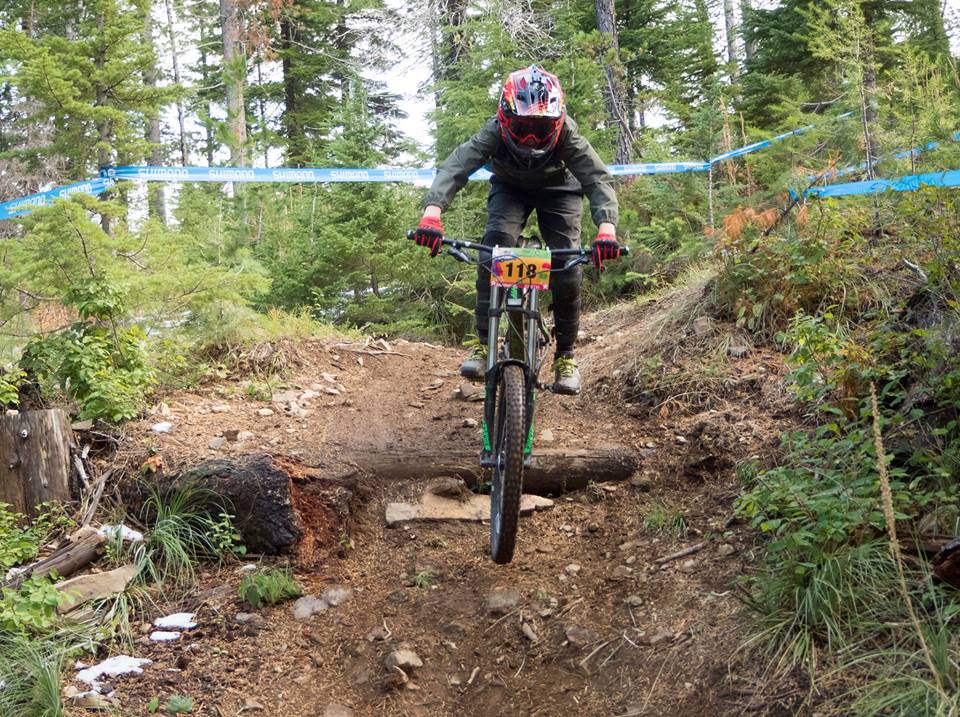 Ride the Reactor (September 22): Experience the Manhattan Project National Historical Park in Hanford, Wash., with a 15-mile mountain bike or cycle-cross ride along gravel and paved roads. Ride begins and ends at the B Reactor National Historic Landmark, site of the formerly top-secret B Reactor. http://www.visittri-cities.com/
Inland Northwest Cyclocross Series (October-November): This USAC sanctioned series, organized by Emde Sports, features different regional race venues for spectator-friendly races – including youth and junior races. https://www.facebook.com/
ROAD RUNNING
Snake River Canyon Half Marathon (March 3): Mark your calendar to run this race in 2019. Organized by the Palouse Road Runners Club, this is its 39th year. Takes place in Wawawai, Wash., near Pullman. https://ultrasignup.com/
Race Up the Snake (March 3): Choose either the 11k (6.7 miles) or 4k (2.4 miles) course for this trail run at Rattlesnake Mountain Recreation Preserve near Benton City, Wash. Event is a fundraiser for the Tri-Cities Tour de Coop and Runners of the Sage group. http://www.runnersofthesage.com/
Pooch and Pal Run and Walk (March 24): This pet-friendly 18th annual event in Richland, Wash., includes a 5k and 1 mile course (strollers welcome). Proceeds support the Pet Over Population Prevention program. http://popptricities.org/
Superhero Fun Run (March 31): The 5th annual event offering chip-timed 10k and 5k races along the Centennial Trail through Riverfront Park in Spokane. Start and finish line is at U-District PT, and proceeds benefit CASA Partners. https://www.active.com/
Hunger Run (April 1): Organized by Second Harvest and Union Gospel Mission, and presented by Safeway/Albertsons, this family-friendly 5k and 10k race in Spokane Valley is now in its third year. It aims to bring awareness about how 1 in 7 people in our region struggle with hunger and food insecurity. http://www.thehungerrun.org/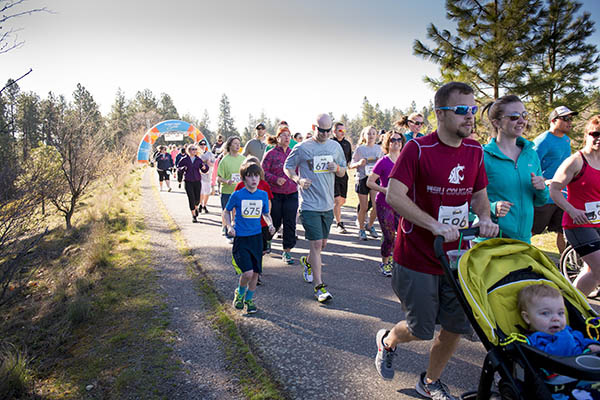 Yakima River Canyon Marathon & Half Marathon (April 7): This point-to-point marathon course offers spectacular views of the Yakima River Canyon. Beginning in Ellensburg, the course has two small loops and then heads south to the canyon. The half marathon starts at the 13.1 mile mark of the marathon course (runners will bus to the starting line). Race headquarters is in Selah, Wash., at the Civic Center. https://regtorace.com/
Hauser Lake Icebreaker 10k & 5k Fun Run/Walk (April 2): New this year is the 5k Fun Run and the USA Track & Field certified 10k course is a Bloomsday second-seed qualifier. This event is the largest annual fundraiser for Double J Dog Ranch at Hauser Lake, the Inland Northwest's premier sanctuary and rehoming center for dogs with special needs. Runners and walkers with strollers and dogs are welcome. https://raceroster.com/
Negative Split Half Marathon, 10k, & 5k (April 8): Kick-off your racing season and get primed for Bloomsday at this scenic race in downtown Spokane, at Kendall Yards. Expect some cool swag. http://nsplit.com/negativesplit-2/
Palouse 100k Relay & Solo Run (April 14): The Palouse Road Runners club hosts this event in Pullman, Wash. with four race divisions to choose from: 100k Ultra Relay, 100k 10-person relay, 100k 5-person relay, and 100k Solo. Course includes a 1,900' run down the Wawawai grade to the Snake River, 16 miles along the river, and a 1,700' climb up Steptoe Canyon. https://ultrasignup.com/
Spring Dash 5k & Kids Run (April 22): Enjoy a beautiful course through downtown Coeur d'Alene, starting from McEuen Park to Sanders Beach and then along Lake Coeur d'Alene Drive. This race is a Bloomsday second-seed qualifier. Event raises funds for United Way of North Idaho. http://www.unitedwayofnorthidaho.org/springdash
Lilac Bloomsday Run (May 6): This iconic 12k race (7.46 miles) attracts runners and wheelchair racers from all over the world, including professionals hoping for prize money. Now in its 42nd year, Bloomsday remains popular because it's fun for every age and ability, the volunteers are extremely encouraging, and live music provides entertainment along the course. Additionally, the race helps a local charity benefits every year – for 2018, it's the Spokane Guild School & Neuromuscular Center. https://www.bloomsdayrun.org/
Glow for Hunger (May 11): A 1-mile kid's glow run at Joe Albi Stadium in Spokane, with pre-party and food vendors, to support Northwest Harvest and organized by Negative Split. Parents run for free with their kids. http://nsplit.com/glowforhunger-2/
Coeur d'Alene Marathon Run & Walk, Half Marathon, & 5k Run/Walk (May 27): One of the most spectacular races in the Inland Northwest, the CDA Marathon is a USATF-sanctioned Boston Qualifier that starts and finishes in McEuen Park. The majority of the racecourse hugs the shores of scenic Lake Coeur d'Alene, to Higgins Point and back. Proceeds benefit the North Idaho Centennial Trail Foundation. http://www.cdamarathon.com/
Dad's Day Dash 5k (June 17): Celebrate Father's Day on a 5k run or walk in and around Spokane's Manito Park and help raise funds for SNAP, a non-profit organization helping low-income Spokane County residents with energy assistance, small business loans, housing, and home repairs. https://www.snapwa.org/ddd5k/
Glacier Half Marathon (June 18): Run a challenging course just outside the east border of Glacier National Park and enjoy spectacular views, including Two Medicine Lake. Finish line is on the front lawn of Glacier Park Lodge, located in East Glacier Park Village, Montana. Event organized by Vacation Races. https://vacationraces.com/
Summer Fun Run Series (July 11, 18, 25): This 5k fun run with 1-mile run option for kids is organized by U-District PT and Negative Split. Post-race party includes prizes, David's Pizza, and Otter Pops. Ages 18 and younger participate for free. http://nsplit.com/udistrictsummerseries/
Missoula 5k (July 14) and Missoula Marathon & Half Marathon (July 15): Enjoy a weekend party starting with a Friday night free 3-mile Beer Run, on July 13, followed by the Saturday 5k and kids fun run (for ages 13 and younger). Arise early on Sunday and enjoy fireworks at the sunrise start for the flat and fast USATF-certified Boston Qualifier marathon, which also has wheelchair and handcycle divisions for the full and half. In 2010, Runner's World Magazine readers named the Missoula Marathon the Best Marathon in United States. http://www.missoulamarathon.org/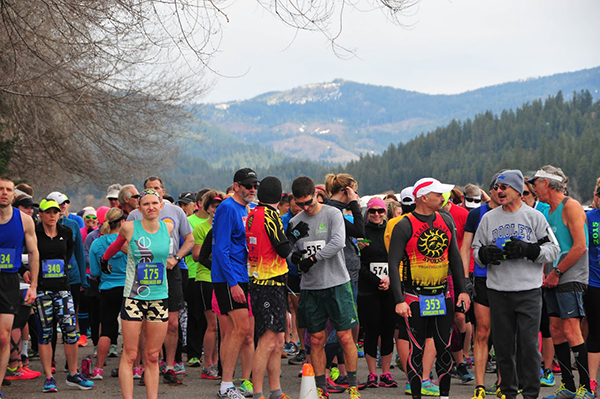 Spokane to Sandpoint Relay (August 17-18): This 200.2-mile overnight relay in the style of Hood To Coast is comprised of teams of 12 (or even 6 or 8) runners who take turns running "legs" – shorter segments of 3 to 9 miles that link together at exchange points. A total of 36 legs comprise this relay from Spokane to Sandpoint. Many teams get in to the spirit by creating elaborate names, wearing matching outfits, participating in contests, having spontaneous dance parties, cheering on fellow runners, and decorating their vans. http://spokanetosandpoint.org/
Tase T. Lentil 5k Fun Run (August 18): Happening in Pullman, Wash., on the Saturday morning of the National Lentil Festival Food & Brew Fest, a portion of event proceeds go to the YMCA of the Palouse. http://www.lentilfest.com/
Run the Dam – 5k, 10k, Half Marathon (September 15): Ready for a scenic yet challenging course that runs across the largest concrete structure in North America? Begin on the east side of Grand Coulee Dam and finish at North Dam Park, for Grand Coulee Dam's Harvest Festival. https://www.runthedam.com/
Sandpoint Scenic Half Marathon & 10k (September 16): Start and finish at City Beach Park in Sandpoint, Idaho, and enjoy a beautiful run across the iconic Long Bridge with its panoramic views of Lake Pend Oreille and the surrounding mountains. http://scenichalf.com/
Newport Autumn Bloom 10k & 5k (September 15): Enjoy a picturesque course through the community of Newport, Wash. The 10K is a certified Bloomsday second-seed qualifying race (for Bloomsday 2019). New this year is an expanded team division. Event proceeds benefit Newport Hospital and Health Services Foundation programs. https://raceroster.com/
Happy Girls Run Half Marathon, 10k, & 5k (September 22): The course for the 5th annual Happy Girls Run Spokane, which begins at Mukogawa Ft. Wright Institute near Spokane Falls Community College, features a scenic stretch of Centennial Trail and trails in Riverside State Park. Known for its fun, festive, and encouraging vibe, women of all ages and abilities will enjoy this race and its pre- and post-race celebrations and swag bags. http://happygirlsrun.com/
Centennial Beer Chase (October 6): Love running scenic trails and drinking craft beer? Round up a few friends for this 3rd annual one-day running relay from Spokane to Coeur d'Alene, mostly along the Centennial Trail. Approximately 50 miles total, there are 12 legs of varying distances (3-7 miles per leg). Exchange points are at local craft breweries – a quick diversion off the trail. http://centennialbeerchase.com/
Spokane Marathon, Half Marathon, Marathon Relay, & 10k (October 14): The oldest regional marathon, this Boston Marathon qualifying race is a scenic tour around Spokane and includes Browne's Addition, Fort Wright Mukogawa, Riverside State Park, the Centennial Trail, and a portion of the Bloomsday course – including Doomsday Hill – before finishing in Riverfront Park. Race proceeds benefit local high school cross-country programs. http://thespokanemarathon.com/
Hayden Lake Marathon, Half Marathon, & Quarter Marathon (October 13): Tackle the gorgeous, forest-lined roads around Hayden Lake north of Coeur d'Alene – the full marathon goes completely around Hayden Lake – and enjoy views of farms, pastures, forests, and golf courses along the way. Each race starts and finishes at Hayden Lake's Honeysuckle Beach. http://haydenlakemarathon.org/
Monster Dash 5k & Kids' Fun Run (October 27): Organized by Active4Youth in collaboration with the Spokane Swifts Running Team, this event at Manito Park includes a 5k adult race (with chip timing) and costume contest at the start line. The kids' costume contest takes place at the finish line, followed by the Kids Race for ages 12 and younger, with a race distance ranging from .25 to 1 mile, depending on age.
TRAIL RUNNING
Caveman Roar & Pour 5k Trail Fun Run & Wine Tasting Event (March 17): 5th annual event at Cave B Winery in Quincy, Wash., features a trail run through the vineyard overlooking the Columbia River Gorge, suitable for all levels and abilities, whether walking or running. Event also includes food, entertainment from the Wenatchee Irish Dancers, and Carol's Cabernet Loop Kid's Run. https://www.active.com/
Badger Mountain Challenge (March 30 & 31): The Nomad Trail Runners of Eastern Washington club host this annual endurance and ultra-marathon event at Badger Mountain in Richland. Choose from among four distances: 15k, 50k (31 miles), 50 miles, or 100 miles. http://www.badgermountainchallenge.com/
Yakima Skyline Rim 50K (April 21) & 25K (April 22): This ultra is a challenging out-and-back course in the high desert of the Yakima River Canyon outside Ellensburg, Wash., near the Umtanum Creek Recreation Area with nearly 10,000' elevation gain for the 50k and 5,000' for the 25k. http://www.rainshadowrunning.com/
Spokane River Run (April 22): One of the oldest trail runs in the Northwest that is recognized in the Trail Runner's Trophy Series, this race features a 5k, 10k, 25k, 50k, and 50k team relay race. The beautiful and challenging courses run through Riverside State Park, primarily on singletrack trails. http://spokaneriverrun.com/
Snake River Island Hop (April 28): This USATF sanctioned 100k ultra marathon (with a 50k option) runs along the Columbia Plateau Trail in eastern Washington – a flat, mostly gravel course that provides a positive and safe experience for beginning ultra-runners. https://ultrasignup.com/
Trail Maniacs Liberty Lake Trail Run (April 28): An 8-mile loop run located near Liberty Lake, Wash., that features waterfalls, a creek bed, bridges, singletrack, and switchbacks with canopied cedar groves. This popular trail run is rated as difficult. Post-race party includes a pancake feed and the usual Trail Maniacs post-race refreshments. https://ultrasignup.com/
Moscow Rolling Hills Half Marathon (April 30): Race course is a mix of paved and gravel roads along a scenic loop route through the rolling hills east of Moscow, Idaho.
Priest Lake Mother's Day Marathon (May 12): Celebrate the power of Mom with a wilderness trail running adventure along Priest Lake and its big views of the Selkirk Mountains. Race distances in addition to the marathon include a 5k family fun run, half-marathon, and 50k ultra marathon. Includes an awards lunch for all participants. http://www.priestlakerace.com/
Trail Maniacs 10k and 25k at Farragut State Park (May 18-19): This event starts at the Sunrise Day Use area with two race distances along moderate level courses, followed by a post-race meal. Camping encouraged. https://ultrasignup.com/
Spokane Pizza 5k Run (May 26): A new race hosted by NeoEndurance at Manito Park. This evening event includes live music and pizza for all registered participants (one slice before the start and the other at the half-way mark "pizza station"). https://runsignup.com/
Priest Lake Spring Festival Run (May 27): Half-Marathon and 10k and 5k walk/run options on a mix of pavement and compact gravel road. The 10k and 5k are an out-and-back course, with the 10k including two loops. There's also a free 1k Kids Dash (600 yard course), as well as a 50-yard dash option, for children age 9 and younger. http://www.priestlakerace.com/
Herron Half-Marathon, 10k, & 5k (June 3): This race near Flathead Lake, Mont., features a new course for the half and 10k – includes more singletrack and uses the new Foy's to Blacktail Trail. http://www.runflathead.com/
Dash for a Cure and Pure Country 4H 5k & 10k Run/Walk (June 9): Taking place at Moses Lake's Blue Heron Park are USATF sanctioned 5k and 10k races – happening the same day as the Moses Lake Tri (both organized by BuDu Racing). https://runsignup.com/
Trailfest (July 6-8): A first-time Trail Maniacs family-friendly weekend event to enjoy running and mountain biking along the trails of the Coeur d'Alene National Forest. Big Hank National Forest Service Campground is the base for festivities and overnight camping. http://www.trailmaniacs.com/
The Up Chuck Challenge (July 7): The 4th annual Up Chuck Challenge trail run starts at Spokane's Camp Sekani Park on the Up Chuck Trail with a 5k climb to the top of Beacon Hill with nearly 1,000 feet of total elevation. Walk or run another 2.3 miles back to the start at the Spokatopia Outdoor Adventure Festival.
Kaniksu 50-Miler, Tall Trees 29k, and Emory Corwine Memorial Ruck Race (June 9): Three races in one, including the Emory Corwine Memorial Ruck Race that challenges teams of up to 5 participants, or solo runners, to complete one of 5 legs carrying a minimum 35lb pack/ruck for males and 25lb pack/ruck for females, packed with non-perishable food items. This race honors the life of USAF SERE Specialist Emory Corwine, who died in a motorcycle accident in Airway Heights, Wash., in June 2012. https://ultrasignup.com/
The "Original" Bare Buns Fun Run (July 29): Located in Loon Lake, Wash., this clothing-optional 5k run/walk is for all ages and sanctioned by USATF as part of the Buns Across the Border series. http://www.kaniksufamily.com/
Glutes in the Koots (August 7-11): Four days of unparalleled trail running, coached and guided by ultra runner Jen Segger, with four nights lodging at the Sol Mountain Lodge in the B.C. Kootenays. https://www.facebook.com/glutesinthekoots/
Step Into Fall 5k Run/Walk, 10k, & Half Marathon (August 25): A new event on Spokane's South Hill, hosted by NeoEndurance. Races start and end at Comstock Park, with courses along neighborhood streets and Manito Park. https://runsignup.com/
Moscow Mountain Madness 50, Half Marathon, & 5-Mile (September 9): Each route features singletrack trails and logging roads. For the half-marathon and 50-mile, be ready for a rugged, hilly, and challenging point-to-point route on the ridge of Moscow, Idaho's namesake mountain. https://ultrasignup.com/
XTERRA Smokechaser 30k & 5 Mile Trail Race (September 8): This race returns to Priest Lake, Idaho, for an exciting day of alpine trail racing. Starting from the lake shores, runners will race through sections of lush forest and alpine terrain to a historic fire lookout tower at 7,200′ elevation. Experience the wilderness trails of Priest Lake like the Smokechasers of long ago with this epic challenge. http://www.priestlakerace.com/
Sekani 5k & 10k Trail Run (September 30): This 10th annual event includes a free Kids' 1k. The 5k and 10k are adventure run/hike/walks race on dirt trails in Spokane's forested Camp Sekani Park. The trails run above the Spokane River and provide great views of the City of Spokane and surrounding areas. Expect 700 feet of elevation gain for the 10k run. Proceeds benefit Franklin Elementary school's APPLE program. http://sekanitrailrun.com/
Wild Moose Chase Trail Run (October 6): Run a 5k or 10k course along the Nordic trails on Mount Spokane, or challenge yourself with a 25k course along double and singletrack trails with a 3,000'-plus elevation gain. https://runsignup.com/
Chocolate Chip Cookie 50k Trail Run (October 27): Enjoy a rolling trail run with awesome views of the Spokane River and Riverside State Park. The beginner-intermediate course is comprised of two loops with an approximate total of 2,470' elevation gain. Homemade chocolate-chip cookies are a post-race treat. http://ccc50k.com/
TRIATHLON/MULTISPORT/WATERSPORTS
Rage in the Sage – Mountain Bike Duathlon (April 14): The first event in the multisport series for the 3 Rivers Road Runners club, this duathlon in Benton City, Wash. – at Kiona Vineyards and Winery – includes a 2.5-mile cross-country run (gravel and dirt roads), 10-mile mountain bike ride, and 2.5-mile run. https://www.racecenter.com/
Leadman Triathlon (April 21): Organized by Kellogg Rotary Club and taking place at Silver Mountain Resort, this rowdy adventure course event for solo or team competitors begins on Kellogg Peak. Racers ski or snowboard for 1 mile, then transition to a mountain bike for a 7-11 mile ride on a downhill dirt course, followed by a 4-5 mile run to the finish line at the Gondola Village. http://www.silvermt.com/
Fiasco in Pasco (May 12): This USAT-sanctioned duathlon in Pasco, Wash., organized by the 3 Rivers Road Runners club includes a 5k run, 30k bike, and 5k run. Race starts and finishes at Pasco International Big Cross Country Course. https://www.racecenter.com/
Spring Festival Triathlon & Duathlon (May 28): Taking place at Montlake Park in Moses Lake, Wash., this event includes individual and 2-3 person team relay divisions for both the triathlon (.25 mile swim/10 mile bike/3.1 mile run) and duathlon (3.1 mile run/10 mile bike/3.1 mile run). https://www.active.com/
Troika Triathlon (June 2): The 38th annual Troika Tri at Medical Lake's Waterfront Park offers multiple options, one for every age and ability, including an Olympic course, collegiate Olympic course, sprint course, duathlon (5k run/40k bike/10k run), an aquabike (1.5k swim/40k bike), and a half distance triathlon. http://troikatriathlon.com/
Moses Lake Tri – For the Health of It (June 9): Olympic and spring distances for solo participants or 2-3 person relay teams, plus a family distance (.25 mile swim/12 mile bike/3.1 mile run). Takes place at Blue Heron Park in Moses Lake, Wash. https://www.buduracing.com/
Spokatopia Watersports Demo Day (July 7): Try stand up paddleboards, sit-on-top kayaks, and other boats and watersports gear at Boulder Beach on the Spokane River as part of the Spokatopia Outdoor Adventure Festival that takes place at Camp Sekani Park/Boulder Beach. http://www.spokatopia.com/
Hayden Triathlon (July 14): This sprint triathlon, now in its 8th annual year, features breathtaking scenery along a challenging but friendly course whose start/finish and transition areas are at Honeysuckle Beach in Hayden, Idaho. This tri is USAT sanctioned and comprised of a .5-mile swim, 12-mile bike, and 3.1-mile run. Based on its continued growth, this is one of the most popular triathlons in the region. http://www.haydentri.com/
Strides for Strong Bones Fun Run/Walk (July 14): Run or walk either the the 3-mile or 6-mile course at Waterfront Park in Medical Lake, Wash. This event raises awareness for osteoporosis and bone health, with proceeds going to Washington Osteoporosis Coalition. https://www.facebook.com/
Valley Girl Triathlon & Duathlon (July 15): This popular women's event moves to Medical Lake's Waterfront Park this year, having outgrown its available space at Liberty Lake.  Event includes sprint and Olympic distance triathlons and duathlon (3 mile run/12 mile bike/3 mile run). http://www.valleygirltri.com/
Tri Town Float Down Poker Paddle (July 21-22): Win cash prizes at this event along the Pend Oreille River between the towns of Ione and Metaline Falls, Wash. https://www.facebook.com/
Tiger Triathlon (July 21): Complete a course that travels through the scenic Colville National Forest, with a finish in Colville, Wash. Swim Gillette Lake, ride the mostly downhill course down Tiger Pass, and finish with a run on the packed gravel and asphalt of Rotary Trail back to Colville. http://www.tigertri.com/
Long Bridge Swim (August 4): A 1.76 mile swim across Lake Pend Oreille, along the iconic Long Bridge, in Sandpoint, Idaho, this is now the Northwest's premier open-water event. http://longbridgeswim.org/
Paddle, Splash, and Play (August 11): A free event for kids at Riverside State Park's Nine Mile Recreation Area northwest of Spokane, sponsored by the Spokane Canoe and Kayak Club. Youth, and their parents, can try out various paddling sports and equipment, including canoes, kayaks (sea, whitewater, inflatable, recreational), and stand-up paddleboards. http://www.sckc.ws/events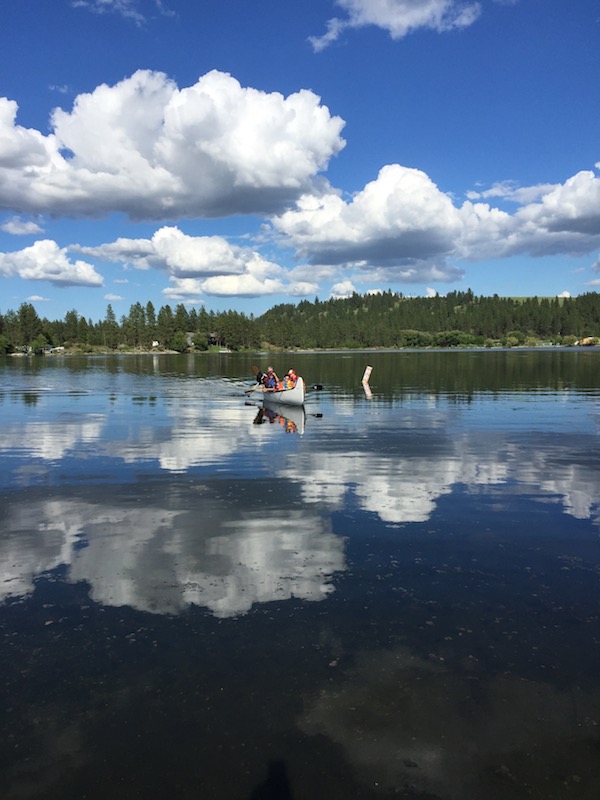 Priest Lake Triathlon (August 25): Choose between an Olympic distance triathlon or a sprint mountain bike distance, both with a self-seeded swim start – making it great for all abilities. An awards after-party takes place at Hill's Resort Beach. http://www.priestlakerace.com/
Clark Fork Adventure Challenge (September 16): Enjoy scenic western Montana with this run, row, and ride chip-timed triathlon race in the town of Plains, at Sanders County Fairgrounds. Complete solo or with a team. Be prepared for an 8-mile run on paved roads, 8-miles of rowing downriver on the Clark Fork River, and then a 14.5-mile mountain bike ride on an intermediate-level course along rough forest roads and singletrack trails. https://www.trisignup.com/
OUTDOORSY EVENTS
Big Horn Outdoor Adventure Show (March 15-18): America's oldest and longest-running event for fishing, hunting, camping, and other outdoor activities, this is the place to learn about gear and resources for these sports and recreation activities. The show at Spokane County Fairgrounds is four days long and organized by Inland Northwest Wildlife Council. http://www.bighornshow.com/
Pend Oreille Swan Festival (March 17): Pend Oreille County is a wild and beautiful corner of Washington where hundreds of tundra swans make the Pend Oreille River Valley their migration pit-stop each spring. The festival includes a tour of swan and other wildlife viewing locations on the privately owned Calispel Lake. Learn more at Facebook.com/PORTA.US.
Spokane Bike Swap & Expo (April 14): The region's largest bike consignment sale takes place once again at the Spokane County Fair and Expo Center. Sell or buy a bike – either new or used. There will be bikes of all types, sizes, and price ranges for adults and children. Proceeds benefit Big Brothers Big Sister of the Inland Northwest. http://www.spokanebikeswap.com/
4th Annual Wild and Scenic Film Festival (April 26): Some of the best outdoor adventure and conservation films of the year make their way to Spokane's Garland Theater. Proceeds benefit the conservation efforts of the Spokane Riverkeeper. https://www.spokaneriverkeeper.org/
Ales for the Trail (August 11): Enjoy craft beer while helping raise money for the North Idaho Centennial Trail Foundation. This event at McEuen Park, 2-8 p.m., includes live music and food vendors, in addition to 5-oz. pours of beer.  http://www.alesforthetrail.org//
Editor's Note: Did we miss your favorite race, ride, or outdoors event? Email amy@outtheremonthly.com and we will do our best to include you next year.
Amy S. McCaffree is Special Section Editor and Out There Kids columnist. She's been writing for Out There since 2006, and enjoys camping, hiking, biking, and alpine skiing with her family.
Feature photo: Courtesy Chafe 150