This year's gift guide features a range of locally-made products as well as other items made far away but sold here by local businesses. Every dollar spent here in our community during the holidays means that much more prosperity for all of us.
Every year many of the gift recommendations we include in our Local Gift Guide are from Out There Outdoors advertisers.
Along with you, the readers, they make this publication possible, and we ask you to show your support for Out There by spending some of your holiday shopping dollars with them! // (Derrick Knowles, co-publisher)
Experiences
National Geographic Live! Tickets: Give the gift of immersive storytelling and unforgettable imagery with behind-the-scenes stories straight from National Geographic's photographers, scientists, filmmakers, and adventurers. Presenters will be live on stage at Spokane's Fox Theater with iconic National Geographic footage accompanied by a live symphony orchestra. Choose from "The Secret Life of Bears" with Dr. Rae Wynn-Grant, "Untamed" with filmmaker Felipe DeAndrade, "Improbable Ascent" with paraclimber Mo Beck, or a package of all three. Foxtheaterspokane.com.
Wild Walls Climbing Gym Gift Card: You can purchase a gift card from downtown Spokane's Wild Walls online, which can go toward a month or year membership, a class, or a youth program.
Life Flight Network: This practical gift is the investment in the health and safety of any skiers, hikers, mountain bikers, hunters, or adventuring families. As a member of Life Flight, the member and their family may be transported at no cost when medically necessary due to an emergency by Life Flight Network ($69 per household).
Zip Line Tours: The Inland Northwest has several zip tours that would make a great adventure gift. Try Mica Moon in Liberty Lake, Timberline Adventures in Coeur d'Alene, or Silver Streak Zipline in Wallace.
Kids
Sally Kids Aprons: Little kids love to help in the kitchen, and these child-sized aprons with kid-friendly designs (ages 3-8) will make them feel like a pro and help keep their clothes clean. Find them at the Kitchen Engine in Spokane.
Buck & Bear Trail Blazing Race Game: This two-player game is a perfect gift for traveling kids and families. It's a crowded trail through the wilderness, and players don't want to get caught up with the wildlife or get run off the trail! Who will be the first out of the woods? Available at Wonders of the World at the Flour Mill in Spokane.
Kids' Biking Gloves & Handlebar Bags: Little riders love to accessorize their bike riding too. Spokane's North Division Bicycle has kids' biking gloves from Giro, FLY, and Pearl Izumi ($19-25) and kids' handlebar bags from Electra, Bontrager, and MSW, including options with kid-friendly artwork ($22-28).
The General Store Toys: The entire upper level of The General Store is dedicated to kids' toys and gear. Find a wide range of toys for several age groups, from Pokemon to Legos, PlayDoh, Barbie and much more at Spokane's General Store.
JJ's Canoe Knife Kit: The perfect tool to teach kids about knife safety (ages 7+). Kids get to build their own spring-action wooden pocket knife from the kit (Wonders of the World, Spokane).
Bloc Yard Bouldering Gym Pass: A one-month, three-month, or year membership to north Spokane's Bloc Yard is a great gift to kids and parents, since parents can choose to climb with their kids or watch them climb rope-free on the many short walls that have climbing pads below them for falls. There are climbing shoes for rent too.
Teen Outdoor Adventures: Sandpoint, Idaho's Breakwater Expeditions offers three summer trips for teenagers that range in length and activities, from sea kayaking in the San Juan Islands to canoeing and canyoneering in Utah, backpacking in Yellowstone, and canoeing the Missouri River in Montana. All trips are led by experienced guides. Check online for pricing and summer 2022 trip dates.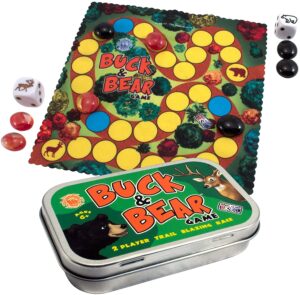 Unique Gifts
Archie McPhee Glass Ornaments: Add some weird to a loved one's Christmas tree with these unique glass ornaments, including a meditating Bigfoot, "Creepy Horse Head," "Lederhosen Unicorn," an introvert nose-deep in a book, and other strange and funny options (available at The General Store in Spokane).
Puffin Beverage Vest: Koozies are so yesterday. This vest for a cold beverage is practical, but the real joy of giving one is the laughter it will elicit. Pick one up at The General Store.
Great PNW Woodsy Tee: This hilarious, edgy shirt featuring two bears in a compromising pose is already a classic. The design is also available in socks and air fresheners. Available from Thegreatpnw.com ($28.99).
Classic Stanley Lunch Box: Anyone from your aging hipster cousin to grandpa will love this classic metal lunch box. Available at The General Store in Spokane.
Camping
Silky PocketBoy Folding Saw: This 170-mm. compact, lightweight, curved-blade folding saw will come in handy on the trail, at camp, and around home. Available at Outdoor Experience in Sandpoint, Idaho. ($60).
Bedrock Sandals: In an evolution of the adventure sandal, this Missoula, Mont., company builds light, comfortable, and tough sandals that will live up to whatever trails and rivers you throw at them. Get a pair as a gift and another for yourself from Hyperspud Sports in Moscow, Idaho (prices vary).
Sea to Summit Aeros Premium Pillow: Comfort without the bulk. Perfect for travel, short backpacking trips, and camping where a couple extra grams for a great night's sleep is more than worth it. Pick one up at REI Spokane ($42.95–64.95).
Flyshaker Onesie: Makers of fine flannels, Spokane-based Flyshaker Clothing Company has put their own twist on the traditional union suit. This cotton/poly heathered fleece onesie has a hood, kangaroo pocket, and full-front zipper. It makes for great around-the-house loungewear and camp apparel. Keep warm and deploy the emergency rear zipper when nature calls ($74.95).  
Biking
Tifosi Sledge Lite Glasses: Just because someone doesn't ride like a badass doesn't mean they don't deserve to look like they do. These light, comfortable, high-performance shades from North Division Bicycle will do the trick ($80).
45NRTH Nokken Winter Glove: Keep digits toasty during fall and winter rides without bulky insulation. Soft, grippy, and wind and water resistant. ($65 at Wheel Sport Bicycles in Spokane.)
45NRTH Ragnarok Cycling Shoes: The Achilles heel for many winter riders is actually their feet. These shoes available at Mojo Cyclery, in Spokane Valley, Wash., are designed for cold, wet weather and include hook-and-loop neoprene ankles to keep those pedal pushers dry ($190).
Specialized Angi Crash Sensor: Ever worry about a loved-one's crazy solo rides? If this sensor, available at Two Wheeler Dealer, in Hayden, Idaho, detects a crash, it starts a countdown so if you get hurt and don't stop it, it will send an alert to your selected contacts with your last-known GPS coordinates and a message that you need help ($50).
Muc-Off 8-in-1 Bicycle Cleaning Kit: Protect your investment in your bike by keeping it clean with this all-in-one kit from Spokane's Wheel Sport ($74.99).
Otso Carbon Voytek Fat Bike: Just in time for fat bike season, Mountain View Cyclery, in Hayden, Idaho, has Otso Voytek fat bikes in stock that simulate the pedaling style of a normal mountain bike, helping to eliminate that "ski-style" pedaling and allowing better traction in the deep snow.
Saris Fluid Road Bike Trainer: Train for spring rides or just stay sane this winter getting some exercise while binge watching your favorite show ($329.99 at The Bike Hub – three locations in the Spokane area).
Salsa Beargrease Carbon Deore 11 Fat Bike: Don't miss another year of winter snow riding. The one bike for all seasons with race-bike technology and fat-tire-bike capability. Available at Wheel Sport ($2,699).
Dynaplug Micro Pro Tubeless Tire Repair Kit: This light and compact tubeless tire repair kit comes with everything you need to fix a flat on a tubeless tire quick and easy ($54.99 at Spokane's The Bike Hub).
Specialized Tactic 4 Helmet: Exceptional coverage and seamless integration with goggles or glasses. "The best helmet we've ever seen at this price," say the bike junkies at Wheel Sport ($110).
Park Tool Corkscrew & Bottle Opener: Who doesn't need an adult beverage while fixing bikes? Slip one of these quality-made openers from North Division Bicycle in a stocking or wrap it up with a bottle of local wine as a bribe for future free bike maintenance ($50).
Garmin Varia RTL515 Rearview Radar with Taillight: Stay aware of approaching cars with rearview radar. It pairs with your Edge bike computer or compatible smartphone to alert you of vehicles approaching from behind up to 153 yards away. (Wheel Sport, $199.)
Niterider Lumina MAX 2500 Headlight: Shorter winter days don't need to mean shorter rides with this versatile, feature-rich, rechargeable headlight. All bike lights will be 20% off at North Division Bicycle this holiday shopping season too ($250).
45NRTH Naughtvind Winter Cycling Bib: Riders who know that biking season never ends will thank you to the moon and back for a pair of these cold-weather-destroying thermal riding bibs from Mojo Cyclery ($245).
New Custom Bike Wheels: New wheels are the best upgrade you can make to your bicycle. Spokane's Matthew Larsen Wheelbuilding hand-builds and ships wheels for all types of bikes right here in the Inland NW. All wheels are made to order (prices vary).
Specialized New Tactic Mountain Bike Helmet: With an unprecedented combination of fit, ventilation, and protection for trail and enduro riding, the Tactic helmet available at Two Wheeler Dealer in Hayden provides exceptional coverage and seamless integration with goggles or glasses ($110).
45NRTH Nokken Cycling Gloves: A great combination of warmth, water resistance, and full-finger movement on brisk rides. Available at Mojo Cyclery ($65).
Aventon E-bike: E-bikes sold like hotcakes during the pandemic and continue to do so. Mountain View Cyclery in Hayden has Aventon electric-assist bikes in stock starting at $1,299, an affordable option for putting an e-bike under the tree this year.
Locally-owned bike shops provide personalized customer service and expert advice.
Boating & Watersports
NRS Outfitter Dry Bag: These magical bags from NRS (Northwest River Supplies) are available at the NRS Flagship Store in Moscow, Idaho, keep camp gear, bedding, or clothes dry while rafting, paddling, or boating. Choose from 65-, 110-, or 140-liter sizes ($94.95–$114.95; (shop in-person or online).
Hyperlite HO Admiral Inflatable Paddleboard: These paddleboards are durable and stable and come in at 11′ tall, 3′ wide, and 6″ thick. The extra width and thickness help stabilize the board in choppy waters or with more riders on board. Available at Spokane Alpine Haus ($499).
Carefree Boat Club: The Carefree Boat Club of North Idaho offers members unlimited access to a variety of quality boats. With 95+ locations, members can visit and enjoy boats nationwide too. A great gift for the whole family. Details at Cdasports.com/club-membership-packages or call 208-620-9050.
NRS Women's H2Core Rashguard: This long-sleeved rash guard from NRS has a silky feel that wicks away moisture and protects skin from the sun. Perfect for all watersports when a little extra warmth or sun protection are needed ($49.95).
Support your community! Shop for outdoor gear and recreation apparel at local gear shops and other small busineses.
Hiking | Running | Fitness

Tri River Walking Sticks: These made-in-the-U.S.A. wood walking sticks have character and function. These walking sticks are natural wood, finished with a leather strap and rubber tip (Wonders of the World, Spokane).
Arcade Adventure Belts: Arcade belts are light, functional, comfortable, and have a flexibility that moves with you, making them perfect for keeping your pants in place during all kinds of outdoor sports. Super cool designs, too ($26-40 at Shred Sports).
Kavu Hillrose Sweater: A relaxed-fit, acrylic and cotton sweater with some pretty sweet colors and designs. Pick one up at Outdoor Experience in Sandpoint, Idaho ($70).
Nathan Streak Reflective Vest: Lightweight and comfortable, this vest stands out in low light to keep the runner on your holiday list safe on fall and winter runs. Pick one up at Fleet Feet Spokane ($27).
Longleaf Wilderness Medicine Remote Field Care Guide: Local author Jason Luthy created this excellent resource for anyone who might find themselves in a position to provide first aid when resources are limited and help is delayed. Pick up a copy at Outdoor Experience in Sandpoint ($24.95)
686 Everywhere Pant: A do-it-all, 10-pocket pant that can take you from a work meeting to the hiking trail in comfort and style. The breathable, stretchy fabric has a water- and stain-resistant finish. A great gift for travelers ($94.99 at Shred Sports).
Rollerblade Zetrablade Inline Skates: These entry-level, recreational men's skates feature great support, comfort, and stability at an excellent price. Available at Fitness Fanatics in Spokane Valley ($99).
Theragun Percussive Therapy Device: These smart, percussive therapy devices from Shred Sports provide deep muscle treatment tailored to your body's needs and help reduce tension and soreness from athletic pursuits and everyday life ($199-399).
Brooks Canopy Running Jacket: A breathable and durable jacket that traps in heat and wicks moisture. Reflective elements and zippered pockets make it a great go-to winter running layer. Available at Fleet Feet Spokane ($120).
Kahtoola MICROspikes Traction System: Any hiker will appreciate the unrivaled traction on icy winter trails. Some of the easiest traction devices to use with almost any shoes, and they are strong and compact enough to fit in your pocket. Find them at REI Spokane ($69.95).
CEP Compression Socks: With a range of height options, these compression socks from Fleet Feet Spokane are designed to reduce swelling and muscle strain while you run and recover (prices vary).
Shop for camping and recreation supplies and apparel at local gear shops.
Snow Sports
Skiing/Snowboarding Gift Card: Winter is long in the Inland Northwest, and giving someone a gift card for lift tickets or a season pass can make it the best season of the year. Check your local resort of choice for any Christmas gift lift ticket deals and put a little stoke under the tree for someone this year.
Kinco 901T Mitt: Pick up a pair of these lined, heavy-duty suede pigskin mitts at Spokane's Rambleraven Gear Trader for skiing, snowshoeing, or just shoveling the driveway. Includes Nikwax waterproofing that comes with them ($36.99).
Hestra Army Leather Patrol Gauntlet Gloves: Warm, versatile, and durable, these classic ski gloves stand up to professionals who use them day in and day out in demanding situations. Perfect for riding lifts or the backcountry, these gloves have been a top seller at Spokane Alpine Haus for years ($160).
Retrospec Zephyr Ski & Snowboard Helmets: Great head protection and comfort at an affordable price at Rambleraven Gear Trader ($44.99).
Beginner Cross-country Ski Package: Cross-country skiing is a great way to enjoy nature in the winter and get plenty of exercise. A full package with everything needed to start skiing is only $335 for adults and $259 for kids at Fitness Fanatics in Spokane Valley.
Blenders Aura Snow Goggle: Everything a skier or snowboarder will want from a pair of goggles, plus some pretty sick, psychedelic styles. Rambleraven Gear Trader carries all styles and colors of Blenders goggles and helmets.
Kari Traa Base Layers: Technical base layer built for women by women with prints and patterns that will stand out on the mountain. These tops and bottoms will keep the wearer dry and comfortable thanks to 100% merino wool. Find them at Spokane Alpine Haus ($100-$110).
Union Rover Approach Skis: Tired of crowded resorts and long lines? Explore your local hills, backcountry, or resort sidecountry, all while enjoying the rideability of your favorite snowboard in your quiver. The Union Rover Approach Skis work in perfect harmony with the Union Explorer bindings, and easily swaps onto your regular snowboard in seconds so you can enjoy the ride down. Sold at Shred Sports ($399).
Altai Skis Tiak Pole: If you know someone who has a pair of Curlew, Wash., based Altai Skis Hoks, they need one of Altai's Tiak poles to try this ancient but incredibly functional and intuitive style of skiing with one pole. Available from Altai Skis online ($41.75).
Tubbs Wayfinder Snowshoes: A best-selling snowshoe with plenty of modern technology incorporated into a classic snow-walking tool. Anyone who can walk can snowshoe. Help someone on your Christmas list be more active this winter. Available at Rambleraven Gear Trader ($189.99).
Smith 4D Mag Goggle: Smith's new 4D lens technology offers one of the widest field of views in a goggle. Anyone who has struggled seeing the terrain in harsh conditions knows how important a good pair of goggles can be. Included with this goggle available at Spokane Alpine Haus is a second lens to help cover all spectrums of light that might be encountered, as well as a hard case and cloth to protect your investment ($320).
Faststik Ski/Snowboard Wax Alternative:
What shredder wouldn't be stoked to find Faststik in their stocking? This microfilm polymer blend is designed to deliver superior performance at temps from -10 to 32 F. The light and portable easy-to-apply Faststik handles it all like a pro with none of the hassle and fuss of traditional ski and snowboard waxes. Pick some up at Shred Sports for $40.
Support OTO advertisers: shop at their stores, and tell them thanks for advertising in the magazine.
Pets
Dog Line Stoneware Mug: Dog lovers will howl over one of these mugs by Fringe Studio with dog decal art from Prairie Dog Pet Mercantile ($18.99). Pair it with some PNW-inspired tea from Winterwoods Tea also available at Prairie Dog ($14.99).
Puppy Paws Pet CBD Oil: There are so many benefits to giving your dog CBD. From helping with joint pain to anxiety relief, aging pups will feel younger and have more energy. This pet-approved CBD tincture made with hemp extract, olive oil, and coconut oil is made in the Inland NW by Bath By Bex. Order online at Bathbybex.com ($34.99 for 500 mg or $59.99 for 1,000 mg).
Cat Ball Bed: These spherical beds available at Prairie Dog Pet Mercantile allow cats to feel safe and cozy while relaxing and come in a variety of cool patterns and colors. As they say, your cat will figure it out ($61.99).
NOBO Dog Leash: NOBO leashes, assembled and packaged in Spokane, incorporate a built-in bag dispenser into the handle, are made with climbing rope, and have a quick-release handle loop for easy dog anchoring when you need your hands. ($59.99, Nobopets.com.)
Whimsies Pet-Inspired Metal Art: Prairie Dog Pet Mercantile caries a variety of pet, animal, and nature ornaments and decorations to help you celebrate your four-legged best friends ($12.99-32.99).
Bocce's Bakery Dog Treats: Bocce's makes some delicious-sounding dog treats in a variety of sizes and flavors, including some new holiday ones: Figgy Pudding, Holiday Feast, and Santa's Smores. $9.99 at Prairie Dog Pet Mercantile.
Shop for pet gear and gifts for pet-lovers at a small, locally-owned pet shop.
Health & Beauty
Peaches and Cream MEGA CBD Bath Bomb: These peaches-and-cream bath bombs are fun and relaxing. Whoever you buy them for will enjoy the aroma of fresh peach and vanilla essential oils as they soak in the CBD and relax their worries away. Available for $15 from Bath by Bex online or at the new retail store in Spokane.
Color Street Nail Polish Strips: A salon-quality manicure with no heat, no tools, and no dry time. Long-lasting Color Street nail polish strips are the perfect stocking stuffer or gift idea. These strips are made from 100% real nail polish with base coat, color, and top coat all in one. Easy, one-step application; nail file included. (Prices vary, Linktr.ee/PNWnailDesign).
Apex Terpene-Enhanced CBD Tincture: Apex Cannabis CBD tinctures include terpene-enhanced options that have the terpenes from favorite cannabis strains and all of the benefits of CBD but without the psychoactive effects. Also available in "raw" plain CBD ($24.99-399.99 based on dosing).
Holiday Stocking CBD Bath & Body Gift Set: Every year for the holidays Bath by Bex puts together some favorite seasonal CBD bath and body treats in one amazing set. This gift set includes best-selling CBD products in a fun seasonal set with the stocking included. Available online or from the new Bath by Bex retail store in Spokane for $110.
Food & Drink
Moccamaster Coffee Brewers: These brewers available from DOMA Coffee Roasting Company make amazing coffee with brewing backed by science. But they have another major selling point—they're modular, which means if something breaks it can easily be replaced, equaling less trash in landfills. A Moccamaster tagline is "built to last a lifetime," and they mean it. Available at DOMA headquarters in Post Falls, Idaho.
Dry Fly Huckleberry Vodka: Add the Idaho state fruit to Dry Fly Distilling's award-winning vodka and you get a delicious, high-quality gift that can be enjoyed in various creative cocktails. Buy a bottle for yourself and another as a gift from the new Dry Fly Distilling tasting room and gift shop downtown Spokane.
Side Hustle Syrups: Natural and flavorful syrups for making cocktails, sodas, or flavored tea or coffee. Manufactured in small batches in Spokane and available in a range of flavors at The Kitchen Engine.
Baratza Grinders: DOMA Coffee Roasting Company carries several models of these award-winning, high-quality grinders that can handle all styles of brewing, from French press to espresso. Available at DOMA headquarters in Post Falls ($170-560).
Lyte Balance Electrolyte Concentrate: A tasteless, calorie-free, additive-free electrolyte concentrate, Liberty Lake-based Lyte Balance can be added to any beverage and is a game-changer for anyone who struggles with maintaining proper hydration, from athletes and middle-aged weekend warriors to retirees who don't drink enough water. Give the gift of health and hydration. Available at many regional natural food stores and online (16-oz. bottle, $25).
Local, Healthy Food from LINC Foods: Want to give someone you love a nudge toward healthier eating? Give them a gift certificate to LINC Market, where they can shop from over 60 small, Inland Northwest farms. You can also give one of the popular LINC Box subscriptions that comes with local, seasonal produce and other foods by signing up the gift recipient like normal on LINC's website and then emailing lincbox@lincfoods.com to prepay.
Eat and drink locally. Buy kitchen and housewares at a local small business.
Art & Home
Paperless Paper Towels: A gift for your loved ones and the planet. These absorbent, washable, 100% cotton flannel paper towels are hand-made in Spokane and will brighten any kitchen with their beautiful patterns. More importantly, they will replace disposable, plastic-packaged towels that often come from virgin forests. Each set comes with 6 ($18) or 12 ($32) towels that naturally stick together. Order online at Spokane-Made.com.
The Original GreenPan Frypan Set: GreenPan is the pioneer of healthy ceramic non-stick cookware that doesn't contain any toxic chemicals or persistent pollutants. This set from The Kitchen Engine includes 10- and 12-inch frypans ($99.99).
Re-usable Produce Bags: Anyone trying to limit their impact on the planet (or cost at the grocery store) will appreciate one or more of these locally-made, reusable produce bags. Produce can be washed and stored in the bags in the fridge. Bags are machine washable and can be dried on low. Pick up a couple at The Kitchen Engine near Riverfront Park in Spokane ($12.99).
Bicycle Pizza Cutter: Created by metalworkers in Moradabad, India, this fair-trade stainless-steel pizza cutter is the perfect gift for a cyclist, pizza lover, or both. Available at Kizuri, located in downtown Spokane.
Prep Works Fresh Guacamole Keeper: The press-fit lid on this container keeps precious guac from turning brown. Available at the Kitchen Engine in Spokane.
Tree of Life Breadwarmer: Fair trade and made in Bangladesh, these bread warmers will keep loaves toast at the table. The whitewashed terracotta stone is etched with the "tree of life" and sits within a handwoven kaisa grass basket. Kizuri, downtown Spokane ($29.50).
Soul Flower Mushroom Design Recycled Notebook: From nature lovers and mushroom hunters to writers and journal keepers, all will love one of these useful and beautiful notebooks ($14.99 at Wonders of the World).
Crystal Pendants: Hundreds of pendants to choose from, including options from local artists or pieces from around the world. Pendants range from gemstone, semi-precious, and varietal rocks and minerals with some in copper, silver, and sterling silver ($19 at My Crystal Stop in Mead, Wash., north of Spokane).
Over the Rainbow Woodstock Windchime: This beautiful windchime is tuned to the opening notes of the ballad of the same name. This chime was designed with a removable windcatcher that can be taken to a trophy shop, printer, or jeweler to be engraved or silk-screened. Find them at Spokane's Wonders of the World.
Spokaloo Inland NW-Inspired Art & Maps: Illustrated maps of your favorite places around the region, from lakes to ski resorts, golf courses, neighborhoods, and more. Available online at Spokaloo.net, with custom maps upon request.
Crystal Mystery Box: Let the universe decide your gift with this crystal-inspired mystery box. All mystery boxes are some combination of rocks, crystals, minerals, and other cool, cosmic stuff. If the person on your gift list loves rocks and crystals, you can't go wrong. (Starting at $10 at My Crystal Stop in north Spokane.)
The Northwest is home to many amazing artists. Support artisans, makers, and creators — shop locally!
Books
The Great Glorious Goddamn of It All – A Novel: From singer-songwriter Josh Ritter comes a lyrical, sweeping novel about a young boy's coming-of-age during the last days of the lumberjacks (Auntie's Bookstore, $27.99).
Evergreen – Grim Tales and Verses from the Gloomy Northwest: Local publisher Scablands Books released this anthology this fall. Edited by Sharma Shields and Maya Jewell Zeller, 56 Northwest writers share their singular stories, essays, and poems that center on what Shields calls "the literature of despair." Pick up a copy at Atticus Coffee & Gifts downtown Spokane ($24.99).
Rise and Roar – A Guided Journal for Outdoor Adventure: This book by author Sharisse Steber meets women where they are in life and challenges and inspires them to get outside, define their motivations, and examine their fears (Auntie's Bookstore, $19.99).
Fuzz: When Nature Breaks the Law: New York Times best-selling author Mary Roach explores the curious science of human-wildlife conflict, a discipline at the crossroads of human behavior and wildlife biology. Roach's signature witty humor brings a light voice to complex topics, making this an interesting and enjoyable read. Available at Auntie's Bookstore, downtown Spokane and online ($26.99).
Evergreen: Grim Tales & Verses From the Gloomy Northwest –– published by Scablands Books, based in Spokane, featuring authors from Spokane and all around the greater Northwest. Support your local independent bookstore.
Find more gift and gear ideas and recommendations in the OTO holiday gift guide archives.