Whenever we relax and play at a lake, we connect to nature and that place where deep memories were made. Whether a lake park or remote, wild setting, our region provides abundant opportunities for those connections—for every recreation style and water sport. Maybe you're looking for new places to launch your kayak or ski boat, swimming beaches for your kids, or quiet fishing spots. Use Out There's 3rd annual lake guide for your adventure planning, learning where to go, and what to expect for over 65 lakes. While not completely comprehensive or inclusive, we simplified details and added new lakes to inspire your travel to new destinations.
EASTERN WASHINGTON
From rustic channeled scabland lakes carved by Ice Age floods to backcountry gems surrounded by mixed-conifer forests, these lakes provide the setting for high adventure and relaxing recreation. (For more amenity details, visit wdfw.wa.gov for public boat launches and fishing/boating access sites; all WDFW boat launches require a Discover Pass).
Banks Lake: This 27,000-acre reservoir lake extends 27 miles between two community hubs, from Coulee City north to Electric City and Grand Coulee. Boaters, wake-boarders, and water-skiers have fun here, and anglers enjoy catching several species. Amenities: WDFW 6 sites, most developed is Barker Canyon; Steamboat Rock State Park (3 campgrounds, 7 watercraft launches, dock, campsites); Coulee City Community Park and Campground (public launch, swimming area); Coulee Playland Resort in Electric City (watercraft rentals, launch); KJ Watersports Boat Rentals.
Bear Lake: Find this quiet, spring-fed lake 15 miles north of Spokane, near Chattaroy. Amenities: Bear Lake Regional Park (beach, hiking trails, no boat ramp).
Badger Lake: Expect good trout fishing and serene paddling at this scablands lake. Amenities: WDFW dock.
Bead Lake: Paddlers, boaters, and anglers seeking kokanee and trout enjoy this lake in the Idaho Panhandle National Forest. Amenities: FS boat launch.
Big Meadow Lake: Loons and trout call this rustic lake home, and fishing prospects are "excellent" in July, according to WDFW. Amenities: FS Big Meadow Campground—launch, fishing dock, interpretive trails.
Bonnie Lake: A paddler's haven located south of Turnbull National Wildlife Refuge, put-in your watercraft at the small, rustic boat launch by Rock Creek bridge. Private landowners allow launch access, so be respectful and Leave No Trace. Paddle upstream to find the long, narrow lake and its island. Amenities: None. https://wdfw.wa.gov/
Clear Lake: Anglers, boaters, and water-skiers enjoy this 316-acre lake west of Spokane. Amenities: WDFW; Sun Cove Resort (boat launch, camping).
Deer Lake: Fed by springs and snowmelt, this lake has 1,150 acres for all watersports. Amenities: WDFW; Deer Lake Resort (RV park, camping, cabins, day-use beach, boat launch, watercraft rentals).
Diamond Lake: Expect good fishing at this 754-acre lake near Newport, which was recently stocked with more than 12,500 trout. Amenities: WDFW; camping at Little Diamond Lake KOA or Thousand Trails RV Campground.
Eloika Lake: Nestled in the Selkirk Mountain foothills, paddlers can spot beavers and muskrats around this 3-mile long lake. Amenities: WDFW; Jerry's Landing Resort (RV/tent camping, cabins, boat rentals, dock, day-use).
Fish Lake: Enjoy this 32-acre rural lake, off Spokane-Cheney Road, and its quaint county park. The north end trailhead for the 130-mile long Columbia Plateau Trail State Park begins nearby. Amenities: Fish Lake Regional Park (free boat launch, no gas motors, beach, fishing dock).
Fishtrap Lake: A remote 190-acre lake near Sprague, in Lincoln County, with 8,000+ acres of BLM public land along its west shoreline, which includes nearby Hog Canyon Lake. Amenities: WDFW launch sites; Fishtrap Recreation Area (no facilities or services); Fishtrap Lake Resort (launch, dock).
Horseshoe Lake: One of the best local paddling destinations, according to Spokane Canoe and Kayak Club members, this 128-acre lake in Pend Oreille County has a "no wake" rule. Amenities: WDFW launch.
Lake Spokane: Local paddlers, boaters, and bass anglers especially enjoy this 24-mile lake reservoir, located along the Spokane River, from Nine Mile Falls to Long Lake Dams (which is why it's also referred to as Long Lake). Amenities: Riverside State Park—3 campgrounds: Nine Mile Recreation Area (paved launch, dock, camping, swimming, watercraft rentals), Lake Spokane Campground (primitive campsites, some boat-in only access), and Long Lake Campground (launch, beach); Willow Bay RV Resort & Marina (docks, cabins, beach).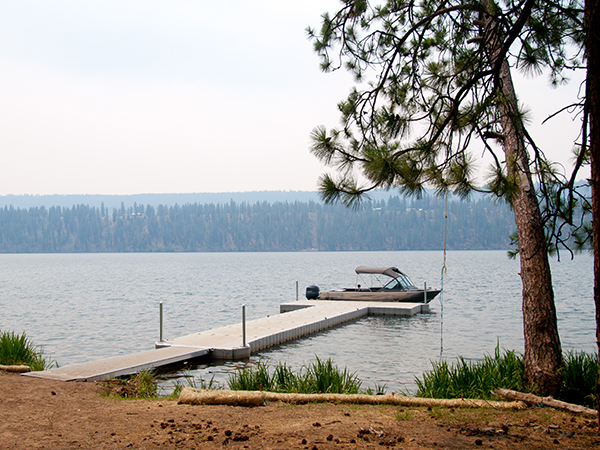 Lake Roosevelt: This 130-mile long reservoir lake is protected as a national recreation area. Altogether five agencies and the Spokane and Colville Tribes collectively manage the lake, so be sure to consult a map and plan carefully before you go fishing or take your watercraft to any primitive, sandy beach. Amenities: Lake Roosevelt National Recreation Area (over 10 boat launches, 11 campgrounds currently operating, boat-access only campsites, day-use areas, beaches); Private resorts with boat launches include Sun Lakes Park, Two Rivers, and North Lake RV Park and Campground, and Blue Moose Lodging; Lake Roosevelt Adventures rents houseboats and operates Seven Bays Marina and Keller Ferry Marina & Campground.
Little Pend Oreille Chain of Lakes: In the Colville National Forest is a chain of four small lakes interconnected by the Little Pend Oreille River. Starting from the north end, it includes lakes Leo, Heritage, Thomas and Gillette (connected by a small, navigable channel), and Sherry. Each provides paddling, swimming, and fishing recreation. Amenities: FS campgrounds, boat launches, and day-use areas at Lakes Leo and Gillette; FS campground only at Thomas; Beaver Lodge Resort & Campground at Gillette.
Liberty Lake: An iconic lake close to its city core, it's popular with paddlers, boaters, and other users. Amenities: WDFW dock; Liberty Lake Regional Park (beach, campground, no boat launch, entrance fee).
Loon Lake: There's over 1,000 acres for boating and waterskiing on this lake in Stevens County, which has excellent kokanee fishing. Amenities: WDFW; Shore Acres Resort (cabins, dock, beach); Granite Point Park (resort campground).
Long Lake: Located in the Colville National Forest, this rustic 13-acre lake that's good for paddlers is regulated for fly-fishing only. No motorized boats. Amenities: FS Long Lake Campground with boat launch.
Medical Lake: This spring-fed lake, with an average summer temperature of 74 degrees, is ideal for swimming and paddling. No combustion-engine boats allowed. Amenities: City-owned Waterfront Park (free boat launch, beach).
Moses Lake: This shallow 6,727-acre lake reservoir, 105 miles west of Spokane, is great for all watersports. An official Water Trail map from the city promotes non-motorized activities among 8 shoreline parks and points of interest. The lake's outlet water trails, at an irrigation dam, connect to Potholes Reservoir. Amenities: 2 WDFW launches; city launches at Blue Heron, Connelly, Montlake, and Peninsula parks, and Cascade Park Campground; Camping at Grant County Fairgrounds, Big Sun Resort (Lakefront RV Park), Suncrest RV Park, Sunny Springs Resort & Campground (Ephrata).
Newman Lake: One of the largest lakes in Spokane County (1,200 acres), you'll enjoy views of Mt. Spokane and other peaks as you paddle, fish, or waterski. Amenities: WDFW; McKenzie Conservation Area; Newman Lake Resort & Marina and Sutton Bay Resort (both: launches, docks, beaches).
Potholes Reservoir: Located in central Washington's desert landscape, the 25,000-acre Potholes Reservoir was created when the O'Sullivan Dam filled the Ice Age flood-carved "potholes." Sand dune islands abound, some covered by shallow water. Popular for all watersports, the state park provides 6,000 feet of shoreline access, and this lake is also a Columbia Basin Wildlife Area unit. Two water trails on the east end connect to Moses Lake. Amenities: 5 WDFW launches; Potholes State Park (launches, dock, campsites); primitive boat launches and camping areas, such as Sand Dunes Site; MarDon Resort, O'Sullivan Sportsman Resort, and Sun Desert RV Park (all have campsites, dock, launches); Pro-Touch Jet Ski & Boat Rentals.
Silver Lake: Located near I-90's Four Lakes exit, this long, narrow lake is popular with paddlers and anglers. Amenities: WDFW, dock; Silver Lake Camp & Retreat Center.
Soap Lake: This quiet, natural mineral lake is renowned for its "healing" effects, and on windy days, soap bubbles appear on the lake shore. Enjoy paddling and buoyant swimming, but be aware of sulfur-smelling mud. Amenities: Smokiam Park (city-owned campground), West Beach, and Paul Lauzier Community Park; resorts, spas, and inns, including Smokiam Resort (camping, rental cabins, teepees, dock, boat launch). No fishing available.
Sprague Lake: You can't miss this 6-mile long by 1-mile wide lake (1,760 acres) along I-90, west of Spokane. Best known for its good fishing prospects, 675 acres of the lake's wetlands and shoreline is designated as part of the Columbia Basin Wildlife Area. Amenities: WDFW; Four Seasons Campground & Resort; Sprague Lake Resort; Columbia Basin Wildlife Area interpretative trail.
Sullivan Lake: Located in the Colville National Forest, near Metaline Falls, enjoy camping, paddling, fishing, hiking, and picking huckleberries. Last summer's wildfire burned the lake's forested east side. Amenities: FS campgrounds and day-use areas with boat launches and beaches: West Sullivan and East Sullivan (both at the north end, provide docks), and Noisy Creek Campground (south).
Sun Lake: Located at the foot of Dry Falls, enjoy all your favorite watersports, including tubing, wake surfing, and waterskiing (periodic restrictions apply). Amenities: Sun Lake-Dry Falls State Park (watercraft launches, moorage slips, dock, campground); Sun Lakes Park Resort.
Trout & Emerald Lakes: Rustic lakes in the Hoodoo Canyon of the Kettle Range. Hike the Hoodoo Canyon Trail #17 to Emerald Lake Trail #94 (6 miles round-trip). Amenities: FS Trout Lake Campground, no boat launch, paddlers put-in at shoreline.
Twin Lakes: On the Colville Indian Reservation, near the town of Inchelium, there are actually two lakes, named North Twin and South Twin. Anglers need tribal fishing permits. Amenities: Boat launches, docks, beaches, and camping at Rainbow Beach Resort (North) and Hartman's Log Cabin Resort (South).
Waitts Lake: This quiet 500-acre lake, located south of Chewelah, is good for fishing and paddling. Amenities: WDFW; Camping/day-use at Silver Beach Resort, Winona Beach Resort, and Waitts Lake Resort.
West Medical Lake: A small lake in east Spokane County that attracts anglers, as well as white pelicans, herons, and other waterfowl. It's considered one of the best trout lakes in Washington, according to WDFW. However, that status is threatened by the huge population of illegally dumped goldfish currently overrunning the lake, according to recent reports. Amenities: WDFW; West Medical Lake Resort (dock fishing, boat rentals).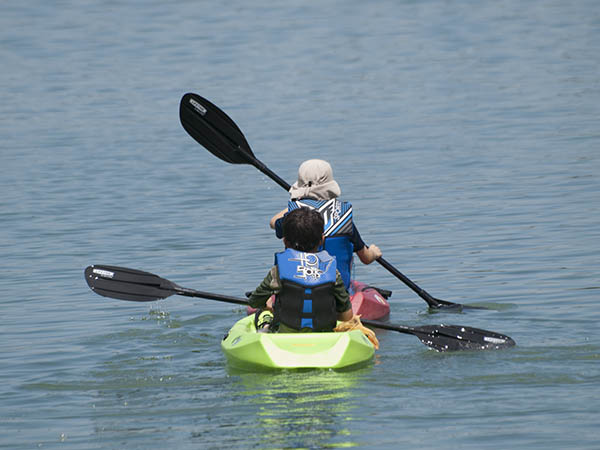 Williams Lake: Anglers and paddlers enjoy this small, spring-fed channeled scabland lake, stocked annually with rainbow and cutthroat trout. Amenities: WDFW; Klink's Resort (launch, dock, watercraft rentals, RV/tent camping, restaurant), Bunker's Resort & Marina (launch, dock, cabins, tents/RV sites, bar & grill).
NORTH IDAHO
Lake culture is big in Idaho's Panhandle, whether it's boating on one of the vast, majestic lakes or fishing at an alpine forest hideaway. (For complete details about boating access sites and launch permit fees, visit Idaho Fish & Game (IFG) at idfg.idaho.gov; for Kootenai County, visit kcgov.us.)
Brush Lake: Located north of Bonners Ferry, this scenic destination was recently stocked with over 5,000 trout. Amenities: FS Brush Lake Picnic Area launch (electric motors only), dock, campsites.
Chain Lakes of the Coeur d'Alene River: This series of small lakes are interconnected by narrow channels, some too shallow to navigate, off the Coeur d'Alene River. Some of the bigger ones are Blue Lake (226 acres, no motor restrictions) and Killarney, which has Popcorn Island (1 acre, managed by BLM) that provides a picnic unit and campsite. This Coeur d'Alene River Wildlife Management Area includes Thomas and Anderson Lakes as state birding trail areas, and the Trail of the Coeur d'Alenes runs along the river. Amenities: Lake Killarney BLM boat launch (dock, campground); BLM boat launches along the river include Thompson and Anderson Lake Outlets.
Cocolalla Lake: This 800-acre lake, south of Sandpoint, was stocked this spring with over 9,000 rainbow trout. Amenities: ID boat launch, docks; day-use only, campground closed indefinitely.
Chatcolet & Benewah Lakes: Accessible from Heyburn State Park near Plummer, or from the south end of Lake Coeur d'Alene, these two beautiful, serene lakes have no actual separating boundary. Amenities: Rocky Point Beach and Marina (docks, boat rentals, beach), Plummer Point dog-friendly beach, Hawley's Landing Campground (dock, paddle watercraft launch), rental cabins, Benewah Campground, Chatcolet Campground and day-use area (boat launch, dock, Trail of the Coeur d'Alenes).
Lake Coeur d'Alene
This 25-mile long mecca is 31,000 acres with more than 15 boat launch locations (complete details at lakecoeurdalene.com). Here are highlights you need to know.
City of Coeur d'Alene: The city's downtown lakeshore hub serves locals as well as tourists. For fancy, visit the Coeur d'Alene Resort and Boardwalk Marina. For adventure, hike around Tubbs Hill (trailhead at McEuen Park) and swim at one of its small, sandy beaches. For family fun, McEuen boasts the city's largest playground, a splash pad, dog park, and the Centennial Trail goes through the park. Amenities: McEuen Park boat launch; City Park (beach, sports courts) & Fort Sherman Playground; Independence Point (beach, dock, tour boats, seaplanes, and parasailing); Boat rentals: KJ Watersports, Lake Escapes Boat Rentals, New Sun Adventures, Just Add Water Sports (JAWS).
NIC Beach: This large public beach at the edge of the North Idaho College campus is accessible from Rosenberry Drive or the North Idaho Centennial Trail. Amenities: NIC's Outdoor Pursuits boat house is open daily for watercraft rentals, 10 a.m.-6 p.m., through Labor Day; reserve at (208-769-3290); free campus parking.
Harrison: Lake Coeur d'Alene Scenic Byway on the lake's east side leads to this quaint lake town. Amenities: Harrison County Docks (launch, overnight moorage); City day-use park, beach, RV/tent camping park; Gateway Restaurant & Marina (gas dock, convenience store); Carlin Bay Resort (launch, gas dock); Harrison Pontoons & Rentals; FS Bell Bay Campground (docks).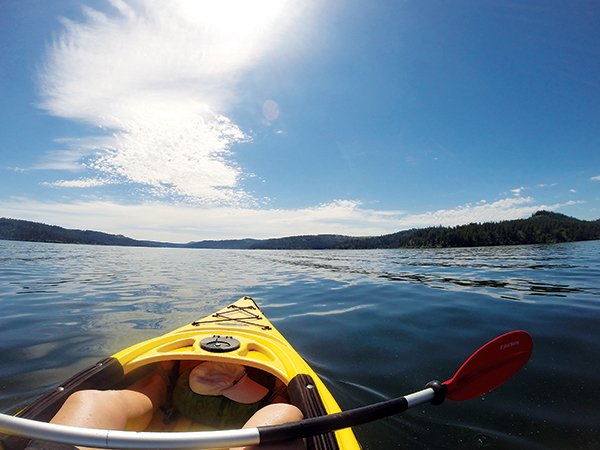 Other notable amenities around the lake
Boat-access only campgrounds/mooring docks: Windy Bay and Mica Bay Boater Parks (BLM), Mowry Boat Park (Kootenai County); Marinas with fuel docks: Tobler (Black Rock), Conkling, Silver Beach, Sunup Bay.
Elsie Lake: Enjoy serene paddling and fishing at this high alpine lake near Kellogg. Amenities: No-fee gravel launch, beach, primitive campsites; no motor boats allowed. idfg.idaho.gov
Fernan Lake: A 300-acre lake in Fernan Lake Village, near Coeur d'Alene, that's great for paddling and fishing. The Idaho Panhandle National Forest borders its northern shoreline. Amenities: Fernan Park boat launch, dock, marina.
Granite & Kelso Lakes: Two small, forested, trout-stocked lakes north of Athol, situated near each other off the same rural road. Kelso is a state birding site Amenities: ID (electric motors only), docks.
Hauser Lake: Located north of Post Falls, enjoy the surrounding forest and mountain views. Amenities: Hauser Lake Park launch, swimming area.
Hayden Lake: Enjoy your favorite watersports and views of the Bitterroot Mountains. Amenities: ID; Honeysuckle Beach (launch, dock, lifeguards); Hayden Lake Marina (launch, rentals).
McArthur Lake: Protected as a state wildlife management area (WMA), north of Sandpoint, there are three other lakes for public recreation within WMA boundaries. Amenities: ID launches at Lakes McArthur, Dawson (dock), Bonner, and Freeman (campground, dock, electric motors only).
Mirror Lake: Near Sagle, this secluded 85-acre trout-stocked lake, nestled between two mountains, is where Dante's Peak was partially filmed. Amenities: ID; private campground; no public shoreline fishing access.
Moose Creek Reservoir: Visitors with kayaks and fly-fishing float tubes will enjoy this small, forested reservoir lake east of Moscow. Heavily stocked with rainbow trout, it's also a state birding trail area. Amenities: Moose Creek Park launch (no gas motors allowed), fishing docks, campground.
Moose Lake Fishing Pond: Located near Priest Lake's Huckleberry Bay, private landowners allow public shoreline access at this small, trout-stocked fishing hole—a great destination for families with young children. Amenities: Shoreline pathways, picnic table, no boat launch.
Lake Pend Oreille
Idaho's largest and deepest lake (pronounced "Pond-uh-ray") has key areas not to be missed.
Sandpoint (west side) – Amenities: City Beach (marina, launch, lifeguards); watercraft rentals: Action Water Sports, Outdoor Experience, A Day On the Lake, 49 Outfitters, Sandpoint Marine and Motorsports; Lake Pend Oreille Cruises; FS Green Bay Campground south of town (beach, tents only)
Farragut State Park (south end) – Amenities: Boat launch, Beaver Bay Beach, campgrounds.
Bayview (NE of Farragut) – Amenities: Kootenai County launch; Bayview Marina (camping, rentals); Scenic Bay Marina and Resort; MacDonald's Hudson Bay Resort (gas dock, rentals, cabins).
Hope (east side) – Amenities: Hope Marina; Beyond Hope Resort (camping, RV park, marina, boat rentals, floating restaurant); Pend Oreille Shores Resort (rental condos); FS Sam Owen Campground (launch, beach); Action Water Sports (rentals); FS Whiskey Rock Bay Campground near Clark Fork.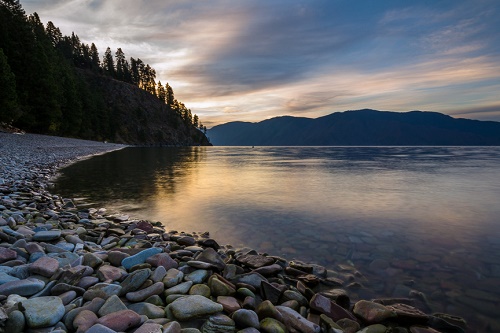 Rose Lake: A forested, 371-acre lake near Cataldo for boating, waterskiing, paddling, and fishing. Amenities: ID, fishing docks, primitive campsites; Watsons Rose Lake Resort (camping, cabins).
Round Lake: Enjoy relaxing water activities at this small, scenic, family-friendly lake near Sagle. It was recently stocked with over 4,000 rainbow trout. Amenities: Round Lake State Park—beach, docks, launch (electric motors only), paddling rentals, campsites.
Spirit Lake: Enjoy forest and Selkirk Mountain views at this lake north of Rathdrum. Amenities: ID, 2 Kootenai County boat launches—Maiden Rock (east) and Bronze Bay (west); Sedlmayers Campground & Resort; Silver Beach Resort; Spirit Lake Rec Center near Fireside Park has water sports rentals and a store. The Empire Trails mountain bike and hiking trails traverse the lakeside hills with e-bike rentals available in town at Fresh Air E-bikes.
Twin Lakes: Located near Rathdrum, the upper and lower forested lake sections are connected by a narrow channel to provide over 800 acres for power boating and fishing (stocked with over 7,700 rainbow trout). Amenities: Kootenai County launches and docks.
Priest & Upper Priest Lakes: These forested lakes are legendary for their beauty and nearby huckleberry patches. Priest Lake (19 miles long) is flanked by national forest on its western shoreline, with views of the Bitterroot Mountains to the east, while the east side enjoys summer sunsets. Paddle or boat (no wake) the Thoroughfare to Upper Priest Lake Scenic Area for day-use or overnight camping. Amenities: FS Boat Launch, 9 FS campgrounds (launches, beaches, day-use areas), and 3 boat-accessible islands (camping, day use); Priest Lake State Park (3 campground units, launches, cabin rentals); Hill's Resort and Elkins Resort, both on west side.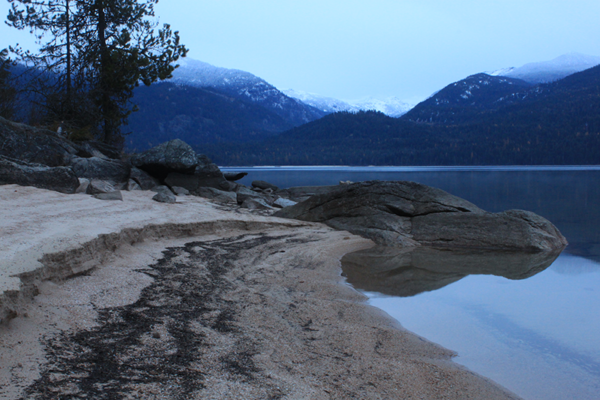 WESTERN MONTANA
Big lakes, big mountains—everything you'd expect from the Big Sky state to beckon lake lovers.
Heart & Pearl Lakes: These two lakes in the Great Burn Wilderness of Lolo National Forest, near Superior, make great day-hiking or backpacking destinations. Heart Lake (5,825' elevation) is known for good fishing (bring a float tube). Amenities: FS Trout Creek Campground; primitive campsites around Heart Lake.
Loon Lake: This small, shallow, "no-wake" lake in the Kootenai National Forest, near Libby, is best for paddling and fishing. Amenities: FS Loon Lake Campground, primitive.
Flathead Lake: Enjoy all watersports recreation at the largest natural freshwater lake west of the Mississippi—28 miles long and 15 miles wide. Amenities: Volunteer Park (day use); Flathead State Park, 5 units; Wild Horse Island State Park; Northern Rockies Outfitters; Flathead Lake Charters; Pointer Scenic Cruises; Sea Me Paddle Kayaking Tours; Dayton Yacht Harbor; Edgewater RV Resort and Motel (dock, watercraft rentals); Many Springs Flathead Lake Resort (marina, watercraft rentals).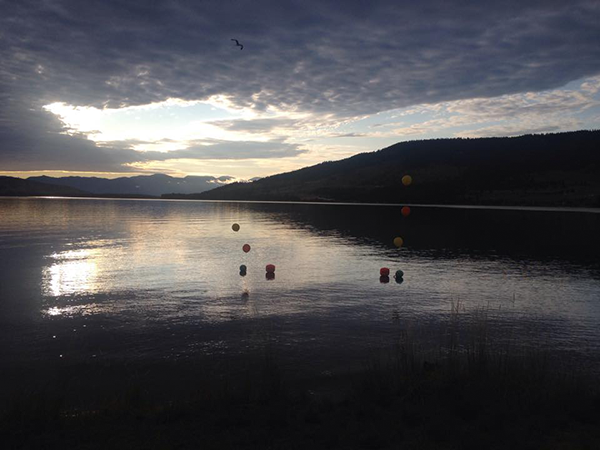 Whitefish Lake: A pristine, glacial, 7-mile long lake, with 16 miles of shoreline surrounded by mountains, you can do it all here. Amenities: City Beach (boat launch, sandy beach, docks, watercraft rentals); Whitefish Lake State Park (boat launch, campsites); The Lodge at Whitefish Lake (lodging, public marina, boat launch, gas dock, boat and watercraft rentals, charter fishing) and "Lady of the Lake" private boat cruise and tours; Boat/watersport rentals: Extreme Watersports, Whitefish Marine.
BRITISH COLUMBIA
Sometimes "getting away" means leaving the country. Beautiful, stunning mountain scenery, clear blue lakes, and a favorable money exchange rate awaits in southeast British Columbia. Lakeside communities and numerous provincial parks—Canada's version of national parks—provide water adventure opportunities.
Christina Lake: Enjoy every imaginable water sport activity on this long, forested lake, that's especially good for bass fishing. Amenities: Christina Lake Provincial Park; Christina Lake Marina public boat launch and boat rentals; Gladstone (Texas Creek) Provincial Park (north side) and Texas Point boat launch; Schulli Resort; Christina Pines Campground.
Kootenay Lake: Nestled between the Selkirk and Purcell mountain ranges is one of B.C.'s largest lakes, at 67 miles long and nearly 500' deep. The municipal hubs of Nelson, on the lake's west arm, and Kaslo, a mountain village along the lake's main section, offer all you need including paddle sports and boat rentals and tours. Amenities: 5 provincial parks; public parks and boat launches include Kokanee Park Marina, Kaslo Bay Park, and Balfour; Nelson City Campground, Kaslo Municipal Campground, and many others; Woodbury Resort and Marina.
Okanagan Lake: North of Tonasket, Wash., this lake spans 84 miles, north to south, and boasts long sandy beaches. Surrounding area is divided into three sections: Kelowna, the major city located about midway on the lake; Lake Country; and West Kelowna & Peachland. Amenities: Public boat launches, 30+ beaches, and watercraft rentals available in the municipal hubs; 6 provincial parks with campgrounds; Lake Okanagan Resort; Cove Lakeside Resort; Okanagan Lake Boat Rentals. //
Key: U.S. Forest Service (FS), Washington Dept. of Fish & Wildlife boat launch (WDFW), Idaho Fish & Game boat launch (ID), U.S. Bureau of Land Management (BLM).
[Feature photo: Photo: Amy McCaffree]