Exchanging glances with equal parts intrigue, excitement, and vigilance – like dogs going for a car ride – my riding buddy and I approached the Empire Trails trailhead somewhat warily, parked off to one side and sidled up to an odd sight: an excited exposition by a trailhead attendant by the name of George, who, in my estimation, has one sweet "summer gig," as he put it. Animated, fit, and winsome, pentagenarian George was fulfilling his charge of imparting knowledge to a gaggle of three teenage boys and a fellow fifty-year-old by emphatically gesturing toward and expounding on a large, clearly annotated map.
We learned that the Empire Trails system is located on privately-owned forest land along the northern shore of Spirit Lake, a gorgeous 1-hour drive from downtown Spokane. Built by volunteers, the system is comprised of six and a half miles of alternating, straightforward doubletrack and rippy singletrack with banked turns and sufficient stumps, rocks, and roots to keep you off the seat. The trails also offer lake and mountain views that will stop you in your tracks.
Thankful for the unusual treat of a human trail guide to get us oriented, we happily forked over the modest entry fee of $2.50 per person, hastily yanked the rubber straps securing two fat bikes to our other ride, and cranked up a preparatory double track trail. We curiously tilted our ears toward melodic birdcalls, absorbed cool breezes off the lake, and idly scanned to the left for the Pinball Trail, which we assumed would require our less-divided attention.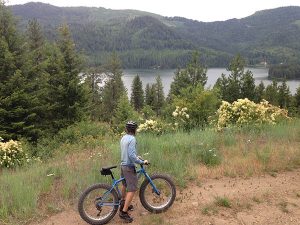 Unfortunately we missed the sign and arrived at a junction of three trails, one of which was the far end of the Pinball Trail. We opted to ride it backward to find the sign we missed. Pinball, aptly named for the many knuckle-busting slots between stout young trees through which you, the ball, must maneuver, was reminiscent of forays into Washington's wet western forests. In a downright boggy section, lush underbrush closed in, the ground developed a spongy feel and mossy slickness, and slippery roots replaced rocks as the primary hazards.
We wheezed out of the damp creek bottom, understanding too well why we had been advised to ride in the opposite direction. Back on the double track, our eyes were simultaneously drawn to the rock that distracted us while looking for the Pinball sign, hidden behind a spindly pine. My riding partner erected a cairn we hoped would help future riders find the more flowy direction, which we then giddily rode back to the trail junction.
After a short, steep climb, the Bronze Bay Trail pulled us in with an endless stream of twisting, seamlessly-banked "S" turns and teased us with some longer, easier straightaways. The trail culminated in a long, doglegged descent to Bronze Bay, allowing we white-knucklers to ease off our brakes just a little, and giving the more acrobatically inclined a chance to get their hops in. This tricky section also boasts expansive views of Velguth Island.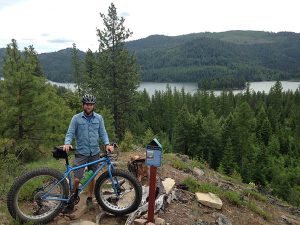 Riding the Tesemini Trail on the meandering return to the trailhead provides a self-contained review or preview, depending on direction, of the entire system. Replete with banked twisties, micro-climates, and steep climbs galore, the bonus Charleston Loop will leave you wanting a clockwise run without a lunch break.
Hungry for more? According to our favorite trailhead attendant, you won't have to wait long. While we peered hopefully in the direction of his extended finger, I was convinced that George could actually see the trail crews out there working to connect west to east, extending this wondrous, wooded playground by several miles. "They always save the ends for last," he mused knowingly as we reloaded the bikes. And we knew, as we drove off, that we'd be back soon to see.
More Info: Daily biking/hiking passes and maps are available at the IEP gate and at select local merchants in Spirit Lake, Idaho. Visit Bikespiritlake.com for more info.