If you already have a "lake place" – your own or your parents,' your friend's grandparents or cousins, or your Uncle Bob's – then you likely already have your favorite lake. But for the rest of us, any of the dozens of Inland Northwest lakes can be ours for the loving. To feel the cold water envelop our bodies as we dive in from the bow of a boat on a scorching afternoon. To paddle a kayak, canoe or SUP with sunlight glistening from the mirror-like lake surface, and surrender to the lovely ache of tired muscles back on shore. If you are free to sojourn and explore some of the region's many lakes, this is your go-to guide for finding your favorite lake-based activities and adventures. While not comprehensive or inclusive, it's meant to inspire your exploration and travel to new destinations – whether you're looking for lakes to launch your canoe or ski boat, swimming beaches for your kids, or a quiet fishing spot.
EASTERN WASHINGTON
From rustic scabland lakes carved by the Ice Age floods to those surrounded by mixed-conifer forests and wildlife, including out-of-the-way or backcountry gems offering solace from the frenetic scene at more common destinations, there is a lake for you in the eastern half of Washington. While many small regional lakes have shorelines dominated by private property, many have a public boat launch maintained by the Washington State Department of Fish and Wildlife for the primary purpose of providing access for boaters and bank fishing (Discover Pass required). And other lakes have dedicated municipal parks or privately-owned resorts, both rustic and modern, that provide access for day-use swimming, dock fishing, boat-launching and overnight camping. (Visit wdfw.wa.gov and find the "Water Access Sites" page for directions to many of these lakes.)
Newman Lake
One of the largest lakes in Spokane County, at 1,200 acres, locals describe Newman as being shaped like a five-leaf clover. With a view of local mountain peaks, including Mt. Spokane, much of its nine miles of shoreline is lined with homes and rustic cabins. Newman's public access points include a WDFW boat launch and the 462-acre McKenzie Conservation Area with 3,000-feet of shoreline, hiking trails and picnic areas. As for resorts, Newman Lake Resort & Marina is on the lake's east side and is open from 8 a.m. to dusk for day-use swimming (no lifeguard on duty), dock fishing, row boat rentals, picnicking ($5 per person; free for children under 12 and all military personnel).The on-site convenience store will be closed this summer, according to resort manager Lori Stoa, so stock up on supplies before you arrive. Because of the milfoil, Stoa recommends bringing floaties and swimming off the designated swimming dock, which has a ladder. Launch a boat for $5 or ask about tent camping options. On the lake's southwest shore, there is also the small, rustic Sutton Bay Resort.
Liberty Lake
Paddlers enjoy convenient access to the WDFW boat launch on the north end, not far from the city's main business district. On its south end is Liberty Lake Regional Park, which provides a lifeguarded swimming beach, BBQ area, playground, hiking trails (including the 8.3-mile Liberty Lake Loop Trail), and campground (no boat launch). The park has a $2 per person day-use summer entrance fee (family season passes are available).
Bear Lake
Off Highway 2, 15 miles north of Spokane, this spring-fed lake is only accessible via the 166-acre Bear Lake Regional Park. Enjoy the swimming beach (no lifeguards), BBQ area, playground and hiking trails (no boat launch).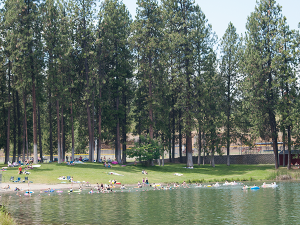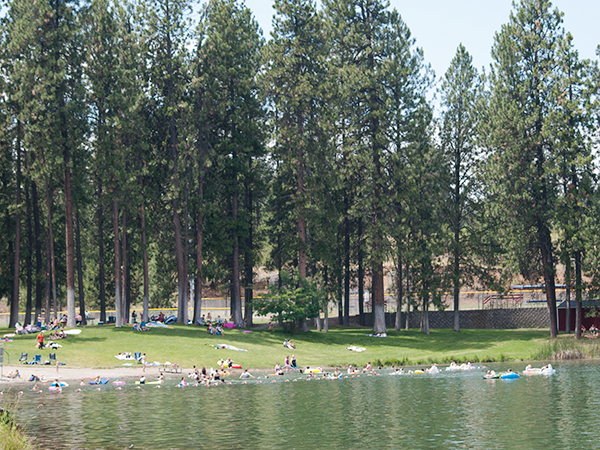 Lake Roosevelt National Recreation Area
The 130-mile long Lake Roosevelt was formed out of the upper Columbia River with the construction of Grand Coulee Dam. The national recreation area (nps.gov/laro) designation protects the human-made reservoir and provides public access with numerous boat launches, campgrounds and primitive shoreline with many sandy beaches. Three government agencies and two tribes collectively manage the lake and much of its shoreline, so be sure to consult a map and plan carefully before you fish or camp. Numerous day-use areas and campgrounds are within the recreation area, including Kettle Falls and Fort Spokane. Fort Spokane, near the confluence of the Columbia and Spokane rivers, is the closest reservoir boat launch to the Spokane-metro area.
Fish Lake
One of many channeled scablands lakes, Fish Lake Regional Park is the only official way to access this rural 32-acre lake, located two miles northeast of Cheney. There is a fishing dock, swimming beach (no lifeguards), boat launch, playground, restrooms, basketball court and hiking and biking trails. Boats with internal combustion motors are prohibited, making this a serene and popular destination for families. Bring your bikes to enjoy the paved Columbia Plateau Trail State Park, which borders the park and connects to the City of Cheney, only 3.25-miles away.
Williams Lake
Located 12 miles southwest of Cheney, near the Turnbull National Wildlife Refuge, Williams Lake attracts anglers and paddlers from around the region. Odds of catching rainbow or cutthroat trout are high thanks to annual fish stocking. Three main access points include: a WDFW boat launch, Klink's Resort, and Bunker's Resort & Marina. Klink's Resort is also home to the separately owned and operated Bistro at Williams Lake, with lake-view dining, outdoor seating, and live music on summer weekends.
Sprague Lake
Known for its rainbow trout and steelhead fishing, the 6-mile long by 1-mile wide lake is accessible through the Four Seasons Campground and Resort or Sprague Lake Resort.
Sullivan Lake
Generations of locals make annual sojourns to Sullivan Lake to enjoy camping, paddling, fishing, hiking and huckleberry picking. Located in the Colville National Forest, and only four miles southeast of the small town of Metaline Falls in Pend Oreille County, Sullivan Lake has two access sites: East Sullivan Lake Campground at the north end and Noisy Creek Campground on the south end (fs.usda.gov). The serene, rustic setting allows you to unplug and unwind. Wild animals love it too, so keep an eye out for bear, elk, cougar, moose and even wolves.
Trout & Emerald Lakes
Escape the masses and visit these rustic, canyon lakes tucked into the Colville National Forest's Kettle River Range. Near the towns of Kettle Falls and Republic, you can drive directly to Trout Lake Campground, with its four lakeside campsites. To reach Emerald Lake, hike Hoodoo Canyon Trail #17 to Emerald Lake Trail #94, just over 6 miles round-trip. It also makes for a great backpacking destination. Bring a water-filtration system to refill your water bottles. Find hiking info at Wta.org.
Twin Lakes
On the Colville Indian Reservation, near the town of Inchelium, are two lakes referred to as Twin Lakes. Each is accessible from locally-owned resort areas, and anglers need tribal fishing permits. North Twin Lake has Rainbow Beach Resort, while South Twin Lake has Hartman's Log Cabin Resort.
Fishtrap Lake
In eastern Lincoln County southwest of Spokane, Fishtrap Recreation Area includes more than 7,000 acres of public land managed by the Bureau of Land Management. Access the 190-acre lake in one of two ways: the WDFW boat launch or Fishtrap Lake Resort on the lake's north side.
Deer Lake                                                                            
This spring-and-snowmelt-fed 1,150-acre lake is located off the west side of Highway 395, 14 miles southeast of Chewelah. Use the WDFW boat launch located off N. Deer Lake Road on one of the west bays, or check-in at Deer Lake Resort, which offers boat rentals, mini-golf, and overnight accommodations, including cabins, condos and campsites. For a more private lake retreat, consider a home or cabin rental through VRBO.com or Airbnb.com.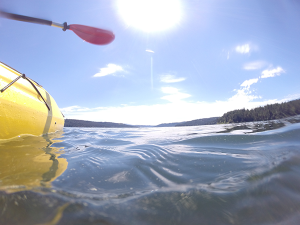 Loon Lake
Located off the west side of Highway 395 in Stevens County, this 1,086-acre lake has three access points: a WDFW boat launch, Shore Acres Resort, and Granite Point Park.
Waitts Lake
North of Deer Lake and south of Chewelah, this remote, nearly 500-acre lake has a WDFW access site with a boat launch on the southeast side of the lake, as well as three resorts: Silver Beach Resort, Winona Beach Resort, and Waitts Lake Resort.
Eloika Lake
You'll find this narrow, 3-mile long lake near the town of Elk, one-mile west off Highway 2. Nestled in the Selkirk Mountain foothills, paddlers can enjoy some peace and quiet and look for wildlife, including beavers and muskrats. There are two access points on the east side: a WDFW boat launch (near Gray's Landing) and Jerry's Landing Resort near Pocahontas Bay.
Davis Lake
In Pend Oreille County, located along the west side of Highway 211, five miles south of the town of Usk, this quiet, nearly 500-acre lake has a WDFW boat launch on the north end. Fishing for stocked rainbow trout is possible through October 31. You'll find Camp Spalding situated along the lake's southwest shoreline – a faith-based resident camp and home of Clearwater Lodge, which hosts a family camp every August.
NORTH IDAHO
Lake culture is as big as the massive lakes in Idaho's Panhandle. From skiing and wakeboarding; scenic touring or sailing; to paddling, swimming, and fishing, there is a North Idaho lake, bay or beach just right for your favorite lake activities. View a map of boating access points and beaches and find current boat launch permit fees at fyinorthidaho.com or kcgov.us.
Lake Coeur d'Alene
This 25-mile long tourist mecca, with its more than 31,000 acres open to power boats, waterskiing, paddling and cruising, has 16 boat launch locations and additional water access points. See the complete list at lakecoeurdalene.com. Here are a few favorite Lake Coeur d'Alene destinations.
Harrison: Arriving in this small town is like stepping back in time for a relaxing lakeside escape. Located 28 miles south of I-90 via the Lake Coeur d'Alene Scenic Byway, Harrison offers all you need, whether you get here by car, boat (20 minutes from the city of Coeur d'Alene), or bike on the Trail of the Coeur d'Alenes. Don't miss visiting the Harrison Creamery and Fudge Factory, one of many small businesses in the historic area bordering the large city park. A sandy public beach is nearby. Two businesses rent pontoon or ski boats, kayaks, SUPs or other watercraft: Harrison Idaho Water Adventures and Harrison Pontoons & Rentals. Consider paddling up the Coeur d'Alene River to visit the Chain Lakes, as they're collectively referred, which consist of a series of small, remote lakes where you're sure to see wildlife. For more information, visit harrisonidaho.org.
Yap-Keehn-Um, aka NIC Beach: Avoid the crowds of City Beach and head to the North Idaho College campus, where you'll find a family-friendly beach accessible off Rosenberry Drive (referred to locally as "the dike road"). The beach's official name means "The Gathering Place" in the Coeur d'Alene tribal language. NIC's Outdoor Pursuits recreation program boat house (open daily from 10 a.m. – 6 p.m. through Labor Day) provides gear rentals, including kayaks, canoes, stand-up paddleboards and sailboats. There is also a concession building, restrooms and swimming area but no lifeguard. All parking on campus is free during summer until the third week of August, before the fall term begins. Rental reservations are recommended – call the boat house directly at 208-769-3290.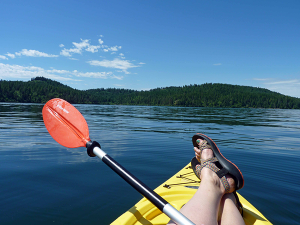 Chatcolet Lake & Benewah Lake
Located in Benewah County, less than 90 minutes from south Spokane, is where you'll find these two small lakes – accessible through Heyburn State Park ($5 daily vehicle fee). The Rocky Point Beach and Marina off Highway 5 – located about 10 minutes from the park's visitor center near Hawley's Landing campground – has boat rentals and a day-use area with a swimming beach (no lifeguards), fishing dock, playground and restrooms. You can boat or paddle from here to Benewah Lake, which also has a first-come-first-serve campground, one of three within the state park. Hawley's Landing, the most developed campground, has two loops for full-hookup RVs and a loop with 10 tent campsites that offer views of Lake Chatcolet. Further north along the western shoreline is Plummer Point, a day-use, dog-friendly swimming beach, and beyond that is the Chatcolet day-use area, which includes a boat launch, picnic shelters, playground, restrooms and trailhead access to the Trail of the Coeur d'Alenes, a paved 72-mile long multi-use trail. Consider biking to Harrison for ice cream, an 18-mile round trip from the historic Chatcolet Bridge, which is the dividing line between Lake Coeur d'Alene and Lake Chatcolet.
Hayden Lake
Here you'll enjoy views of the surrounding Selkirk Mountains and the Idaho Panhandle National Forest. Most people use the city's Honeysuckle Beach, which offers all the amenities you need – a lifeguarded swimming area, dock, boat launch (fee applies), beach volleyball area and concession stand. A sportsman's access with a public boat launch is located on the lake's northeast side, and the south side has Hayden Lake Marina with a store, restaurant, boat rentals, boat launch and moorage.
Hauser Lake
Located north of Post Falls, Hauser Lake Park (kcgov.us) has a boat launch, swimming area, restrooms, picnic tables and children's playground.
Spirit Lake
Enjoy views of the Selkirk Mountains at this lake located north of Rathdrum and west of Athol. A portion of the lake is within the boundary of the City of Spirit Lake. There are three public boat launches: an Idaho Fish & Game sportsman's access on the north shoreline and two maintained by Kootenai County – Maiden Rock on the east side and Bronze Bay on the west. There are also two resorts – Sedlmayers Campground & Resort and Silver Beach Resort. Spirit Lake also has an expanding system of hiking and mountain biking trails called the Empire Trails. Access to the 8 miles of recently built non-motorized single-track on Inland Empire Paper Company land requires a $2.50 day-use pass that can be purchased at the trailhead and from local merchants (bikespiritlake.com). For more outdoor activity information, visit the city's chamber of commerce website at Spiritlakechamber.com.
Round Lake
This rustic, 142-acre lake with a quiet, unpretentious vibe is the ideal destination to escape, both literally and figuratively. Campers and day-use visitors enjoy swimming, paddling and fishing at Round Lake State Park southwest of Sandpoint. Only human-powered watercraft and electric-motor boats are allowed, so you can immerse yourself in nature with all your senses.
Lake Pend Oreille
Idaho's largest and deepest lake has some key areas not to be missed.
Sandpoint: City Beach is the main public gathering place for swimming and launching boats, though there are lots of recreation opportunities in the area around the city (visitsandpoint.com). Lake Pend Oreille Cruises departs with its 40-foot, 36-passenger boat – the Shawnodese – from City Beach during the summer, and from East Hope's Kramer Marina in fall and spring. For kayak, SUP, boat and other watercraft rentals, check out Action Water Sports, Outdoor Experience, or A Day On the Lake.
Farragut State Park: Enjoy day-use swimming or paddling at Beaver Bay Beach, play some disc golf, go hiking or mountain biking, and even camp overnight.
Bayview: This picturesque lakeside city on the south side of the lake, 25 miles north of Coeur d'Alene, has it all – marinas, floating homes, cabins, RV and tent campsites and more. A county public boat launch (kcgov.us) is located at the town's main waterfront area. Scenic Bay Marina and Resort and MacDonald's Hudson Bay Resort offer scenic lodging and boat rentals. The city's annual Bayview Daze around the 4th of July includes a street fair, boat parade, and fireworks show (Bayviewidaho.org).
Hope: Arrive either by boat or car to this small town on the lake's east side along Highway 200, 12 minutes from Sandpoint. Beyond Hope Resort has a floating restaurant and oversees the Hope Marina, which rents motor boats. A short distance south of town on a peninsula is the National Forest Service's rustic Sam Owen Campground, which has a public boat launch and swimming beach, including a dog-friendly beach. Action Water Sports also has a rental location in Hope.
Priest & Upper Priest Lakes
So much to do here – how to do it all? Camping, boating, swimming, paddling, waterskiing, fishing, hiking, mountain biking and huckleberry picking – this is what you do at the 19-mile long Priest, located about 2 hours northeast of Spokane. Choose your overnight preference: resort, inn, lodge, B & B, campground or cabin (either forest service or state park), RV park, private vacation home, or family-friend who owns a lake place. Paddling the Thorofare to Upper Priest Lake Scenic Area and hiking to see old-growth groves within the Panhandle National Forest, such as the Stagger Inn day-use area, are epic adventures everyone should do. Boating to Kalispell Island for day-use swimming, hiking or overnight camping is another bucket-list idea – use the Kalispell Boat Launch on the south end. If you can't get campsite reservations – people book early and sites fill quickly, often a year in advance – Priest Lake is a great day-trip destination. You can also stay overnight in nearby Priest River, Idaho, or Newport, Wash. Start your trip planning at outtheremonthly.com and search for all the OTM articles about Priest Lake from past issues. Or try the Priest Lake Chamber of Commerce (priestlake.org) for ideas.
WESTERN MONTANA
Big lakes, big mountains – everything you'd expect from Northwest Montana. While the landscape is rugged, people are friendly and laid-back, and the lake-based outdoor recreation options are as wide open as the views.
Flathead Lake
As the largest natural freshwater lake west of the Mississippi – 28 miles long and 15 miles wide – it dominates the Flathead Valley, which serves as the gateway to Glacier National Park's west entrance. Five units comprise Flathead State Park, including West Shore, Finley Point, Wayfarers (east side, near the city of Bigfork), Yellow Bay and Big Arm, which is the starting point for boating to the primitive Wild Horse Island State Park. Start your trip planning with the Flathead Convention & Visitor Bureau (fcvb.org), which provides resources for lodging, boat rentals, outfitters and more.
Whitefish Lake
Even closer to Glacier National Park is the 7-mile long Whitefish Lake near the bustling mountain town of Whitefish. Establish base camp at Whitefish Lake State Park or stay in town and enjoy its charming vibe. Another unique options is the Lodge at Whitefish Lake, which offers an exceptional lodging experience. Visit local breweries, City Beach, and the Downtown Whitefish Depot Park. For more info and lodging and boat rental resources, visit the Whitefish Convention & Visitors Bureau (explorewhitefish.com).
Loon Lake
Come ready to paddle and fish at this small and secluded lake in the Kootenai National Forest, about 20 miles southeast of Libby, Mont., (explorelibbymontana.com). It's a designated "no-wake lake" and has an average depth of 5 feet, with four campsites at the lake's primitive campground with vault toilets but no potable water. Nearby destinations to explore include the Ross Creek Scenic Area's old-growth preserve and Kootenai Falls and its swinging bridge.
BRITISH COLUMBIA
Stunning mountain scenery, clear blue lakes, and a favorable exchange rate awaits in southwest British Columbia. Lakeside communities and numerous provincial parks – B.C.'s version of state parks – provide lake access and recreation opportunities a few hours north of Spokane.
Kootenay Lake
Nestled between the Selkirk and Purcell mountain ranges lies a narrow, 67-mile long and nearly 500' deep lake – one of British Columbia's largest. The two major hubs providing marinas, boat rentals, lake cruises, lodging and cultural entertainment are the city of Nelson, located on the lake's west arm, and Kaslo, a mountain village along the lake's main section that hosts many summer festivals, including a jazz festival in July and Pirate Day in August. Immerse yourself in nature at any of the five regional provincial parks around the lake: West Arm, Kootenay Lake, Drewry Point (accessible only by boat), Lockhart Beach and Pilot Bay. Start your trip planning for the entire region at nelsonkootenaylake.com.
Christina Lake
Not far from the U.S.-Canada border is where you'll find another long and narrow lake, with its namesake city at the southern end and its northern half surrounded by Gladstone Provincial Park. In town is Christina Lake Provincial Park, providing easy lake access for swimming, paddling and fishing plus seven boat-access only beaches. There is also an extensive network of hiking and mountain biking trails in the area. To find marinas, boat launch locations, rental businesses, and lodging and trail info, go to christinalake.com. //
Swimming Tip: Avoiding Swimmer's Itch
As summer progresses and lake water temperatures rise, so does the risk of acquiring "swimmer's itch" –a type of dermatitis caused by a small aquatic parasite that burrows into your skin. It sounds more disgusting and dangerous than it actually is. Swimmer's itch is a common reality of lake swimming and has been for years – wherever there is waterfowl and a lake, swimmer's itch is a natural consequence. There are, however, a few easy ways to prevent it. According to the Spokane Regional Health District, you should dry off immediately after exiting the water, rubbing vigorously with a towel or using your hands to wipe the water from your skin. This removes the parasites from your skin surface before they have a chance to burrow in. If possible, shower or rinse off with clean water after exiting the lake, in addition to drying yourself well. For more information, including signs and symptoms of swimmer's itch and treatment options, check out the online guide provided by the public health department at spokanecounty.org. // (ASM)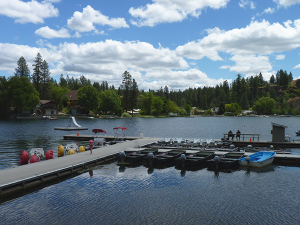 Lake Critters: Spotting Beaver and Muskrat    
According to the Washington Department of Fish and Wildlife, beavers are the largest living rodents in North America, with adults averaging 40 pounds and measuring more than three feet in length including the tail. Beavers have a coarse, brown coat, naked and scaly tail, and webbed hind feet and live in many Northwest streams, rivers, ponds, and lakes. While they can be elusive, if you find a beaver den or dam, like the prominent den on Lake Chatcolet that's visible from Hawley's Landing campground, you're more likely to see one. Look for their little heads poking up above the surface and their swan dives back underwater when they get spooked. Beavers can hold their breath and swim underwater for up to 15 minutes, and if a beaver swimming on the surface wants to deter you, it will slap its tail in your direction.
Although sometimes misidentified as beaver, muskrats are much smaller (2-4 pounds and 18-25 inches long) and more of their bodies can be seen above the water when they swim. Common in many Inland Northwest lakes and ponds, muskrats are glossy brown on top with tiny ears and a flattened, hairless tail. According to WDFW, by harvesting aquatic plants for food and den sites, muskrats create open water for ducks, geese, and shorebirds, and many other wildlife species use muskrat lodges to rest and nest in. Look for muskrat and their lodges in marshy areas or along natural shorelines. Paddling quietly near dawn or dusk improves your odds of spotting both muskrat and beaver. // (ASM)
Lake Art: Lakebound Maps
Lakebound maps are really lake-inspired art that you will want to hang on your lake cabin or living room wall to remind you of those sweet, simple days at the lake. The maps, which are digitally-created, all-original artwork, have a vintage feel, with retro color combinations and a typeface reminiscent of the 1950s. Lakebound has a huge list of prints available, including Inland Northwest favorites such as Coeur d'Alene, Hayden, Pend Oreille, Priest and many others, all of which include hand-placed bay names and towns. Mary Skerrett Koff, who grew up in Coeur d'Alene, launched Lakebound in 2007 as a way to stay connected to the Inland Northwest. "Lake Coeur d'Alene was my first map. I was living in Los Angeles at the time and wanted a nice map of the lake to remind me of home." Skerrett Koff couldn't find a map she liked and had a friend put a design together. After she showed the maps around town and they started selling in several downtown Coeur d'Alene stores, she knew she was onto something. "I realized that a lot of other people love their lakes as much as I do. Sense of place is very powerful, we are connected to the places where we have had powerful and formative experiences." Check them out at Lakebound.org. // (OTM)