Discovering the Inland Northwest Backcountry 
I'm on the wrong side of the road as I skin up Columbia Mountain. It looked good from Google Maps, but as I continue to ascend it looks like I'll either be skiing mellow trees back down to the car or dropping into some very steep terrain with trees and cliffs that will take me who knows where. The snow feels nice under my skis, and my pit results leave little to fear as I continue my ascent. From the summit of Columbia Mountain, I look north and pretend I can tell where Canada begins and click a picture. More importantly, I look south and see Sherman and Snow peaks on the south side of Highway 20; now I know where to ski next time. I pull off my climbing skins, place them in my backpack and descend some nicely-spaced trees on an easy-going slope.
When I moved to the Inland Northwest a few years ago, there was plenty of trial and error but not much backcountry skiing beta. I would read online about someone skiing in the southern Cabinets and then figure out the trailhead. Sometimes I would have success, and other times I would spend hours skinning up a snow-covered Forest Service road before I realized I had missed the turnoff for the drainage I was hoping to ski. I'd spend hours on sites like summitpost.org trying to find places to ski by looking for tall peaks with manageable approaches and guessing keywords to search for trip reports on Google and national ski forums. In the fall of 2012 there was very little information out there.
Luckily I was able to find some solid backcountry skiing partners, but two of the three guys were also recent transplants to the area. We were all pretty clueless as to where to ski, but we did come to realize that there is a tremendous amount of backcountry skiing terrain in the Inland Northwest. Getting to it is a whole other beast.
I moved to the Inland Northwest from the Intermountain West and spent my formative years backcountry skiing in the Wasatch Mountains of Utah and the Colorado Rockies. Both of these areas offer amazing access to skiing due to geography and strong ski and tourism industries. The many mountain ranges of Eastern Washington, Northern Idaho and Northwest Montana, on the other hand, have rich histories in mining and logging, which translates to miles of unplowed access roads. I knew that backcountry skiing without a snowmobile meant we would need a plowed road to come within five miles of our destination. The search was on.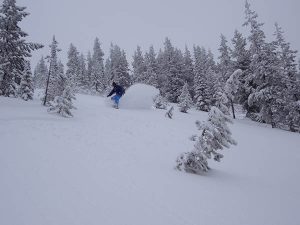 Having sharpened my teeth skiing in the Colorado Rockies where high passes along the continental divide make the backcountry skiing all too accessible, I looked around the Inland Northwest for skiing near highway passes and made some of my first outings from Sherman and Lookout. Sherman Pass quickly drew my attention as it offers some great north-facing terrain and easy access from Washington State Route 20. There is often a skin track circumnavigating the westside of the mountain that gets put in by people coming and going to the Snow Peak Cabin. It makes the first mile of the hike nice before you have to break off and begin to gain altitude up Sherman Peak. The classic run off Sherman Peak is the Hourglass, a north facing run that starts on a gentle slope before rolling over into some steep, craggy treed terrain before eventually depositing the skier onto an apron below some very large cliffs. Lookout Pass on the Montana-Idaho border offers more consistent and heavier snowfalls, but the easily-accessed terrain of FAA Mountain (east of the pass) consists of well-spaced lodgepole pines on a 20ish degree slope and St. Regis Basin (west of the pass), which offers some great skiing, is also a very popular snowmobiling area.
As the season progressed, so did my explorations. Still traveling on loose beta and hearsay from locals not overly keen on giving up their stashes, we continued our trial and error ways into Western Montana and the Idaho Panhandle. Our luck improved and soon we found ourselves visiting other areas in the region with increased frequency and venturing further east and west of Spokane.
Today, the Panhandlebackcountry.com backcountry ski site provides a forum and trip reports makes finding places to ski and people to ski with in the Inland Northwest much easier. This region needed a place for backcountry skiers to find each other and share beta as the amount of quality skiing in the area is immense. //