Staying outside late into long-lit evenings is particularly enjoyable in July. Before fire season rolls around, smogging up the air and preventing outdoor burning of any kind, small backyard fires can provide the backdrop to many hours of social gatherings, family bonding, and open-air cooking of the on-stick variety.
If you do not already have a fire pit in your backyard, various options exist, whether you want an expensive cast-iron portable or a simple dirt pit you dig yourself.
Portable outdoor fireplaces: The easiest path to backyard campfires in terms of regulation and set-up is to purchase an enclosed receptacle of some kind. In Spokane, portable fireplaces are allowed closer to buildings than fire pits. For multi-family dwellings, you need to have at least 15 feet of clearance. Otherwise, you're supposed to abide by the manufacturer's safety instructions. A number of options are available, starting at around $75. More decorative options from Etsy run to $200 or more.
Handcrafted off-the-cuff fire pit: If you choose to dig your own fire pit, in both Spokane and Coeur d'Alene, it must be no greater than three feet across and built with 25-foot clearance from structures and combustibles. A pit is generally the cheapest option and has a certain rustic charm. If you already have rocks or bricks on-hand, you can simply dig your own little pit and protect it with a ring of amateur masonry.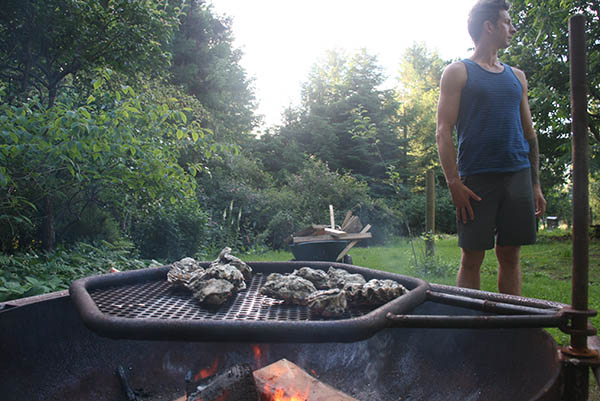 Internet tutorial fire pit: Regulations still apply, but if you're trying to craft a certain look, there are a number of step-by-step videos and blogs online, complete with purchase suggestions. You can buy materials for around $60 or less, depending on the project. One family-friendly option is stacking shaped pavers in a circle to create a small, concentric wall that prevents sparks from escaping and children from tumbling in. You can even pave out the bottom as outlined at Keepingitsimplecrafts.com/how-to-build-diy-fire-pit-for-only-60.
Upcycled do-it-yourself portable fireplaces: If you chose to make your own portable fireplace rather than a permanent in-ground one, it's safest to abide by the in-ground fire pit regulations. There are a number of ideas online complete with tutorials. One of the best is using an old washing machine drum, adding bolted-on perforated angled bars for legs, and finishing it all off with heat-resistant paint. The full tutorial is here: Theflourishingabode.com/2012/06/diy-metal-fire-pit-tutorial-hack-challenge-finale.html
Grilling attachments: If you're interested in grilling over coals or open flame, make sure it is possible with the model you choose; some pre-made fire pits come with grill attachments, or you can purchase a freestanding fire pit grill separately. In a pinch, of course, you can use existing grills you may already have, particularly if you're handcrafting your fire pit. The best oysters of my life were grilled over a large portable fire pit, and I've made delicious campfire chicken the same way. The secret is to brine it for at least 24 hours so it doesn't over dry. //
Regulations for Backyard Fires
When can you have a fire in your backyard? The answer is "it depends." Your city may have more stringent regulations than the state, and if there's a fire ban in effect or poor air quality, burning of any kind is forbidden. In Spokane, if winds rise above 10 mph, you're not supposed to burn anything, either. Outside city limits, in both Idaho and Washington, you're supposed to have a fire permit during certain seasons.
In Coeur d'Alene, the legality of your backyard campfire also depends somewhat on the neighbors: if neighbors call the police or fire department due to "smoke, loud parties, late hours" and so on, this "will result in extinguishment of the fire," according to the City of Coeur d'Alene.
What you can burn is most safely defined as untreated, dry wood, or charcoal briquettes where applicable, but in some places and at some times you can also burn debris such as leaves. Trash is illegal to burn in the backyard.
More specific details can be found here:
Spokane: My.spokanecity.org/news/stories/2014/06/05/use-caution-with-outdoor-recreational-fires/
Coeur d'Alene: Cdaid.org/1486/departments/fire/permits-and-inspections/recreational-fires //
Katie Botkin enjoys rock climbing, snowboarding, and running around the woods barefoot. She wrote an article on MovNat for the February issue.
[Feature photo: Simple fire pit composed with shovel and rocks encourages party goers to gather around it. // Katie Botkin]