"Any kid is suited to cross-country skiing. You can go as hard and as fast as you want," says Brad Thiessen, director of engagement for Spokane Nordic Ski Association (SNSA). "But it depends on the parent and child—what's the child's patience level, tolerance level being in the cold and trying a new sport. How patient and tolerant is the parent willing to be?" he says. "Determine to make it as fun as you can, as long as your kid lasts." Even if that means only skiing 15 minutes before going inside the lodge to warm up.
If your family is completely new to cross-country skiing, "start with the goal to have fun and learn the fundamentals," Thiessen advises. All Nordic skiing is cross-country skiing. The two styles include classic (traditional kick-glide technique) and skate-skiing (what you see in Olympic racing). Nordic skis are very skinny compared to downhill skis, and boot heels do not attach to bindings.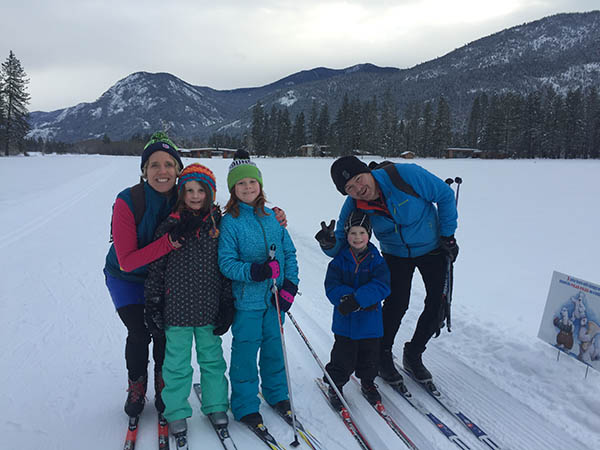 "You can use cross-country skiing as a way to enjoy the scenery. But you can take a lesson and learn good form and use the experience as an athletic pursuit, and get more out of the cross-country ski time," he says. "SNSA's Nordic Kids program is geared towards having fun. Some kids will do it for the thrill of it, some do it for the social aspect—that's how the program's designed—and instructors realize that." Kids as young as 4 and 5 years old join Nordic Kids, and Thiessen has even seen kids as young as three start learning. For adults, he says, "One lesson is a great start."
The Foleys are a relatively new Nordic ski family. Originally from the Seattle area, this is their 12 winter in Spokane. "When we moved here, we said, we've got to find a way to make winter work—we can't be in the house for four months," says Brooke Foley. She and her husband, Sam, would rent gear and ski occasionally. "We didn't buy our own equipment until we had kids and decided it was going to be our family sport."
Last season their older daughter, at age 5, learned how to ski with the Nordic Kids program. Having those Saturday afternoon lessons "gave us focus and purpose during the winter to get us outdoors. And we were spending time together," Brooke says. "It felt good and healthy, and it's a nice and easy family sport." Their younger daughter, now 4, will now join Nordic Kids this season (one parent will accompany during lessons). "It's a low-stress sport—low-cost and low-risk—so it's really accessible," she says. "Compared to downhill skiing, it's so much cheaper. Sam used to snowboard until he was sidelined by injury. Cross-country skiing is a lifetime sport."
Heather Ritchie agrees. After she had to hang-up her snowboard due to a severe shoulder injury, her family started to Nordic ski together, which is something her family did together growing up. While Heather's husband, Gordon, and their daughter continue as downhill skiers, their time at Mt. Spokane also includes its cross-country ski trails. "Skate skiing hooked me as an adult, and Gordon, as a downhill skier, is excited by the challenge and adrenaline of skating." Their daughter has been in Nordic Kids for two winters so far.
Foley says her advice for families new to Nordic is, "Even if you go up to the mountain, and it doesn't work out, it's still beautiful and a nice place to be." She also looks forward to the chance to get out of town and play in the snow. "It's a great way to enjoy the outdoors in the snow while getting good exercise," says mom Kari Dykhouse, who cross-country skis with her children, ages 5 and 3. "It's also so peaceful—you can talk while you ski or just enjoy the scenery. My kids even put on their skis and go out in the backyard. Sometimes they get frustrated if conditions aren't just right, but it teaches them some grit and gives them a good way to stretch their bodies." //
Amy McCaffree is special section editor and contributed to last issue's Holiday Guide. She literally loves everything about Inland Northwest winters. Follow her family's outdoor adventures at facebook.com/AmyOutdoorsSpokane or instagram.com/adventure_amy_spokane.