Mt. Spokane Ski & Snowboard Park, Mead, Wash.
Spokane's closest resort has seen its fair share of growing over the last few decades, but a surprising part of that growth has been in how the mountain is used. Mt. Spokane's Brenda McQuarrie says that folks are using the mountain more diversely now, with interest in activities like tubing and snowshoeing growing.
"I had a preschool call the other day asking about tiny snowshoes to rent," says McQuarrie. "So all ages can enjoy it, and as long as there is snow and the area continues to grow, more people are getting out and enjoying winter as much as they can."
From the beginning Mt. Spokane has been community centric. The resort's close access to the city of Spokane has always made them an appealing choice, but it has also continued to add facilities such as the new-this-season Mountain Sports Learning Center and a surface lift for beginners.
One major change to that community in recent years has been access to the internet, which has its pros and cons. While the internet has made it more accessible for people to get into the sport (simply YouTube "How to Ski") and provides online access to used gear, mapping, coupons, pictures, and more, there is also a thirst to be entertained and not kept waiting. "20 years ago, you'd take a picture and it would take a week to get developed or you'd pay big bucks for have it developed in an hour. Now, young and old alike have the bar set higher for their expectations," says McQuarrie. "Our products and staff need to be more interesting, more knowledgeable, and more skilled than the competition to keep peoples' attention. People have so many more choices on where they can spend their time and money."
Perhaps as a result of this lust for the next entertaining thing, McQuarrie sees a growing desire for people to try a little bit of everything, "experience over mastery" being a popular mindset. "We will need to adapt to the idea that our guests may evolve from season pass holders to seekers of fun who want to try a myriad of winter activities for a smaller investment of time and money," she says.
One evolution on Mount Spokane this year will be Chair 6, a new triple chairlift that's part of a large expansion on the backside of the mountain that includes seven professionally-designed runs. As far as the future of the industry, McQuarrie says that climate change is on everyone's mind, which was one of many reasons they chose to put a lift on the northwest-facing side of the mountain for greater snow retention.
49 Degrees North Mountain Resort, Chewelah, Wash.
When John Eminger bought 49 Degrees North ski area in June of 1996, things were a bit different. There was a schism between skiers and snowboarders. There was only one paved road into the mountain from the nearby town of Chewelah. The ski area had just four lifts on 890 acres.
Today 49 boasts 2,350 acres and seven lifts, with access to two peaks and three basins. The divide between skiers and snowboarders isn't so stark. The ski area now has miles of Nordic skiing and a network of snowshoe trails. As Eminger puts it, it's been incremental growth over time, but they add up to major changes in the last two decades.
"This year we're replacing the rope [cable] on lift 4, which, to me, is an iconic lift in the Pacific Northwest," says Eminger. "It has access to some of the best tree skiing maybe beyond the Northwest. So for us to put a new rope on, it's laying claim to a great part of the mountain for the next 30 years. It's super exciting for us, but no one will really notice. It's a lot like putting a new roof on the lodge—it doesn't sound very exciting, but the roof of the lodge is a quarter acre. And it's an all-encompassing project."
These small-detail, long-term investments will help 49 prepare for an expanding outdoor community in the greater Spokane region. "I believe that people who choose to move to Spokane are outdoor-oriented people," says Eminger. "People enjoy the mountain biking and the season change. When I look at Spokane as truly one of the great ski towns in the United States, it's because we're an outdoor-oriented community."
Many of the changes catering to the outdoor community are also in service of what Eminger refers to as "the quest for the perfect turn." This has been Eminger's personal mission since buying the ski area—to give others the opportunity to pursue perfect turns, which has resulted in expanded terrain, more tree skiing, more lifts, and improved rental gear. "I think of us as a skiers and riders mountain first," says Eminger. "It's just where the pure rider and skier comes up and has the ability to access one of the largest mountains around."
While he admittedly sees more skiers than snowboarders on the mountain, Eminger came to an important realization when he bought the ski area and was burning some old rental equipment: "I went back the next day with a rake to rake up all the metal that was left, and you couldn't tell the difference between a ski and snowboard. The metal edges were the exact same. And I was like, I get it: everyone rides a metal edge. I don't want to hear about the schism ever again."
So, even though 49 Degrees North has adapted to a growing recreational industry, the resort has kept the search for the perfect turn at the heart of its mountain vibe, whether you ski or board.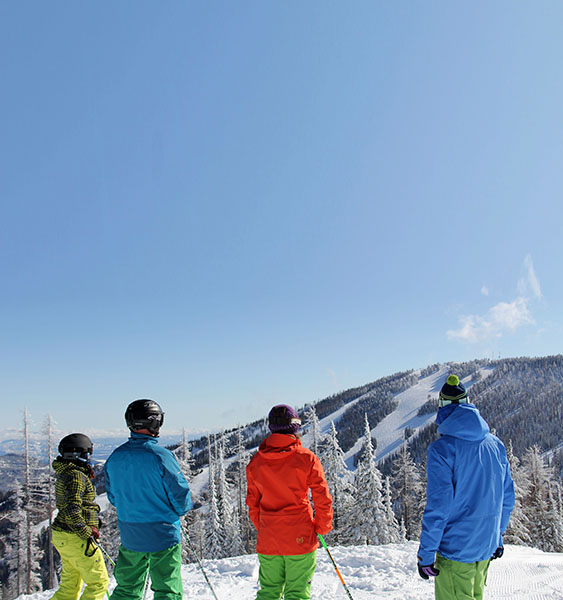 Silver Mountain Resort, Kellogg, Idaho
Many years ago, Silver Mountain was not Silver Mountain. It began as Jackass Ski Bowl in the late 60s, converted to Silverhorn for a stint, and came to its current incarnation under the ownership of JELD-WEN, one of the world's largest manufacturers of windows and doors.
The area faced a major challenge with its long, winding road but was buoyed by the faith of the town when the community voted to install a high-speed gondola and expand the ski area. Those changes transformed Silver Mountain into a four-season resort with a ski village at the gondola base, lodging, Idaho's largest indoor water park, mountain biking, and golf.
One reason for the current design is that the modern skier or snowboarder is typically looking for "the whole mountain experience" instead of just the riding, says Silver Mountain's General Manager Jeff Colburn.
"In the world of phones and tablets, I think part of what people want from skiing is a fun social group of likeminded outdoor enthusiasts," says Colburn. "Just as fun runs have evolved into color runs or mudders to keep people interested, we've needed to keep things fresh and add more music, events, and parties. Gone are the days of chili dogs and burgers; today's guests are looking for better and more interesting restaurant offerings. They're looking for an overall experience, where 20 years ago it was more just about the skiing."
Part of that overall experience has been made possible with accelerated gear: Wider powder skis make it easier for newbies to get out on the powder. Touring gear provides easier access to the backcountry. Helmet use is hovering near 90-percent, which may keep people coming back injury-free. Clothing advances make it easier to stay warm and dry, even in challenging weather.
This increased access extends to a want for access off the mountain for the general population: "People want instant and easy information. Webcams, weather forecast online, and Facebook Live all help to let people know what to expect on the hill," says Colburn. In response to this culture of quick access, Silver Mountain has pushed to make online booking a breeze. They've also responded to a changing climate, developing more summer programming and expanding their snowmaking.
"We all have to do our part to conserve and be aware of the changes that are happening," says Colburn. "Last year was off-the-charts-good on the weather front, but we know that will not happen every year."
This year, Silver has new owners who are working on creating the master plan for the next version of Silver Mountain.
 Lookout Pass Ski & Recreation Area, Idaho/Montana State Line
As a cultural interest in the ski and snowboard industry grows, areas that are family-friendly, accessible, and affordable like Lookout remain popular. Lookout has historically had fantastic snow and access (it's a mere 200-yards off Interstate-90), and, with the longest-running FREE ski school in the country, Lookout has a history of getting people to the mountain to fall in love with winter recreation.
"We had a number of families come out to learn to ski together and even a few grandmothers/fathers come out with their grandkids to learn to ski," says Lookout's Matt Sawyer about last season. "We're still seeing the general age of the regular guests getting older though, and this is something the industry has to deal with. In general, we need to do a better job at attracting more youngsters and millennials to the slopes."
One big change Sawyer's seen with the years of newbies is a change in gear: wider and more shapely skis, quality waterproof and warm clothing, gloves and goggles that don't fog. It's an industry that's becoming increasingly newbie-friendly, which is one reason Lookout has upped their grooming game. More people favor the well-groomed trails. Where a skier used to need to be hardy and athletically adept to hit the slopes, new tech has made it easier to learn and people are becoming proficient and increasingly skilled at a quicker rate.
"Enhancements to equipment have made the sports easier," says Sawyer. It's one thing that's added energy around the industry. "Add to that the incredible publicity and energy that TV, the X-Games, and the Olympics have provided to the winter sports. And video—specifically, the GoPro, which allows those participating to shoot their own videos and post them on social media where their friends can watch their exploits."
Nowadays, there's plenty of room for exploits on Lookout—in the last 20 years, the ski area has added three chairs, glades, and grown their slopes count to 35. They are continuing with expansion and have made progress this fall with the Eagle Peak expansion, which will include a new mountain peak, 14 slopes, two chairlifts, expanded parking, and a bigger lodge.
As the ski area grows, Lookout also has climate on the mind. They're keeping a close eye on the climate patterns and working to connect skiers and snowboarders with POW (Protect Our Winters) so newbies and families can learn to ski for generations to come. With better lifts, gear, and sustainable choices, more of the public is able to get out and up into the mountain where they can enjoy the "fresh air, incredible scenery, and get the feeling of sliding that makes these awesome winter sports rock," adds Sawyer. //
[Sponsored by Ski the NW Rockies.]