By Chris Maccini
On a Friday afternoon in mid-July, three old high school friends and I arrived on the shore of Priest Lake in north Idaho. Puffy white clouds speckled the blue sky, and a warm, steady breeze rippled the water from the south. The breeze was crucial because hitched behind my Subaru was a bright red, 12-foot plywood sailboat named Empress of Pullman.
All the gear and supplies we'd need for two nights of beach camping at Upper Priest Lake were stowed beneath the foredeck. It was a perfect Inland Northwest summer day, the beginning of a long-anticipated weekend.
Upper Priest Lake is one of the true gems of the Northwest's inland waters. Tucked into the top of Idaho's panhandle, just 14 miles from the Canadian border, it's one of those rare places that is accessible only by trail or boat.
Even more rare, its shores are entirely free of private development. You'll find no resorts or multi-million-dollar vacation homes, only a few primitive campgrounds maintained by the U.S. Forest Service.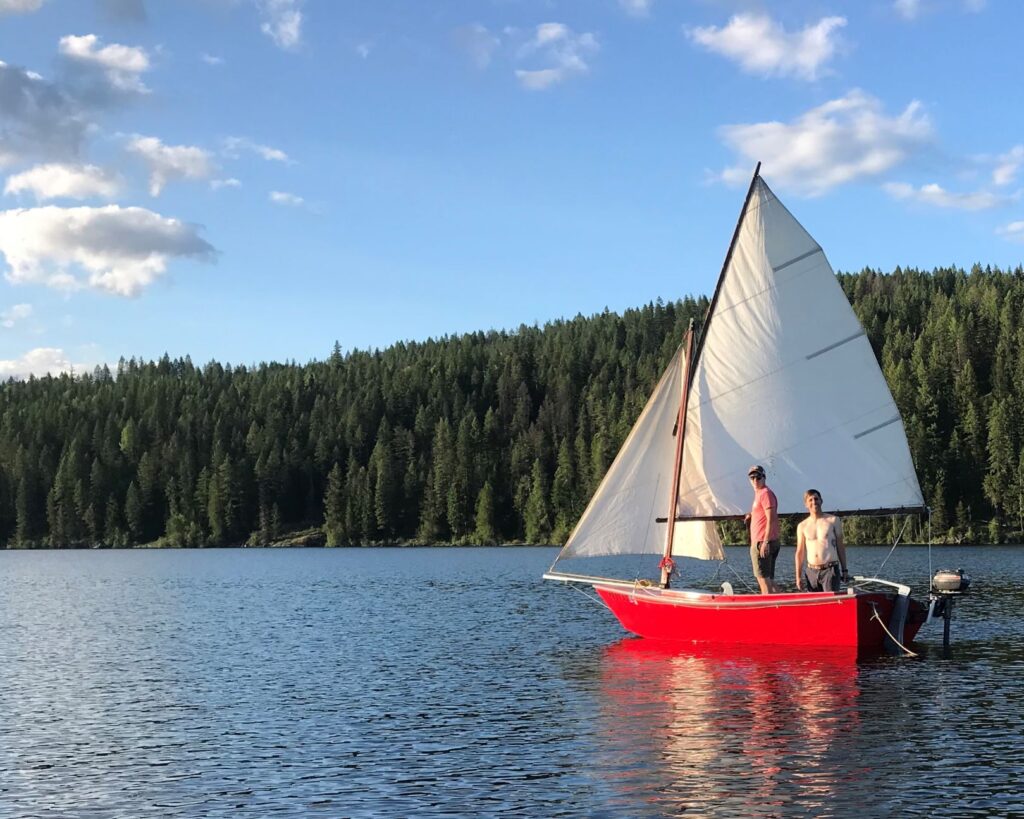 Paddling, sailing, or motoring up the 2 ½ mile-long thoroughfare that connects to the main lake feels like traveling back through time. Emerging into Upper Priest, the view seems similar to what visitors would have seen hundreds—even thousands—of years ago: unbroken stands of evergreen trees covering rolling hills, cool clear water, and serene, secluded beaches.
This trip felt imbued with a particular anxiety and importance because it was the summer of 2020. The pandemic was still in its first wave. Since March, we'd all been learning about social distancing, wiping down surfaces, disinfecting grocery bags, and turning T-shirts into face masks.
And, of course, we'd been staying indoors. Watching spring turn to summer without getting outside to enjoy our region's natural beauty felt like a special kind of torture. They'd even closed Washington's state parks!
My friends and I hadn't made the decision to gather lightly. Spending two hours together in a car—even with the windows down—felt dangerous. But we figured we'd be outside all weekend. Plus, we were all young and healthy and had a low probability of developing serious illness if we did get sick. So we risked it.
Two friends drove in from Hood River and Leavenworth. The four of us met up in Spokane, packed our gear, and made the two-hour drive to Priest Lake.
History of A Classic: the Empress of Pullman
Empress of Pullman, the boat my friends and I would sail for the weekend, was literally built for Inland Northwest Lakes. Designed in 1959 by William H. Short, the Empress is a San Francisco Pelican.
Short's intention was an easy-to-build, trailerable, family sailboat that could stand up to the San Francisco Bay's notoriously gusty conditions.
In 1963, Fred and Don Smith, two boatbuilding brothers from Samish Island, Wash., read an article about the Pelican in Rudder magazine. The flat-bottomed, lightweight plywood design seemed like it might be perfect for sailing and beach-hopping in the San Juan Islands in northwest Washington. The brothers ordered plans from William Short and built one for themselves.
Around the same time, a WSU professor named Bob Littlewood was searching for a small sailboat he could pull behind his car to lakes in the Inland Northwest. The Pelican fit the bill. At just 12 feet long, it's compact enough to be stored on its trailer in a single-car garage, yet it's roomy enough to carry a family and a weekend's worth of camping gear.
Bob ordered one from the fledgling Smith's Boat Shop, and when it was completed in 1965, the Smith brothers personally delivered it to Bob's home in Pullman, Wash. Bob christened his new boat with the name, Empress of Pullman.
The Smith brothers went on to build hundreds of Pelicans and the design became a true northwest classic. Frequent Pelican races and gatherings were held in the San Juan islands, which continue to this day.
For the next 50 years, Bob owned the Empress and enjoyed sailing on inland lakes with his family, including his daughter, Paula.
Finding the Empress
In 2015, I was twenty-seven years old and living in Seattle. A few years earlier, I'd sold the Newport 28 sailboat that I'd lived aboard for two years, and I was longing for a way to get back on the water.
Like so many Northwest sailors, I was attracted to the Pelican. My first job out of college had been at the Center for Wooden Boats, a maritime heritage nonprofit that maintains and rents a fleet of Pelicans at their satellite location on Camano Island. I'd fallen in love with the Pelican's quirkiness and versatility.
One day, I saw a post in a neighborhood Facebook group advertising a "free sailboat." The person didn't give many details. All she knew was that it was something called a "pelican" and it belonged to her neighbor, a woman named Paula Littlewood. I responded to the post immediately and made plans to meet Paula that same day.
It was Paula who told me the origin story of the Empress of Pullman. Her father, then in his eighties, could no longer use the boat. It had been sitting under a tarp in her Seattle driveway for a couple of years. The trailer's frame was covered in rust and its tires had gone flat and fallen off their rims.
It was time, Paula explained, for the boat to go to someone who could give her new life. That's how I became the Empress of Pullman's second owner.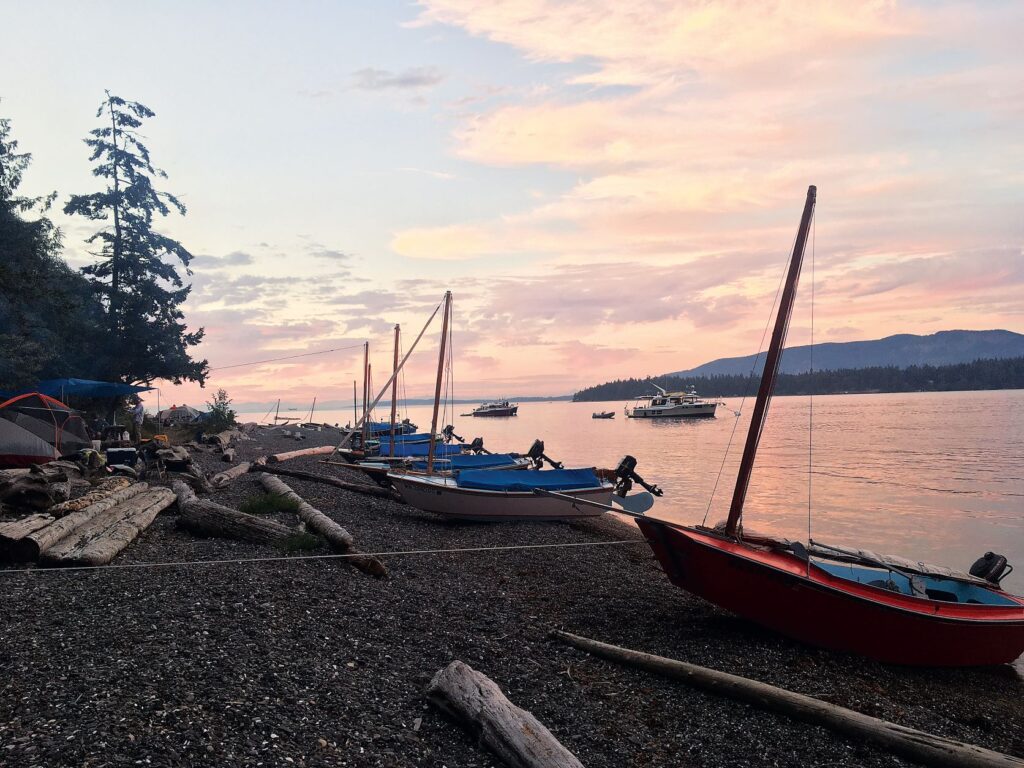 New adventures For the Empress
Over the next few months, I revived the Empress, replacing sections of wood that had begun to rot, giving her a fresh red coat of paint, and returning her sails and rigging to working order.
That fall, my wife and I moved to Spokane to attend graduate school at Eastern Washington University. We brought the Empress of Pullman with us, back to the waters of her origin.
All this history traveled with me as I pushed the Empress of Pullman off the rocky boat launch at Priest Lake's Beaver Creek Campground. I climbed aboard, hoisted the mainsail, then the jib, and the summer's warm wind propelled us across the lake toward the mouth of the Thoroughfare.
That weekend, my friends and I reveled in the time together, newly precious after months of isolation. We mulled the uncertainty of the world: the pandemic, the protests for racial justice erupting in cities across the country. We gave thanks for our families' health and safety. We cooked fresh cornmeal cakes, sizzling with oil in a cast iron skillet over an open fire. We laughed until our sides ached, and tears ran down our cheeks. We lay on our backs on the beach and watched the stars blink to light before retiring to our tents.
Meeting The Boatbuilder
Later that same summer, my wife and I took the Pelican back across Washington State for a few days of sailing in the San Juan Islands. In part, it was a celebration of our fifth wedding anniversary for which we'd planned a trip to Europe that had been cancelled by the pandemic.
We launched in Anacortes, Wash., and sailed north, to a spot on the far end of Cypress Island called Pelican Beach—so named for the fleet of boats that so often sailed over from Samish Island to camp or picnic there.
As we approached, we saw another Pelican on the beach. Its owner helped us haul the Empress onto land and asked whether we knew Fred Smith.
"No," I said, "but I know he built our boat."
The man's face broke into a grin. "Well, stick around," he said. "Fred will be here tomorrow to celebrate his 92nd birthday."
Sure enough, the next afternoon, 92-year-old Fred Smith arrived at the helm of a Pelican, along with eight other Pelicans he'd built, all captained by friends. When I told Fred my story, he was interested to see our boat. He remembered building the Empress of Pullman for Bob Littlewood 55 years earlier and pointed out several details ("mistakes," he called them) which had changed in his designs over the years.
"I wasn't born a boat builder." Fred said with a twinkle in his eye. "I got better after 50 years or so."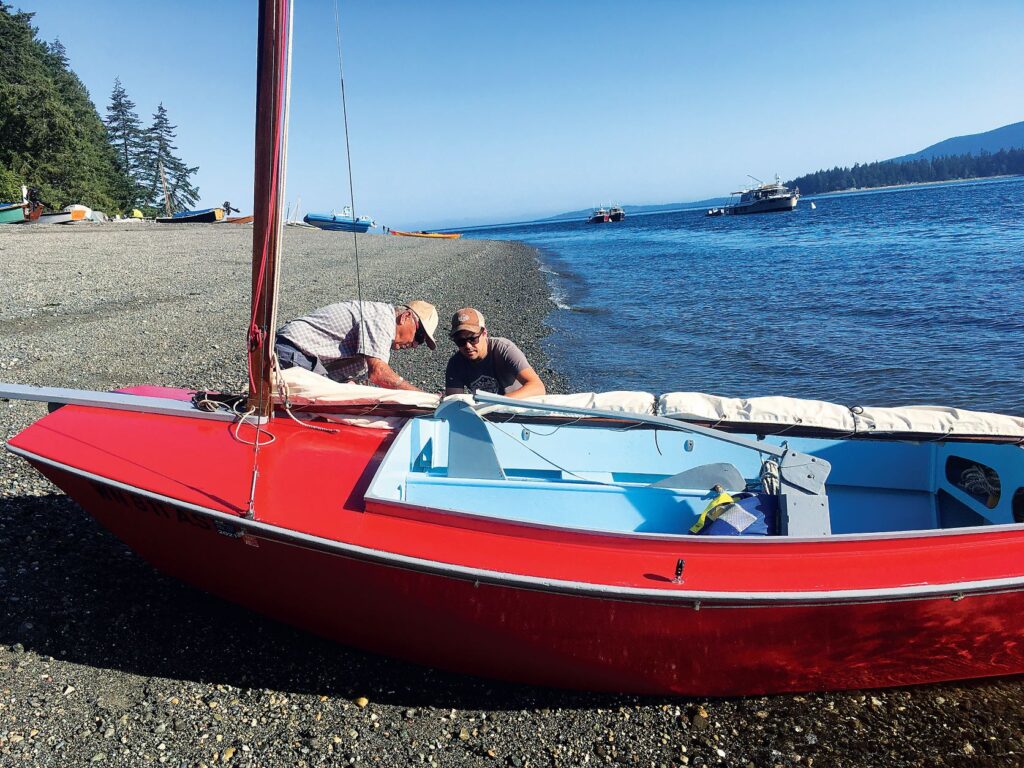 Empress of Pullman Lives On
There's one final chapter in the Empress of Pullman's story. Last fall, my wife and I made the decision to buy a slightly larger boat. Something a little more comfortable that requires less maintenance. We settled on a Catalina 22, a fiberglass classic.
Once again, it was time for the Empress of Pullman to find a new home. Given her pedigree, I struggled with the idea of selling her to a complete stranger. So instead of doing so, I contacted the Center for Wooden Boats and inquired whether I could donate the boat for use in their rental fleet.
On Memorial Day weekend, I drove the Empress over Snoqualmie pass one last time and delivered her to the Center for Wooden Boats, where I hope she'll be enjoyed by Northwest sailors for many years to come.
Originally published as "Sailing an Inland Empress: The Story of a Class Northwest Sailboat" in the July-August 2022 print issue.