Begin this hike just off the pavement at the rustic Thirteen Mile campground at the southern edge of the Colville National Forest. There's no chance for a warm-up on this one, as the trail wastes no time in ascending a rocky gorge along a tumbling creek. Watch for seasonal waterfalls on the surrounding cliffs, and marvel at the sheer size of the Ponderosa pines along the route. Occasional signs still indicate the trail's former use as a stock driveway for livestock on their way to market.
After the initial climb, the trail begins its more moderate and meandering route through open grasslands interrupted at times by stands of old growth ponderosa pine. In June, the wildflowers erupt in a riot of colors: from the ground-hugging and delicate-looking bitterroot blooms on the rocky outcroppings, to purple and blue patches of shooting stars and larkspur along seasonal seeps, to the camouflaged mountain lady slippers in the shade of the trees, there's plenty to see for botanists and photographers alike.
Peak baggers will need to cross Forest Service road 2054 at approximately the five mile mark to reach the namesake peak and former fire lookout site at about eight miles, but any place along this trail makes for a good picnic site before turning back to retrace the route. The trail is open to hiking as well as mountain bike and equestrian use. Keep dogs under control, as rattlesnakes, bears, and wolves are known to inhabit the area. //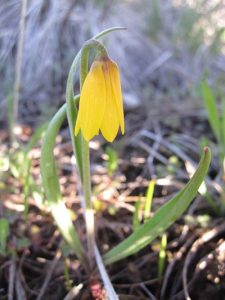 Getting there: Take Hwy 395 north through Kettle Falls, then Hwy 20 west towards Republic. Just before Republic, take Hwy 21 south. Travel approximately thirteen miles to the trailhead and free campground on the east side of the highway.