If you've driven west on Highway 2 through Davenport on your way to Wilbur and points west, you've seen it. There's a lonely rest stop along Highway 2, and for a long time whenever I passed through I was tempted to pause my road trip and go for a nice long walk through the adjacent landscape of sagebrush with scattered stands of Ponderosa pine. I didn't realize until recently that the majority of the land I could see from the rest stop was actually part of the Telford Recreation Area, acquired by the Bureau of Land Management (BLM) in 2004.
The Telford property spans both sides of Highway 2 and has three distinct trailheads providing recreational access. Two trailheads are located on the north side of Highway 2, and the hike described here utilizes the southernmost trailhead. There are adjacent properties managed by the Department of Natural Resources and the Washington Department of Fish and Wildlife, offering hikers miles of routes to wander among the spring wildflowers and sagebrush. The area is open to hunting in season, along with hiking and dispersed camping. Check hunting seasons before a visit here and wear high visibility clothing.
Spring is the ideal time to visit this area. Access to trailheads at higher elevations can yield marginal conditions or may still be snowbound. In the low-lying shrub-steppe landscape around Telford, access is generally good by March, and hikers will likely be able to spot some of the first wildflowers of the season. The nearby seasonal wetlands are wonderful places to linger and watch waterfowl. Be sure to pack binoculars and a camera for a hike here.
For this hike, exit the parking area through the green gate near the parking area. Be sure to close all gates after passing through, as the area is used as rangeland. The trailhead kiosk is generally stocked with maps, although it can be a good idea to visit the BLM office in Spokane first to ensure map availability. The BLM map provides an excellent overview for the area, but the addition of a USGS topographical map is advised, as the area does not have a marked trail system. The landscape is open and relatively flat, making it an ideal place to practice route-finding skills. The landscape varies from thick stands of sagebrush to open rocky outcroppings covered in bright green lichen. Generally choose the high rocky ground for the best footing, as low areas are frequently marshy in the spring.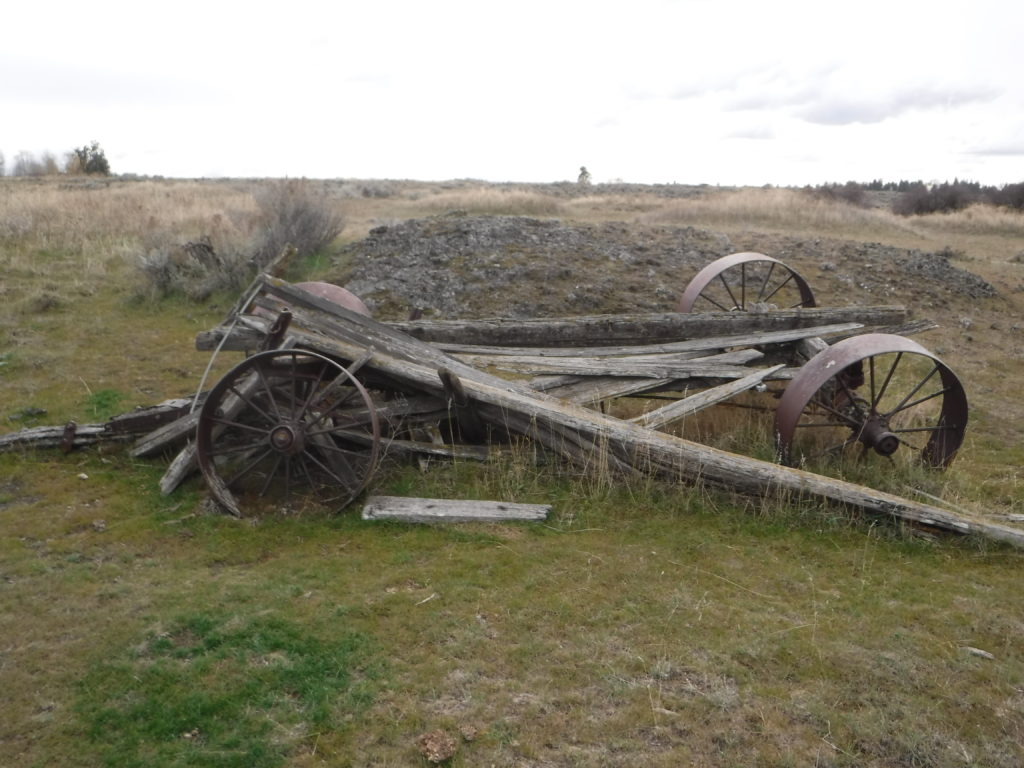 Travel north through the open landscape until intersecting an old farm road. Along the way pass numerous wetlands with groves of aspen and hawthorn. Then follow the farm road slightly east to reach an old abandoned homestead near a marked spring, complete with derelict vehicles and old farm equipment from an earlier era. Take only photographs as you enjoy imagining what life must have been like when this was still a remote working farm. Retrace the route south to return to the parking area, or extend the hike by following the fence lines along the perimeter of this large property.
Round-trip distance: Approximately 4.5 miles
Rating: Easy to moderate, although route finding-skills are necessary
Elevation gain: 300 feet
Permit Requirement: None. Discover Pass required for nearby WDFW access areas if extending this hike.
Map: USGS Telford
Getting There: Turn south on Telford Road on Highway 2 between Davenport and Creston, just west of the Telford Rest Area. Continue on Telford Road South for just over 5 miles to a BLM parking area with a large kiosk on the east side of the road.
Support Local Trails: Join the Washington Trails Association as we resume trailwork at Fishtrap Recreation Area on March 24 and 27.