On Jan. 7, 2020, Annie and Abbey rode the gondola to the summit of Silver Mountain Resort—their steady brown eyes conveyed the seriousness of their search and rescue mission. Each wore a ski patrol harness, red with a white cross, matching the jacket worn by dog handler Jeff Thompson, a ski patroller from Schweitzer Mountain Resort and the executive director of the Idaho Panhandle Avalanche Center (IPAC).
Schweitzer formalized its avalanche dog program in winter 2016-17. "Finding good handlers—someone who has the capability to do this job and has the education—is harder than finding good dogs," says Thompson, who has 23 years of patrol experience. Annie, a Labrador retriever, was only eight weeks old when Thompson got her. She is the third search and rescue dog he has trained. At that time, he was still living in Colorado and patrolling at Beaver Creek Resort. He moved to North Idaho when Annie was two.
Avy dogs are "great mascots" for avalanche education and connecting and engaging with the skiing public, says Thompson. Dogs train year-round, and not only learn search and rescue skills, but also how to ride a chairlift, a snowmobile, and in a helicopter. Annie and her fellow Schweitzer avy patrol dogs, Abbey and Murphy, are sponsored by Dr. Tim's, a pet food company, and by North Idaho Animal Hospital for vet care.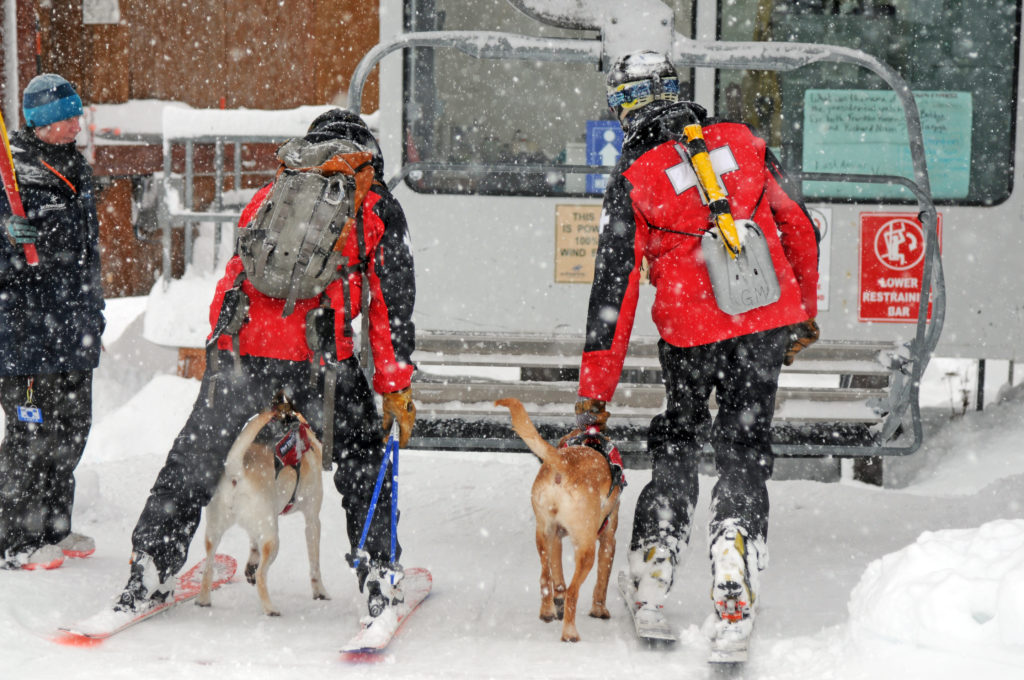 After hearing the news about the in-bounds slide at Silver, Thompson gathered his avalanche safety equipment and Annie and Abbey. "We weren't there on the hasty search. We arrived about 2 hours in," says Thompson. "The dogs were critical in finding skiers that first day. If people are buried without a beacon, an avy dog is the next best [way to find them]." Annie alerted searchers to the location of one of the deceased skiers.
The following day, Wednesday, Jan. 8, the search resumed when another skier was reported missing. Silver Mountain Ski Patrollers, Thompson and Schweitzer's avy dogs, and patrollers from all the local mountains converged at the avalanche site. "Any time an unprecedented event like that happens, the community works together," says Thompson. After he was able to investigate the avalanche, his preliminary report for IPAC detailed the avalanche as 300-feet wide and traveling more than 900 feet down the 16-to-1 ski run, having been releasing about 90 feet from the summit of Wardner Peak.
In-bounds avalanches happen at many ski areas, most occurring in a "controlled environment with explosives and mitigation techniques" conducted by professional ski patrollers, explains Thompson who is also a certified National Ski Patrol Level 1 avalanche instructor. "Our avalanche center's niche is the recreation side, to educate and forecast and to give the public information and tools," he says. The center provides online resources and in-person classes tailored to backcountry users, snowmobilers, and skiers. 
"We never would have heard of the Silver one if it had been released during patrol's avalanche mitigation work that day…. For whatever reason, something different happened that day." Despite the tragedy, Thompson isn't alarmed. "When you start to do the numbers of how many people ski and how often this happens…99.9 percent of the time it's safe," he says. "The reality is Mother Nature has a mind of her own, and as much as we try to manipulate the snow, it's not enough."
He continues, "I think it's important for people to understand that the possibility [of avalanche] is there. Does that mean you have to wear your avalanche beacon in-bounds? No. Should you? Why not— [it] does no good sitting in your car," he says.
"Avalanche beacons, shovels, and probes are great when you make a bad decision. But the best thing is to not make a bad decision," he says, particularly with backcountry ski terrain. "The one thing that comes to mind is slope angle—if you avoid avalanche terrain, you're not going to get caught in an avalanche. You can ski all day and make powder turns and not be on avalanche terrain. But if you're going on the avalanche terrain, take the tools with you. Be able to identify if you're in a spot that could avalanche."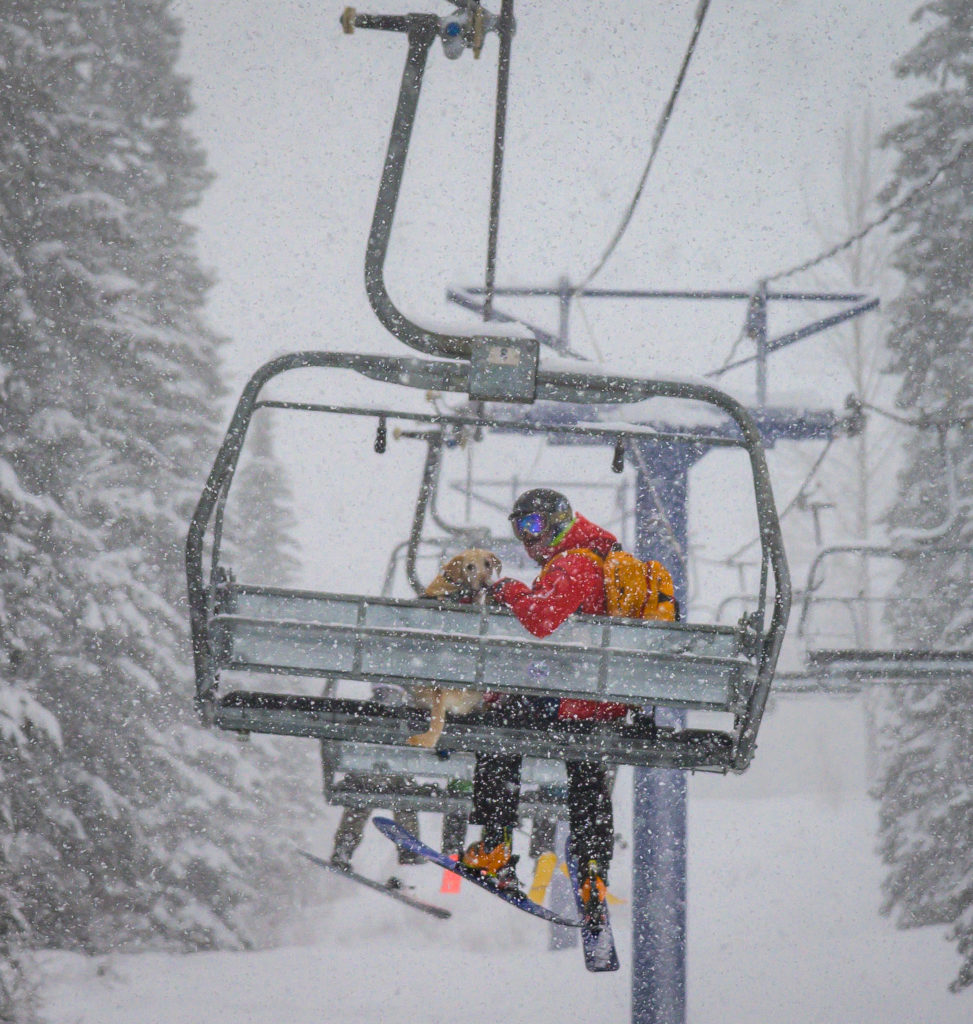 Angle awareness also applies to in-bounds skiing. "Usually your average blue run is tip-toeing into avalanche range. So that puts it into perspective. It doesn't mean that there is a need to have heightened awareness. [Patrollers and mountain staff] manipulate the snow a ton, with snowcats and avalanche mitigation," says Thompson.
At Schweitzer Mountain "half of the runs are steep enough to have a slide, but most don't have a history of slides," he says. Patrollers begin avalanche mitigation work early each morning and continuously monitor snow conditions throughout the day, "keeping our finger on the pulse of our snowpack," explains Thompson.
The public can have confidence in professional ski patrollers who undergo avalanche training, he says. "Ski patrol at Schweitzer and Silver take their job very seriously and open the terrain when it is safe." Stay in touch with Schweitzer's patrol dogs on their Instagram profile @schweitzer.avydogs.
[Photos courtesy of Schweitzer Mountain Resort]