Kamiak Butte is the second tallest point and one of four county parks within Whitman County, with its rocky outcroppings rising high above the surrounding Palouse farmland. It is additionally noteworthy for being designated a National Natural Landmark (NNL), along with nearby Steptoe Butte State Park. Both parks are considered western outliers of the Coeur d'Alene Mountains, a portion of the Bitterroot Range.
The NNL program is managed by the Department of the Interior and the National Parks Service. According to the Parks Service, National Natural Landmarks receive their designation for being among the "'best' examples of a type of biological community or geologic feature in its biophysiographic province….gauged primarily on illustrative value and condition of the resource." So not only does this 298-acre park boast a nice 5-mile trail system, the hike is an opportunity to experience one of the best examples of the geologic forces that shaped the Palouse.
The butte itself was formed between 1.47-1.40 billion years ago during the Precambrian period. The rocky outcroppings of Kamiak Butte consist primarily of quartzite, towering over surrounding basalt, and much younger glacial loess deposits of windblown silt that form the Palouse farmland below.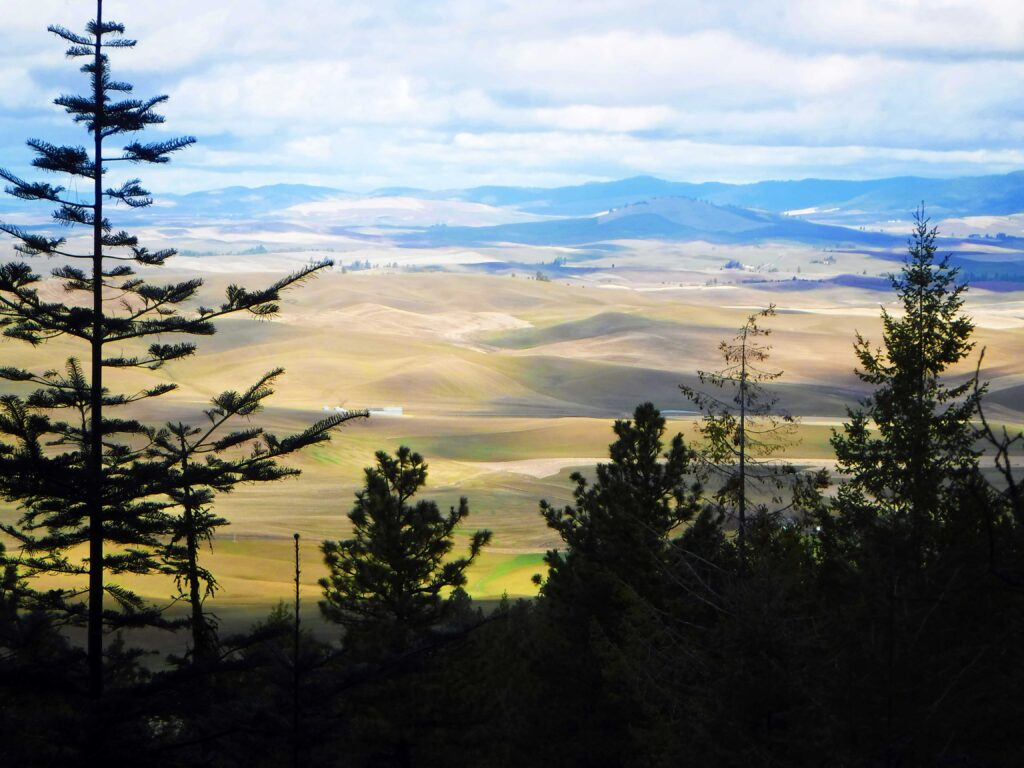 Viewed from a distance, Kamiak Butte is a treed oasis standing out in the fairly uniform farmland. It can be a place to spot some of the earliest spring wildflowers in March and April, although early season visitors should also be prepared for potentially snowy and icy conditions in shady spots as well as higher on the trail system, as the butte's summit reaches 3,641 feet in elevation.
Kamiak Butte County Park is open for day use and has four picnic shelters available. It also features a first-come, first-served campground with eight campsites for only $15/night. Arguably the best way to experience the trail system is to stay the night and plan to enjoy sunset and sunrise from the top.
Kamiak Butte
Round-trip distance: 3.5 miles and up
Rating: Moderate
Elevation gain: 950 feet or more
Map: Print the map and hiking brochure at Whitmancounty.org.
Getting There: From Pullman, Wash., head north on Highway 27 for 11 miles and turn left onto Clear Creek Road. Look for Fugate Road (#5100) on your left after half a mile. Drive another half mile to the park entrance on the left.
Support Local Trails: Watch for upcoming opportunities to volunteer on local trails by checking wta.org/volunteer and sorting to "Eastern Washington" under the region tab. Group size limits are dependant upon current Covid-19 guidelines.
[Feature photo: View of the Palouse from Kamiak Butte by Holly Weiler]