On a recent visit to the Geophysical Trail System north of Newport, Wash., I pulled up a mapping app on my phone and proceeded to watch as my locator icon spun in circles. No, that is not supposed to happen. But my electronics were likely being impacted by the trail system's proximity to the United States Geological Survey (USGS) Geophysical Observatory site and the monitoring equipment housed there.
Established in 1966, it is one of just 14 geomagnetism observatories the USGS operates worldwide, used to monitor the earth's magnetic field. The site also contains a seismometer station, an auxiliary seismic station, and an infrasound station. It's interesting to think about the science being conducted just across the fence from this remote ski and snowshoe trail system. More information about the geomagnetism monitoring program is available on the USGS website, but seeing my locator spin also served to remind me that it's best to bring a USGS paper map on recreational excursions!
The trail system here consists of a total of 6.2 miles of groomed Nordic ski trails as the primary use, where snowshoe travel is also permitted. It is a non-motorized SnoPark, which means visitors must plan ahead and display either a day-use or seasonal SnoPark permit on their vehicle. SnoPark permits help defray the cost of parking lot snow removal and trail grooming at recreational access sites and are a required pass for many popular ski and snowshoe trails in Washington. A day pass is $20, whereas an annual pass is $40, so I find it makes the most sense to buy the annual and research as many locations as possible to visit for winter trips.
The Geophysical trails connect to form both small and large loops, so it's possible to create routes in a wide variety of distances, with the outermost loop totaling a little over three miles, and options for connecting with interior trails to extend the distance traveled. The terrain is mostly flat, although there are a few steeper climbs and descents. Snowshoe hikers will find the trails easy, but Nordic skiers may be challenged by the steeper sections, particularly if the trails haven't been groomed recently or if conditions are icy. The trail signage provides a difficulty rating for each trail, aimed at ski users. Trail names like Flatlander and Chipmunk versus Little Sweat and Rough Ride give visitors an idea of what they might expect from each trail on the system!  Follow Perspiration trail for the best views of the Geophysical Observatory site.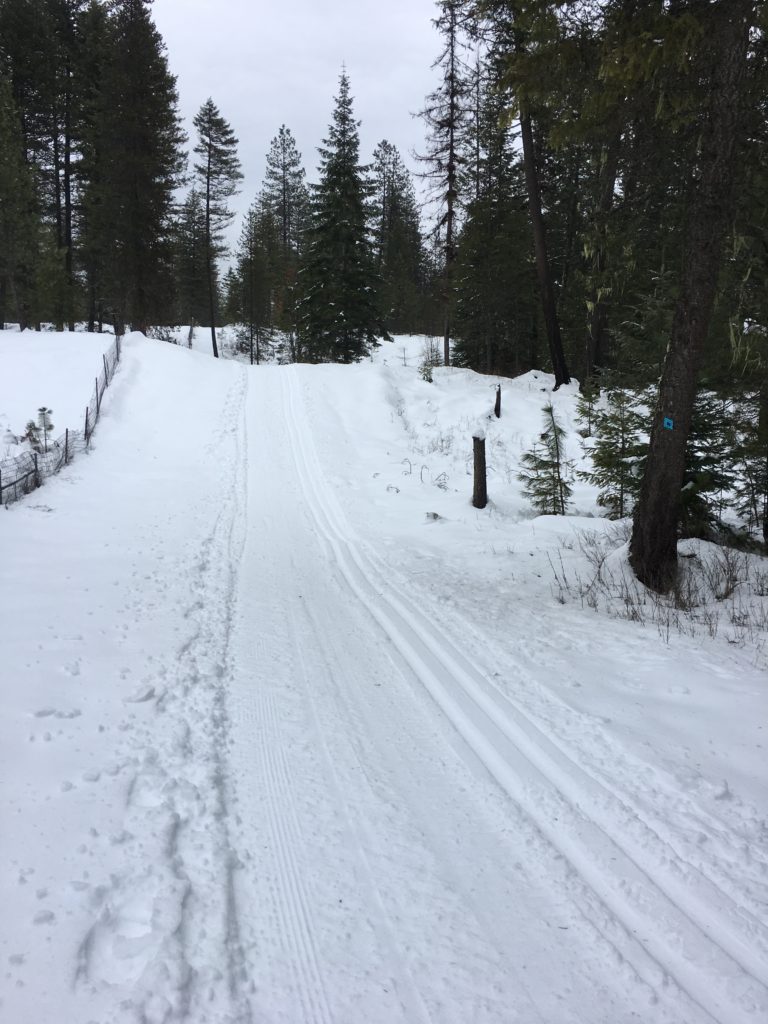 Unlike many groomed Nordic ski areas that have a strict separation between various user groups, the Geophysical trails depend upon different trail users being willing to follow some basic etiquette guidelines to share the trails. The trails are typically groomed once per week when conditions allow throughout the winter, and skiers will likely find the best conditions exist on Fridays and Saturdays following fresh snow. Snowshoe visitors are asked to stay off the groomed ski tracks, which are the set parallel tracks on the edge of the groomed deck. Stepping on the tracks with snowshoes flattens them and makes skiing far more difficult.
Round-trip Distance: 6.2 miles (total trail mileage)
Rating: Easy to moderate, depending on snow conditions
Elevation gain: 210 feet
Permit Requirement: SnoPark permit, Dec. 1-March 31
Map: USGS Bead Lake quadrangle
Getting There:
From US 2 in Newport, travel east over the Pend Oreille River bridge toward Old Town, briefly crossing into Idaho. Immediately after crossing the bridge, turn left on LeClerc Creek Road. Travel 7.5 miles to Indian Creek Road. Turn right and continue 1.5 miles to the Geophysical Trail System. The parking lot is on the left.
Support Local Trails: A series of Wednesday snowshoe work parties will begin on Jan. 15. See wta.org/volunteer.