Colville National Forest
Not that the Inland Northwest has particularly tall mountains, as the Selkirk Range can't quite measure up to Cascade standards for height, but Abercrombie Peak comes in as the second tallest mountain in eastern Washington at 7,308 feet. The nice part about moderately tall mountains is that they sometimes have trails leading directly to their summits. In the case of Abercrombie, hikers have three routes from which to choose. Abercrombie also makes the list of "ultra-prominent" peaks, or peaks with more than 1,500 meters (4,900 feet) of topographic prominence. Many western Washington summits outrank Abercrombie in overall height, but in terms of prominence, it comes in at lucky number seven in Washington and does not require the technical climbing skills necessary for those who want to ascend the mountains that outrank it.
The majority of Abercrombie hikers climb the peak from its two western trailheads. For a new vantage point on a classic Inland Northwest hike, try the Flume Creek Trail on its eastern flank instead. It's a lovely compromise between the most popular approach from the Abercrombie trailhead, which provides the shortest route but starts on an old road bed in a former clear-cut, and the North Fork Silver Creek trailhead, which boasts fantastic views in a more difficult and higher-mileage hike. Flume Creek is the Goldilocks option: just right with mature forests, gorgeous fall colors, outstanding views, and a moderate distance and grade. Flume Creek to North Fork Silver Creek is also a portion of the Pacific Northwest Trail (PNT), a long-distance hiking trail connecting from Glacier National Park in Montana to the Pacific Ocean on the Olympic Peninsula. Section hiking portions of the PNT offers an excellent introduction to long trails in our region. 
Given Abercrombie's ultra-prominence status, it's no wonder the trail climbs steadily from the start. However, the trail was built at a consistent grade that doesn't have severely steep sections to contend with. It's just a constant up, best done at a steady pace with occasional stops to take in the view of the Pend Oreille River valley far below or Canada just a short distance to the north. By October the surrounding forest boasts a nice mix of evergreen interspersed with bright yellow larch, while the lower growing deciduous shrubs fill in with various shades of red and orange. 
For those who would prefer to try this as a backpack trip, two small campsites exist along the route, the first at 1.9 miles from the trailhead and the second at the 3.1 mile mark. Both are dry campsites (no water), although sometimes by late fall there may be some snow available to melt. Otherwise, plan to pack all needed water for a trip here. At the second campsite, Flume Creek Trail intersects the Abercrombie Trail. Bear right and continue uphill about a mile to reach the rocky summit.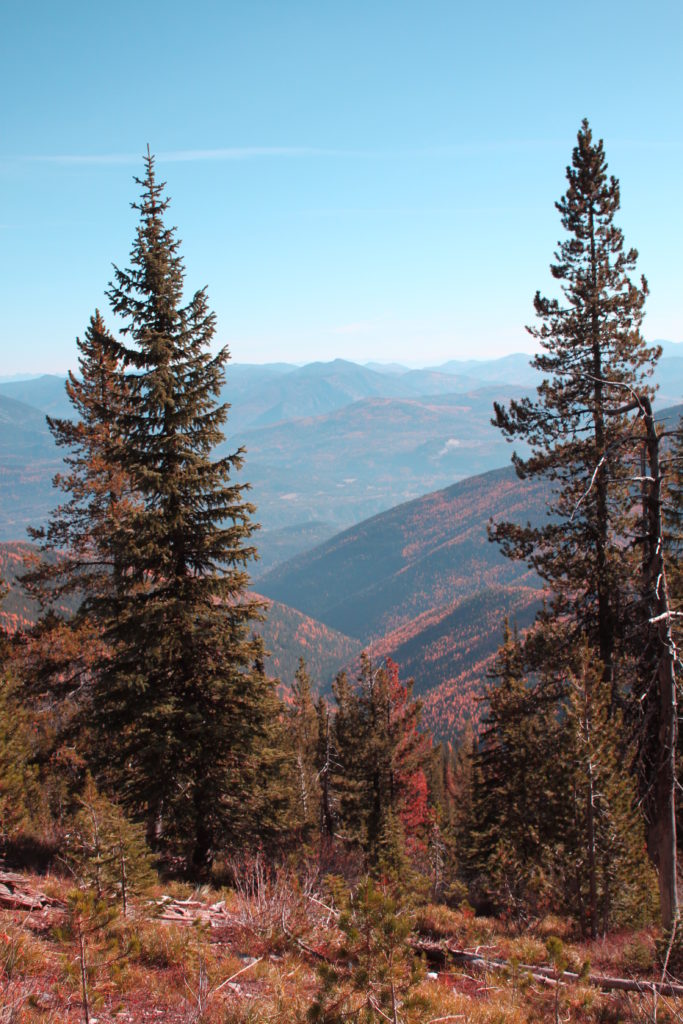 The summit contains a few remnants bearing witness to its former fire lookout status. The lookout tower is long gone, but the stone steps and a small stone shelter remain. The neighboring peak, Hooknose, is a short off-trail scramble away for those who would like an increased difficulty level. After taking in the view, return via the same route. From late October into November, visitors will need to monitor weather reports for snow level and plan accordingly for trailhead access. 
Round-trip distance: 8 miles
Rating: Moderate/difficult
Elevation gain: 2,423 feet
Map: USGS Boundary Dam, USGS Abercrombie
Getting there: From Metaline, Wash./Highway 31, turn left on Boundary Road. At 3.6 miles, turn left on Forest Road 350. Continue 7.5 miles to a small trailhead parking area on the right. High clearance recommended.
Support Local Trails: Join the Washington Trails Association at a BLM-hosted National Public Lands Day volunteer event at Fishtrap Recreation Area on Oct. 5.