Named after President Franklin D. Roosevelt, the 130-mile long lake is technically part of the Columbia River, although you wouldn't know it by looking out across the wide expanse of current-free summertime water from one of the many lake-side recreation areas. With the construction of Grand Coulee Dam in 1941, Lake Roosevelt swelled, covering former river shores and side canyons and forming a huge water feature that averages 4,000 feet wide and 375 feet deep.
Today, Roosevelt hosts some of the region's best lake-based outdoor recreation opportunities. Managed as a National Recreation Area by the National Park Service, Lake Roosevelt is ringed with public access sites, including campgrounds, day-use areas, boat launches, boat-in campgrounds, historic and interpretive sites, and swimming beaches.
The Lake Roosevelt area is also home to many species of native wildlife. More than 75 species of mammals, 200 species of birds, 15 species of reptiles, and 10 species of amphibians can be found here. Depending on what part of the lake you're on, visitors should keep an eye out for deer, elk, moose, bighorn sheep, bear, coyotes, rattlesnakes, bull snakes, eagles, osprey, and many other species of birds.
Boating
The best and most popular way to explore the lake is on your own boat, kayak, or canoe. There are multiple boat launch sites (permit required), ranging from developed marinas to more primitive sites, a little more than an hour from Spokane in Lincoln County. Most of the campgrounds on the lake offer boat launches. Once you're on the water, motorboats can easily access boat-in only beaches and other distant areas of the lake, while most human powered watercraft stick closer to shore. Explore the many options at Visitlincolncountywashington.com/Recreation.html#Boating.
Camping
While there are dozens of campgrounds and primitive campsites along Lake Roosevelt, the Fort Spokane Campground is one of the most centrally located. Situated amongst pine trees near the confluence of the Spokane and Columbia Rivers on Lake Roosevelt, the 67 site campground makes an excellent basecamp from which to enjoy the sprawling lake and get acquainted with its history and past and present human and animal inhabitants.
There is a museum in the old guard house of the original Fort Spokane, which was built in 1880 to serve as a frontier military outpost. The fort later served as a boarding school for Native American children, a controversial piece of American history.
Today, the area is a prime stomping grounds for visitors looking to learn about the history and boat, kayak, canoe, fish, hike, and swim right out of the campground. Most of the campsites can be reserved, and usually are weeks in advance, although there are several sites that are available on a walk-up basis. Weekdays are also a good bet for reserving a campsite.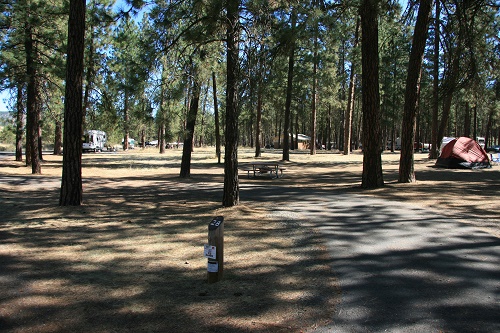 There are several other camping options nearby that don't offer reservations, including the more secluded Hawk Creek Campground and Porcupine Bay Campground. If Fort Spokane Campground is full, you might give these a try. At $10 per site, camping on Lake Roosevelt in a Park Service campground is a great deal. More campground and reservation info: Nps.gov/laro/planyourvisit/campgrounds.htm.
Getting There: Take State Highway 2 west of Spokane for 32 miles. Turn north on State Highway 25 at the town of Davenport and travel 24 miles. Follow the signs to the Fort Spokane Campground.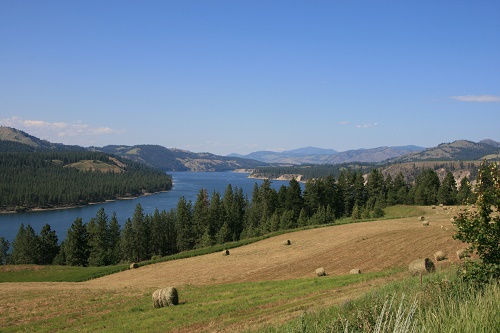 Ranger Programs and Self-Guided Outings
Take advantage of these educational programs and self-guided outing ideas in the Fort Spokane area. For guided programs, call ahead to ensure that the program you're interested in is still on schedule (509-754-7800).
Sentinel Interpretive Trail: The two mile, self-guided Sentinel Interpretive Trail winds through the Fort Spokane grounds where for thousands of years Native Americans gathered to fish for salmon. The trail is edged with wooden rails and marked with numbered stops that tell the fort's more recent history (free maps are available). For those looking for a bit of a climb with a view, the trail continues on up another 300 or so feet to the top of a bluff with views of the Fort Spokane area and the confluence of the two rivers.
Hawk Creek Canoe Trips: The Park Service is offering several chances to try out canoeing on Lake Roosevelt near Hawk Creek this summer. These free trips run ever Saturday through July and August and are open to the first 17 visitors who show up (no reservations). After practicing basic canoe skills and going through a safety briefing, participants will caravan in their own vehicles to the launch site for an hour and a half canoe trip. Children under the age of 16 must be accompanied by a parent (minimum of one adult per three children). Bring your own water, sunscreen, hat, children's PFDs and weather appropriate clothing. The Park Service will supply adult life jackets, paddles, canoes, and safety equipment. Details: every Saturday in July and August. Meet at the Fort Spokane Visitor Center Parking Lot by 9:30. Trips run until 12 p.m. and are free.
Other Park Service Programs: Rangers are also offering several other free educational programs this summer for adults and families. Learn to weave traditional pine needle baskets out of ponderosa pine needles and learn about rattlesnakes, animal antlers and horns, and more. Details: Nps.gov/laro/planyourvisit/events.htm. //