Tent glamping is a unique, comfy way to introduce your family to camping that involves anything from a canvas wall tent, to a tipi, yurt, safari tent, or pole tent. One of the biggest differences between these tents and your polyester nylon dome tent is the solid floor and usually-raised wooden, stone, or concrete platform. It elevates your experience by making you feel like you are indoors and makes it possible to furnish your tent with a real bed, wood burning stove, furniture, and more. Because they are tents, some of these charming accommodations are only open during the warmer months, depending on location.
Wall Tents
Two of the most well-known wall tent glamps in Idaho are Huckleberry Tent and Breakfast in Clark Fork and River Dance Lodge in Syringa (Riverdancelodge.com). Situated just off the banks of the Clearwater River, River Dance is an adventure resort that has partnered with ROW Adventures to make "dreams come true and memories last forever." In addition to hand-crafted log cabins, whitewater rafting, biking, fly fishing, and hiking, the resort has three glamping tents that sleep two people each. They are next to the creek and are decked out with a king-sized bed, back porch, claw foot tub heated by a propane burner, chairs, table, and wood stove. Charcoal grills, picnic tables, a self-composting toilet, a shared bathhouse (with flushing toilet and shower), and the resort's restaurant are within easy access.
Both Huckleberry and River Dance are comparable in price to a hotel room. Go a little lighter on your wallet with the Lilly Pad at Blue Lake RV Resort just south of Bonners Ferry, a prospector's pole tent with tin roof, electricity, and Wi-Fi. On the more lavish side, Under Canvas Glacier in Coram, Mont., offers deluxe tents, safari tents, tent suites, and a canvas-walled treehouse. Private luxury bathrooms with hot running water, showers, sinks, and toilets are included with several set ups.
Tipis
Under Canvas also has several tipis, structures with a rich cultural history that have been adapted for modern-world recreation. These tipis can be reserved individually or added to an adjacent tent for a family.
Smokiam Resort on the shores of Soap Lake, Wash., features 10 guest tipis (16 and 26 foot), six privately placed by the lake and four grouped together in the main park. The lakeside tipis are dry camping, but the park ones have electricity, and each includes a fire pit, BBQ, picnic table, clean linens, Adirondack chairs, dock access, and multiple sleeping arrangements. Twin Cedars Camping + Vacation Rentals in Sandpoint, Idaho, only has one tipi, but it comes glamped out with a private beach and dock on the edge of Lake Pend Oreille, an outdoor shower and sink, and an outdoor hot tub.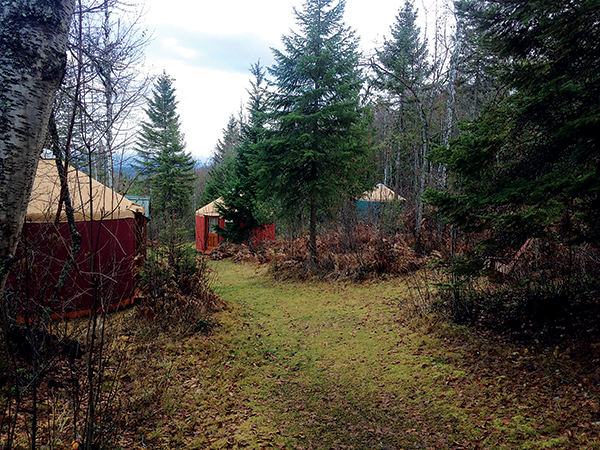 Yurts
Yurts are the third form of tent glamping. While southern Idaho has seven 20-foot backcountry yurts, North Idaho's yurts are a little more bewitching. The Yurtle in Athol has a kitchen, separated sleeping area, and immaculate bathhouse. Yurtville, just north of Sandpoint, is comprised of three yurts, each with their own bathroom in the main building, which also has a kitchen, dining area, and art studio. The Guest Yurt in the Woods, also north of Sandpoint, is cozy and private, located just down a wooded path from the owners' own two-storied yurt home.
Whether looking for a low-stress family camping experience or getting away with your partner, glamping gives you conveniences of modern life with just enough inconvenience to make you feel at home in nature. //
[Feature photo "River Dance Lodge tents" by Chad Case.]