4th Annual "Free the Snake! Flotilla" to feature nationally-recognized indigenous advocate Winona LaDuke and award-winning musician Nahko
Tribal members, salmon advocates, anglers, and orca advocates gather on the Snake River to call for dam removal to restore a healthy river and protect its endangered wild salmon and steelhead population from extinction.
WHAT:  Flotilla and River Rally in Support of a Free-Flowing lower Snake River
WHEN: September 7-8, 2018
WHERE: Chief Timothy State Park, Clarkston, WA.
Hundreds of tribal members, anglers, business owners, conservationists, outfitters and recreational boaters will launch from Chief Timothy Park for a canoe paddle and rally on the river in support of removing four outdated dams on the lower Snake River to restore salmon, honor Treaty Rights, support fishing jobs and feed starving Southern Resident orcas.  Participants will be sending a message to Pacific Northwest elected leaders and federal agencies that bold action is needed to protect and restore salmon, and that it is time to bring stakeholders and communities together to remove the four lower Snake River dams, and invest in clean energy and modern transportation infrastructure to replace the limited, declining benefits these four aging dams provide.
This peaceful, family-friendly two-day event will open at 4 pm on Friday, Sept. 7 at Chief Timothy State Park with tribal drummers, speakers and music.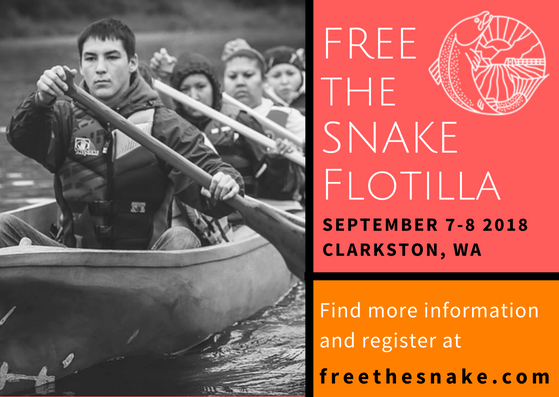 Early Saturday morning, Sept. 8th, tribal canoes will launch on the Clearwater River at Hog Island and paddle downstream down to Chief Timothy, where they will gather with a flotilla of kayaks, motorboats and canoes for a rally on the river in support of restoring the lower Snake River and its endangered fish populations.  Leading the canoes from Hog Island will be the newly built Nimiipuu (Nez Perce) canoe, the first traditional canoe built by Nimiipuu in 113 years.
After the canoe paddle and water rally, the evening program will begin around 4 pm. Indigenous activist and founder of Honor the Earth Winona LaDuke will address the gathering, followed by performances by musician and activist Nahko Bear and indigenous hip hop artist and activist Nataanii Means.
Camping Friday and Saturday night will be available at Chief Timothy for participants. Registration is required for participation in water rally and camping at Chief Timothy.  For the full schedule of activities and other information, visit the Free the Snake website.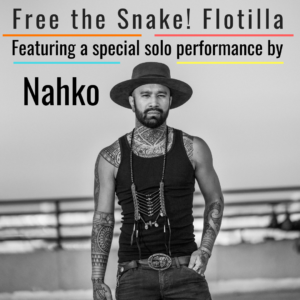 The Snake River's critically endangered wild salmon and steelhead populations are in desperate need of action to protect them from extinction.  Adult returns have plummeted since the lower Snake River dams were built between 1960-1975, with especially steep declines in recent years.  Tribal treaty rights are not being fulfilled, and recreation and fishing jobs in the region have been lost.  Meanwhile, billions of taxpayer dollars have been wasted on failed and illegal salmon recovery measures. The financial challenges have only multiplied in recent years as these federal projects age and the costs of maintenance and repair steadily rise.
Scrutiny on the cost of the four lower Snake River dams has intensified recently as the entire nation was transfixed by the grieving Puget Sound orca Tahlequa (J-35), who publicly bore her dead calf for 17 days, over 1000 miles, dramatically bringing attention to the plight of the Pacific Northwest's Southern Resident orcas that rely on chinook salmon for survival. Orca numbers are the lowest in decades – just 75 individual whales survive today, and lack of sufficient prey is the primary culprit for their steep decline. Removing four dams on the lower Snake River to restore healthy salmon populations is the single most beneficial action we can take to provide more food to protect this unique, critically endangered population of orca from extinction.
Flotilla sponsors include: Nimiipuu Protecting the Environment, Honor the Earth, Friends of the Clearwater, Save Our Wild Salmon, Defenders of Wildlife, Earthjustice, Patagonia, Idaho Rivers United, Earth Ministry, EcoDepot, Mountain Gear, Sierra Club, Spokane Falls Trout Unlimited, Palouse-Clearwater Trout Unlimited, Wild Steelhead Coalition, Snake Riverkeeper, Fighting Goliath, Pacific Rivers, RoastHouse Coffee, American Whitewater, R.O.W., Endangered Species Coalition, Spokane Riverkeeper, and Greater Hells Canyon Council.
Contacts:
Sam Mace, Save Our Wild Salmon (509) 863-5696, sam@wildsalmon.org
Julian Matthews, Nimiipuu Protecting the Environment (208) 790-4296, nimiipuuprotecting@gmail.com
Brett Haverstick, Friends of the Clearwater (208) 882-9755, foc@friendsoftheclearwater.org
You can also follow the group on Facebook.
(Sponsored Content)