If you've ever dreamed of taking on one of North America's long-distance hiking trails, one of the best things you can do to prepare is learn from others who have walked before you. These four Inland Northwest-based hikers offer a glimpse of life out on the trail that may inspire you to hit the trail yourself one day. (OTM Editors)
Laura Talaga, age 32
Trails: "Triple Crown" – Appalachian Trail, 2007 (March 2-Sept. 20); Pacific Crest Trail, 2013 (April 25-Sept. 14); Continental Divide Trail, 2015 (April 25-Sept. 6, flip-flop). Trail name: Beads.
"I had a lot of backpacking experience growing up [near the AT in northeast Pennsylvania], and in college I was an outdoor education instructor. So I thought I knew what I was doing," Talaga says about her thru-hike along the Appalachian Trail (AT) as a new college grad, accompanied by her partner and her dog. "I started out with a 45-pound pack. But throughout the entire AT, I started shedding gear and found out what I really needed."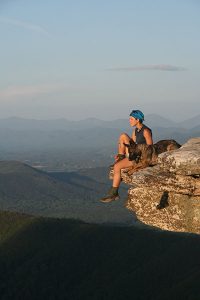 Talaga moved to Chewelah, Washington, in October 2012 for her dream job, and the following year completed her solo thru-hike of the Pacific Crest Trail (PCT). "That's when I moved from a more traditional approach to what I call 'comfortably light.' My base weight is more like 15 to 20 pounds," she says. In addition to working in Chewelah, Talaga is head veterinarian for the Spokane Humane Society. Each of her hikes were fundraisers for animal rescue organizations.
Hiking solo, she says, was "liberating but also made me address my fears…decision making is a different experience. I felt vulnerable. It was challenging to trust my instincts and decisions." On the Continental Divide Trail (CDT), while hiking northbound into Colorado and confronting dangerous snow conditions, Talaga chose to leave the trail and go around the snow while other hikers continued. She headed to Wyoming's Great Divide Basin, and then "flip-flopped" by hiking the CDT southbound from the Canadian border – a "decision I was proud of – listening to my gut, rather than going with the crowd," she says.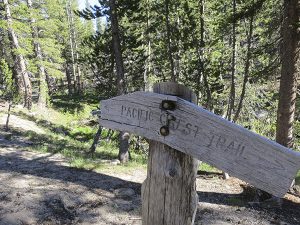 Food: "I like the nutrition of having my own fruits and veggies. I dehydrate food from my garden and the farmer's market. [While long-distance hiking] I don't cook." She used to carry a stove and fuel, but then found it easier and more lightweight to "just rehydrate things." She enjoys the simplicity: she puts food in a jar with cold water and carries it as she hikes to eat throughout the day – cold oatmeal, veggie hummus, coconut curry couscous, ramen noodles with spicy peanut sauce, and veggies. "I eat a Snickers bar before bed because I have been eating healthy all day," she says.
Advice: "You don't know what you can't do until you try. There is no purpose in waiting," she says. "I am not some spectacular athletic person." Other than being reasonably fit, she says it's not really possible to train for a long-distance hike. She hikes no more than 10 miles a day during the first week and then slowly increases daily mileage.
What she's learned: "Perspective for all aspects of life. All things do pass. If today you're uncomfortable, tomorrow you might not be. You realize how small and insignificant your problems are in the world."
Tim Plaza, age 38
Trails: "Triple Crown" – Appalachian Trail, 2012 (March 11-July 1); Pacific Crest Trail, 2013 (May 6-Aug. 30); and Continental Divide Trail, 2015 (May 20-Sept. 1). All solo thru-hikes. Trail name: Tribhu ("tree-boo").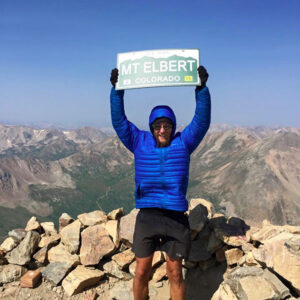 For the AT, Plaza's first backpacking trip ever, his pack weighed 30 to 35 pounds. After moving from the East Coast to Portland, Oregon, with plans to hike the PCT, he invested in ultralight gear, for a base weight of eight pounds, and 18 to 23 pounds with food and water. His high-mileage hiking pace is fast. "I love going four miles an hour for 16 hours a day," he says.
"I'm incredibly low-maintenance. I don't need a lot of luxury items, and food is the same way. I have always been of the mindset that because of the amount of exercise I'm doing, I can get away with eating some unhealthy food," he says. He purchased the "highest calorie, highest fat, lightest, most convenient foods available" from grocery stores and gas station mini-marts along the way. For the PCT, he only sent himself a few resupply boxes, and he used a stove to prepare simple meals. After the PCT, Plaza began working for REI. He moved to Spokane in 2015, transferring to the Spokane store where he's a sales manager and outdoor instructor.
Flip-flopping on the CDT: When Plaza arrived in Colorado on June 20 after a month of hiking through New Mexico, there was 275 percent of snowpack due to late-May snow. "I attempted 40 miles in three days, and it was the scariest three days of my life – avalanches, shelves of snowpack breaking away near me," he says. So he "flipped" to Waterton Lake in Glacier National Park and hiked southbound to where he left the trail in Colorado.
Why he loves the backcountry: "The connection with nature…something resets and evens out [in the brain] when you're away from human noise and surrounded by nature," says Plaza, who has college degrees in psychology and has worked as a therapist. "I'm just a completely different person than I was in 2011 – ever aware of my ego — because of all that time for reflection. [Being in the wilderness] is probably the best form of therapy that I've ever experienced."
Advice: Talk to other long-distance or section hikers, and get properly fitted for a backpack and footwear. Most of all, "Don't think of it as one long trip. It's a series of three- to 10-day backpacking trips all strung together. It's like any long-term goal in life: if you break it down, it's attainable."
Lauren DeLand and Travis Nichols, both age 34
Trail: Currently hiking the Pacific Crest Trail, started on April 23; projected to finish on Sept. 22, 2016. Follow their progress at fivemonthstonowhere.com. For this story, they were interviewed by email and phone while in Mammoth Lakes, California.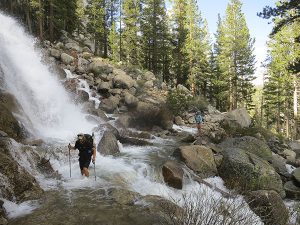 "We're not backpackers," admits Deland. "Hiking was always the way to go do something else." Their primary pursuits include backcountry skiing, rock climbing, and trail running. But hiking the PCT was percolating as an idea for a few years – "a trip that would challenge us, make us grow," DeLand says. DeLand and Nichols celebrated their seventh wedding anniversary on the PCT on June 20. For a couple that first met in a Wilderness First Aid course at Eastern Washington University, hiking 2,633.5 miles together is just another outdoor adventure. "It's all about the journey," says Nichols. After Nichols was granted leave from his job with the Spokane Regional Health District, he and DeLand began an intense five-week period of preparation. (Nichols also works as a buyer for Mountain Gear and DeLand is a massage therapist.)
Goals and strategies: "Our goal for the first day was no blisters. The goal for the second day was no blisters, not dehydrated. The goal for the third day was no blisters, not dehydrated, and no sunburns. Repeat. This strategy worked well and got us through the desert that is Southern California," writes Nichols and DeLand in an email. "The most important motto is 'hike your own hike.' We hike late while most hike early. We sleep more and walk faster than our peers. We camp high and dry while others camp low with plenty of water. Every time we have made our own decision, it has worked for us. The lesson is to listen to your body and the trail and to make the decisions that are right for you."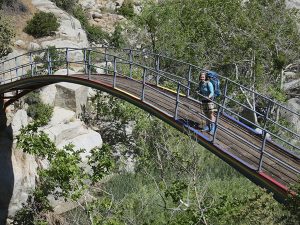 Backpacks: DeLand's and Nichols' base weights are 21 and 18 pounds respectively, with an average of 40 and 56 pounds with food and water. (They've chosen to carry comfort items to improve sleep.) They arrive in towns every five to seven days to pick up resupply boxes, and they take "zero days" as needed – rest days with no hiking mileage.
Food: "One of the guiding principles of our trip was personal health. We are focused on a no-added-sugar, real-food diet. We are eating rehydrated chia seeds for breakfast, dried fruits and nuts for snacks, tuna for lunch, and grain and rehydrated vegetables for dinners. We are grateful for the quality sustained energy. Both of us have lost about 16 pounds and stabilized in weight, although our bodies are still reshaping to adapt to the demands of constant movement."
Leave no trace: "We appreciate more how even the softest forms of recreational use, especially trail building and hiking, have a significant impact on wilderness. It is foolish to think that anything humans leave our fingerprints on is still in its original form. There is no reason to ever leave toilet paper in a wild space, even under eight inches of top soil. We have become disgusted by the high level of impact from human waste disposal at cherished camping areas."
Challenges: "I'm enjoying it more than I thought I would," says DeLand. "It's a mental game out here. I had prepared for this to be a sufferfest, thinking I would be sore and miserable most of the time. But once we got into it, I realized it was easier than I thought it would be." DeLand was diagnosed with chronic fatigue 14 years ago. "I'm thrilled with the results I've achieved [on the PCT]. Pushing my body to its limits has been extremely rewarding for me," she says, including hiking up to 20 miles a day and summiting Mt. Whitney. "The biggest issue I have with chronic fatigue is that I still need a lot of sleep – 11 to 12 hours a night. We have to travel a faster speed and take fewer breaks so we make the same miles [as other hikers]." Nichols states, "We're at a point now where it's not too hard physically to get back on the trail. We've found that if we spend too many days recovering, we get used to the modern conveniences, like fresh water. It's more of a mental thing than physical." //
Amy Silbernagel McCaffree enjoys sharing stories that inspire people to be more active and adventurous. She wrote about the many lakes throughout the Inland Northwest in July.