Growing up in the Spokane area, it's kind of hard to believe that I hadn't done more than hike or drive along the edges of Lake Spokane before an Avista-inspired boat tour of the 24-mile-long lake last summer. The reservoir, which is formed by the Long Lake Dam impounded waters of the Spokane River, is a stunningly enjoyable and scenic boaters' oasis just minutes from downtown Spokane. Lake Spokane, which many old-timers refuse to call anything other than its original name, Long Lake, had its name changed by the state legislature to something less confusing back in the 60s (there were way too many Long Lakes in the state). Since then, disagreements over the reservoir's name have been the least of the lake's problems.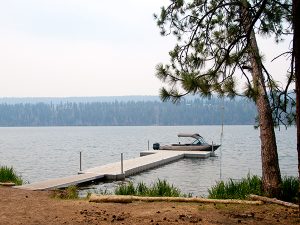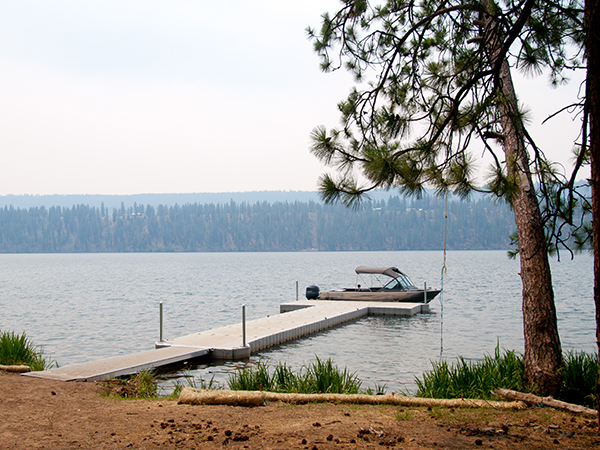 After the tour, one of the things I was left wondering about is why Lake Spokane doesn't get more attention from paddlers. I'm guessing it has something to do with being downstream from several waste water treatment plants on top of a series of image marring events over the years ranging from algae blooms, carp die-offs, aquatic weed overgrowth and other water quality issues that have plagued the lake for decades. Despite all that, the huge lake, with its miles of beautiful undeveloped shoreline and relatively new public access and recreation sites, is awesome. On top of that, Avista, waste dischargers, regulatory agencies, watch dog groups and other stakeholders have been working to address the aforementioned challenges for years, and, as many of those involved would agree, progress is being made, including, most notably, a significant water quality improvement since waste water treatment facilities upgrades started going in upstream in the 70s.
While we cruised along on our tour at mostly boat-planing speeds, pointing at lakeshore features and discussing recreation sites and conservation challenges, I was quietly day dreaming about how incredible the far end of the lake would be for a multi-day sea kayak, canoe or stand up paddleboard trip, especially with the new Avista-built boat-in campsites we had just visited as a final destination. If your only association with Avista is getting twitchy over thoughts of your utility bill, it's worth also contemplating the company's contributions to recreation infrastructure and maintenance at Lake Spokane and other reservoirs they have a business relationship with. As part of the recent Federal Energy Regulatory Commission relicensing agreement for the Long Lake Dam that forms Lake Spokane, they have already been pumping money into recreation projects along the lakeshore and conservation efforts throughout the watershed aimed at improving water quality. As part of the FERC deal, Avista is required to invest some of the money they make from selling power generated by the dam back into recreation and environmental projects that benefit fish, wildlife and lake users. So far, the utility company has spent almost 1 million on recreation projects along the lake, with another $300,000 that they anticipate spending in cooperation with Washington State Parks soon. According to Avista's Marketing Manager Mary Tyrie, the company also spends another $90,000 a year maintaining recreation facilities on Lake Spokane and the Nine Mile Reservoir. Extending the Centennial Trail all the way to the Nine Mile Recreation Area is one project that's already in the works, and there are other Avista-funded recreation projects being considered around the lake.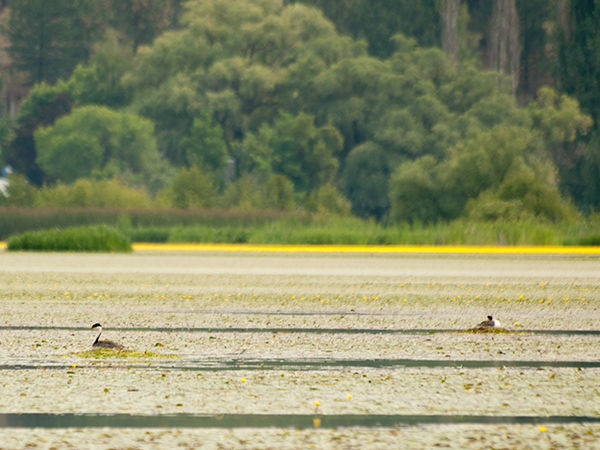 For the average paddler, boater, camper or angler, wading through the tangle of environmental, political and legal issues that surround Lake Spokane's management sounds about as enjoyable as a swim through a milfoil infested algae bloom, I'm guessing. Despite its past problems, Lake Spokane is still a popular destination for boaters and anglers that is also starting to get more attention from paddlers and campers thanks in part to improved public facilities at the Nine Mile Recreation Area on the east end of the lake and the new boat-in campsites managed by Washington State Parks on the west end of the lake. Increased attention toward improving water quality will also make a big difference to future generations of paddlers and other lake-goers who hopefully won't have to worry about the safety of the water they're playing, paddling and fishing in.
Canoe, Kayak or Paddleboard Touring on Lake Spokane
With the addition of 10 new boat-in camp sites on the lower (west) end of Lake Spokane, overnight canoe, kayak or even stand up paddleboard trips – with your camping gear, water and food stowed away in dry bags – are now more feasible. The decked-out camp sites include large flat areas for tents, docks for motorboats or paddle craft, toilets, picnic tables and fire rings. Launching from the Nine Mile Recreation Area on the upper end of the lake would mean an 18-20 mile paddle one-way to the camp sites, which you can reserve in advance. For a shorter haul, paddlers can launch from the Lake Spokane Campground on the north end of the reservoir, making for a much easier paddle of a few miles to reach the boat-in campsites. Either way, the lower end of the lake feels remote and surprisingly wild, with much of the land being owned by Avista, State Parks and the Department of Natural Resources, making it easy to forget how close you are to the hustle and bustle of Spokane.
Hazards to watch out for include motor boat wakes, strong winds, aquatic plants and the occasional, localized blue-green algae blooms that should be avoided by paddlers and swimmers (look for signs that should be posted when an event is occurring). For directions and more info on the Nine Mile Recreation Area and Lake Spokane Campground launch sites, which require a Discover Pass, visit the Spokane River Forum Water Trail page at Spokaneriver.net or the State Parks website. To reserve a boat-in campsite for $12 per night, call 888-226-7688. If you are launching from the Nine Mile Recreation Area, where you can also rent canoes, kayaks and stand up paddleboards, you will also need to pay a $10 overnight parking fee. //