Spring's anticipation leads to delusional expectations of woodland bounty before the ground has thawed. Foragers and chefs start calling in March inquiring about items for seasonal menus and pantries. If they left the comfort of their kitchen for a walk in the woods, they'd see only a few shoots pushing up through the duff in lower elevations. However, one exception is flowers. Early in the spring, plants begin to bloom, long before their fruits and sometimes greenery emerge.
Having grown up around Green Gulch Farm, which supplied produce to Greens Restaurant in San Francisco, I found flowers on my plate from early childhood. By the 80s they were a staple of nouveau cuisine and by the 90s a multitude of species were being used in kitchens across the country. Most of these were cultivated. So it wasn't until hiking on Mt. Spokane several years ago as the forest woke from hibernation that I thought to try a wild strawberry blossom. Its delicateness and levity was a profound contrast to the starkness and gravity of winter. Later in the season I sampled thimbleberry flowers and violets, then roses, and soon anything I knew was safe.
Petals won't provide measurable nourishment; they're like a kiss, fleeting and precious. When you eat a flower, you are becoming intimate with the personality of the plant. The blossom is the most important anatomical feature for identification — its way of saying "this is who I am." Petals evolved from leaves to attract pollinators, which led to an explosion of shapes and colors along with myriad new plants and insects.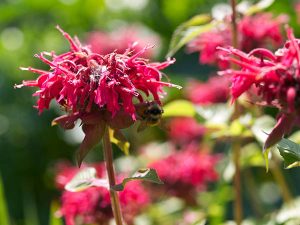 The common preparation of flowers is on salads and desserts or as a garnish. However, there are countless applications. Use flowers of elderberry in liquor, yarrow for tea, lilacs infused in honey, locust in fritters, roses for jelly, dandelions into wine, and chicory for a bitter endive-like element. You can consume milkweed fried, salsify pickled and lilies stuffed. The flavors are generally versions of floral with a vegetal edge, yet there are exceptions. Violets are sweet, borage tastes like cucumber, trumpet bluebells are fishy and lilacs are lemony. Hollyhocks are bland unless dried but bold in appearance. There are crunchy flowers like orchids and nauseatingly perfumy ones like the shampoo-flavored water lily. On the trail, also look for birch catkins, cattail, chickweed, currant flowers, Indian paintbrush and hawthorn to start.
Before running out to frolic and feast in the underbrush, remember that identification is critical. Last summer at a gathering I was served flourless chocolate cake with a beautiful blue inflorescence adorning the top. I put the whole sprig in my mouth, chewed, swallowed and was instantly struck with a strong sense of danger. Standing up, I exclaimed to the host, "What was that flower on the cake?" "I don't know, something from the garden," she said. "Flowers you put on food are supposed to be edible!" I reprimanded.
One of the children at the table asked, "is Kelly going to die?" And, then it came to me: larkspur. Larkspur is not something you want to eat. I called a doctor friend who agreed it would be better not to have it in my body. So the porcelain god was worshipped and the only symptom was a tingly numbness on my tongue. That is your cautionary tale before embarking on the new pastime of petal nibbling.
General Rules: Harvest fresh looking flowers in the morning. Some need preparation like roses, whose white bases are bitter, or large flowers, whose stamens and pistils are distasteful. Avoid buds. Be sure of your ID to species or genus in some cases.
Culinary Attributes: Use quickly to capture subtle essence. Visually striking as a garnish, in salads, on desserts or floating in drinks. Concentrate in jams, syrups, vinegars or wine. Mix in spreads, marinades and dressings. Dry and sprinkle as an herb. //